E3 2018 was huge this year. More people attended it this year than ever before. But some things stood out among the rest… some good and some bad. Here are the Top 5 things to stand out at E3 2018
Nintendo REALLY Wants You To Like Super Smash Bros.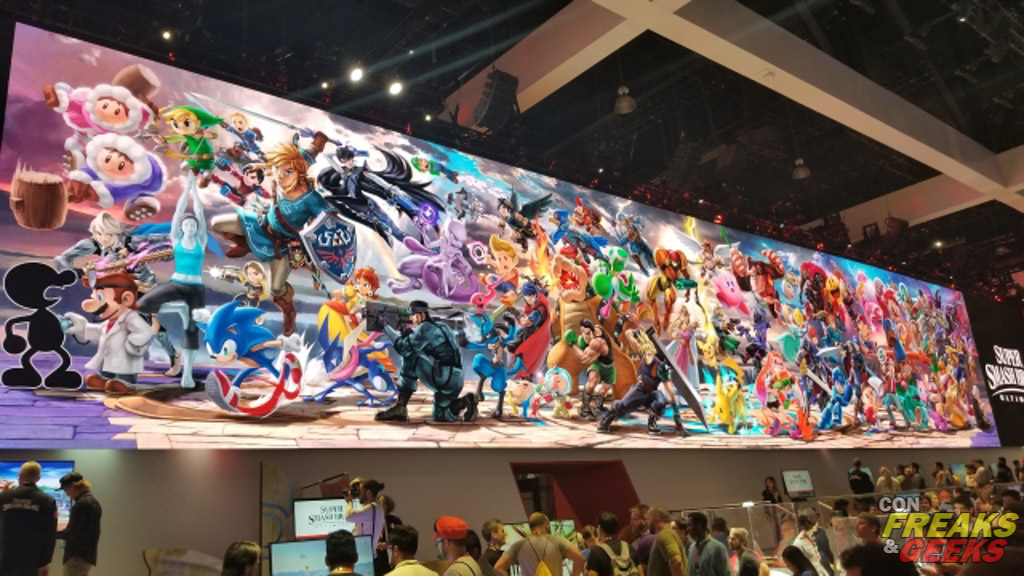 Don't get me wrong, I am one of the hugest Super Smash Bros. fans around. But Nintendo's booth this year was truly centered in SMASH. With 90% of the floor having Smash setups and large life size items and props from the series, they went all out to let you know, they know, that you LOVE SMASH! Sadly, there are people that just don't care for the series. And for those people, Nintendo's show floor was limited to Mario Tennis Aces which is out now, the less traditional Pokemon Lets Go Pikachu and Evee, and a few 3rd party titles that would be multi-platform. So if you weren't a Smash fan, Nintendo's booth was bust.
Onto the GOOD of Nintendo… Super Smash Bros/ Ultimate is truly awesome! Taking every Smash contender ever and adding more to boot. Running on a new and improved engine of Super Smash Bros. For Wii U (Smash4), it seems to be the game that Smash fans have been waiting for. With the beauty and content of Smash 4 and the speed of melee this will be a battle to remember. With new gameplay mechanics like the directional air dodge and the perfect block being added, this will appease with serious competitive players in the Smash/Fighting game world. As of now the only new playable characters are the Inklings from Splatoon and Ridley from the Metroid series. I am sure in the coming months more characters will be announced or at the very least we will see some DLC announcements.
Polymega is a Classic Gamers Dream… Machine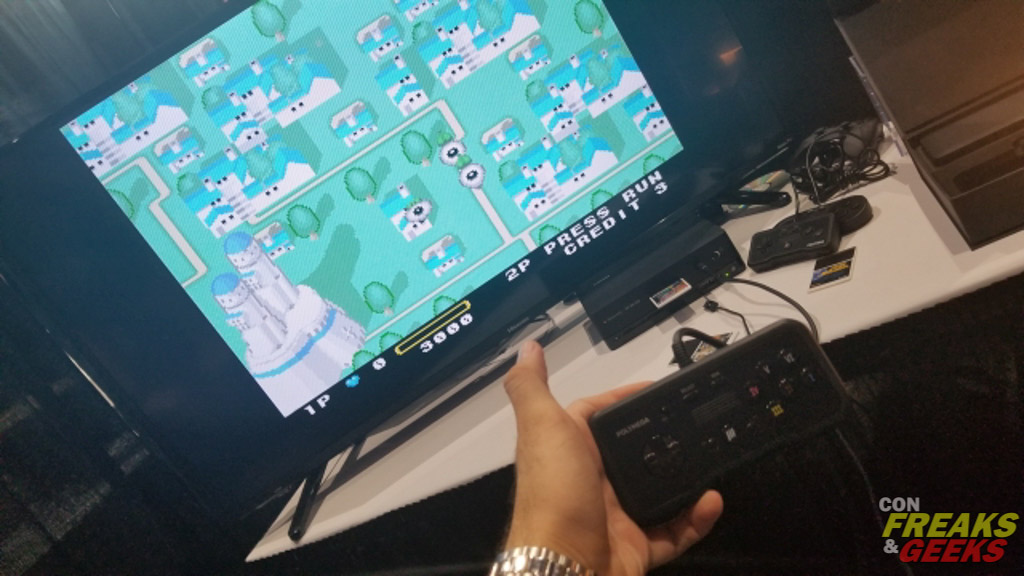 The RetroBlox was conceived a couple years ago to be the ultimate all-in-one retro gaming system, one that would even play CD based games! Well now, Playmaji Inc has rebranded their Dream Machine as the Polymega and boy is it an amazing little machine. The Polymega was on display and playable on the floor and I was able to get an up close and personal tour of the machine and what it can do. You are probably thinking that there are already options to play your retro games on current TVs using HDMI, but nothing like this. Out of the box the Polymega will support CD based retro systems such as Sega CD, TurboGrafx CD, Neo-Geo CD and PlayStaion One. Some of these like the NEO-GEO CD will also get faster load times thanks to the design of the system. But that is not where it ends, you can purchase modules that will allow you to add additional cartridge based systems like Nintendo, Super Nintendo, Sega Genesis, and the TurboGrafx-16. These modules snap on the top and let you not only play cartridges from that system, but you can also use your original controllers if you still have them! Otherwise, you can use the universal dual analog controller that comes with the base unit or purchased new Polymega branded controllers in the style of the classic ones.
But there is more to this machine then just letting you play your games. You can also store your games right onto the machine so you don't always have to insert a new disc, cartridge or even module. Not only will it store your games for easy access, but you can even organize your game in different categories ranging from Console, Alphabetical order or even Release Date. Of course you can also choose multiple filters if it be pixel perfect or a CRT look with scan lines and all. There is a look for every gamer with different tastes.
But one of the most impressive things is the price. The machine can do quite a bit as is and Playmaji, Inc plans to sell the base unit for $249.99 while modules are expected to retail at $59.99. Playmaji, Inc is also working on an online store with publishers so you will be able to purchase games directly to your system, which is great for those hard to get pricey games. Polymega is expected to release later this year and it has the makings to be the ultimate retro console. I would have to say, this was a hidden treasure at E3 2018 
SONY Was A Bit Disappointing…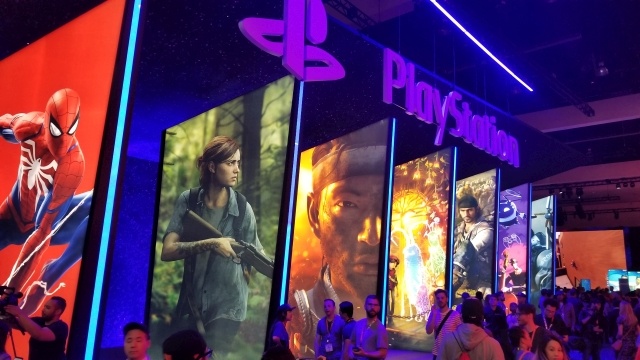 Sony usually has a great show floor full of first party and a plethora of 3rd party exclusive games. This year however Sony only had a single game, SPIDER-MAN. Now, SPIDER-MAN looks to be an amazing game and will be a must buy for many, but that is very slim pickings. Other than the web crawler all SONY showed off were some VR games and two multiplatform games (Call of Duty: Black Ops IIII, Destiny 2 DLC) making them easily the weakest first party publisher at the show. They did however have a huge sit down area with a small theater where throughout the 3 days of the expo, they would have interviews and videos playing. But most of that content was visible during the Media Briefings and everything was streamable online. I presume they decided on showing off less third party exclusives solely to give people more space to move around and line up for what they did have seeing how E3 is now open to the public and the amount of people at the expo is only rising. Still a single first party game is a pretty disappointing site.
CAPCOM Is Back Baby!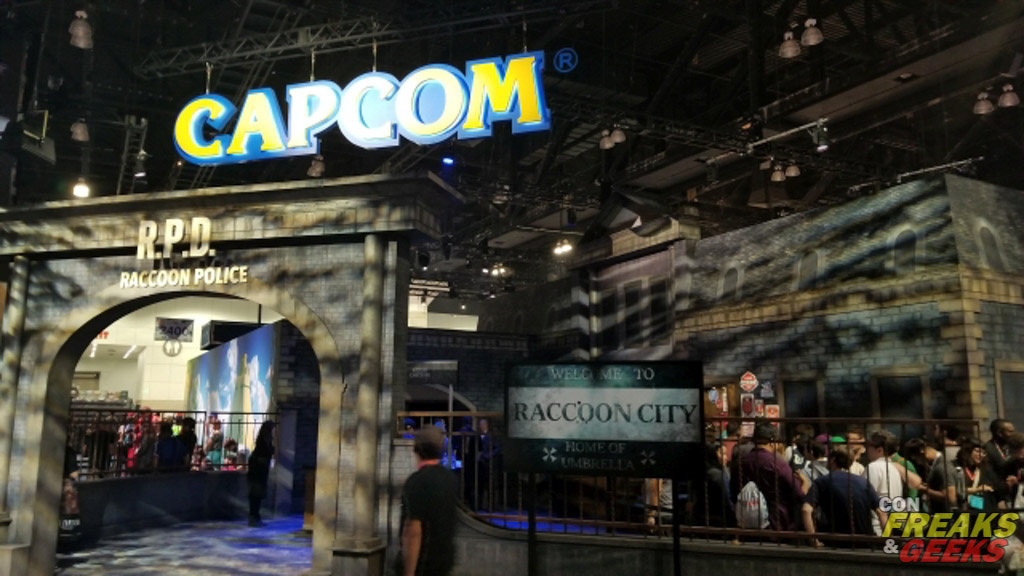 It is truly nice to see CAPCOM back in action. Early on in the current generation, we didn't see much from CAPCOM. Actually we pretty much just had Street Fighter V until 2017. We just got Resident Evil VII, Marvel vs. Capcom Infinite, & Mega Man Legacy Collection 2 last year and didn't get any other game until Monster Hunter World this past January. Well, CAPCOM is coming back with a vengeance. They announced Devil May Cry V which is a continuation of the original series, finally showing off the Resident Evil 2 remake which is coming out January 29th 2019, showing more gameplay for Mega Man 11 due out October 2nd 2018, as well as showing off the Mega Man X Legacy Collection, and confirmed the U.S. release of Monster Hunter Generations Ultimate for the Nintendo Switch. All these big titles coming within the year while displaying new content for Street Fighter V which is constantly evolving. This is easily the biggest display CAPCOM has shown at E3 in years.
Bethesda Had A Surprising Amount Of New Games At E3 2018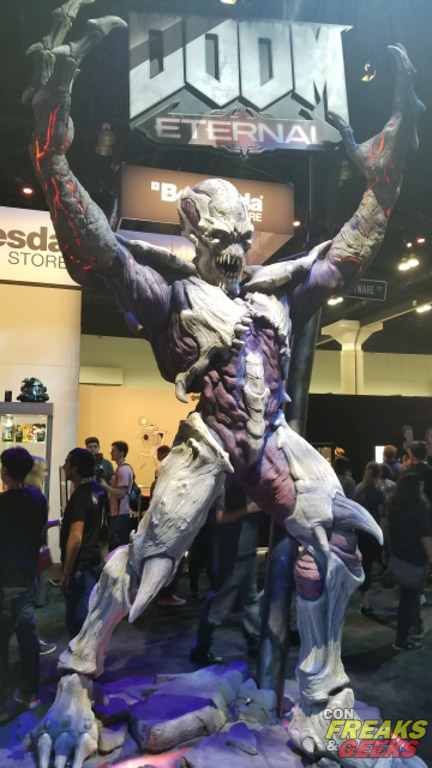 Ok, we knew about Fallout 76 before E3 as well as Rage 2 was leaked thanks to Walmart.ca. But they still surprised us with many new titles. On top of these two games, we are getting a new side story game in the Wolfenstein series titled Wolfenstein Youngblood where you play as B.J. Blazkawicz daughters in the 1980's. Doom Eternal which is a true sequel to the amazing Doom 2016 game where hell is pretty much on Earth. They confirmed they are working on a new IP called Starfield. We have no idea what this is but it seems like it will be an open world RPG similar to Fallout and Elder Scroll, but takes the sci-fi approach. They announced a new mobile game called The Elder Scrolls: Blades, a first person RPG designed to be easily played with a single hand. Bethesda also confirmed that The Elder Scrolls VI is currently in development with no additional information. And Last but not least, The Elder Scrolls Skyrim can now finally be played on your Echo device known as the Very Special Edition. This version is available now and is totally playable, just ask your Echo to play Skyrim and start your new adventure like you have never done before.