Developed by Obsidian Entertainment
Published by Versus Evil
Reviewed on Steam
Pillars of Eternity II: Deadfire is Obsidian Entertainment's latest heartfelt contribution to the roleplaying genre. Obsidian has consistently created titles that feature endless choices and expansive worlds, and Deadfire wonderfully continues this legacy. With a lively world, believable characters, and a dazzling number of variables, the game contains an engrossing array of content. The extensive settings and interface customization allow players to custom tailor their experience to their personal liking. With a robust character creation system, an incredible amount of dialogue, and spectacular production values, Pillars of Eternity II: Deadfire is an enthralling role-playing title.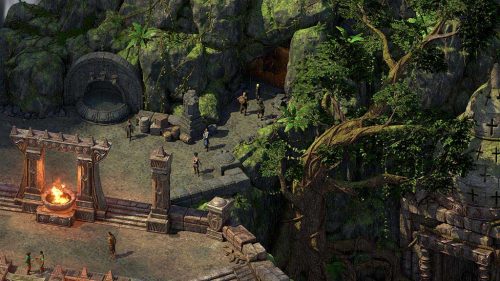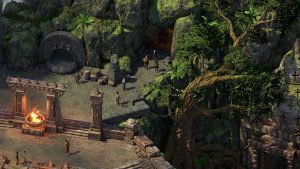 Deadfire takes place in the world of Eora following the first game's events. Eora contains conflicting deities as well as the mysterious substance adra, which influences cycles of reincarnation. A harrowing sequence of events transformed the player character into an otherworldly Watcher. The player could communicate with souls but endured considerable mental anguish. After combating a divine entity and resolving personal and worldly crises, the player retired to an estate. This relative peace is shattered when the deity Eothas returns and emerges from underneath the estate and absorbs residents' life force. After barely clinging to life, the player character eventually returns to the mortal realm to give chase to the deity. This sets off a chain of events in which the player works with a crew to sail forth into the Deadfire Archipelago.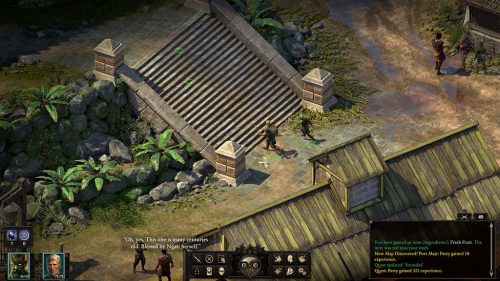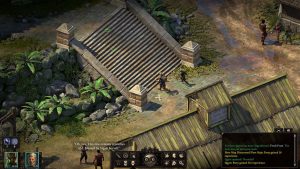 With story selection options and straightforward features, Pillars of Eternity II: Deadfire enables anyone to easily enter the fray. During the initial character creation phase, the player can either import a game file from Pillars of Eternity or pick an overall "game state" that encapsulates choices made in the first game. These scenarios range from having helped everyone to catastrophic circumstance. The game also enables players to create a more detailed history if they so choose. One notable feature is that the game highlights key lore terms during dialogue sequences. Players can hover their cursor over each term and read in-depth information. These unique terms establish a comprehensive universe full of lore to explore.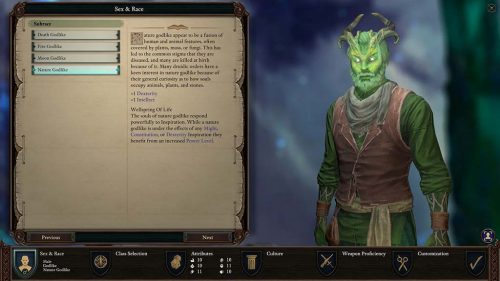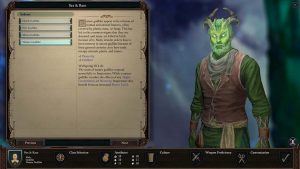 Deadfire intuitively implements familiar roleplaying mechanics in a rewarding way. The game fundamentally revolves around finishing quests, which involves traveling to different areas, interacting with other characters, and performing tasks. While players gain experience through combat, it is possible to bolster characters by completing non-combat activities. Peacefully resolving disputes by picking dialogue options is a valid way to make progress, but players can also choose belligerent options as well. Almost every question has a diverse selection of responses, which allows players to respond as they like. Along the way, the game provides multiple comprehensive area and world maps as well as a full featured journal that logs quests. Despite the sheer vastness of the game's content, everything feels organized and well crafted.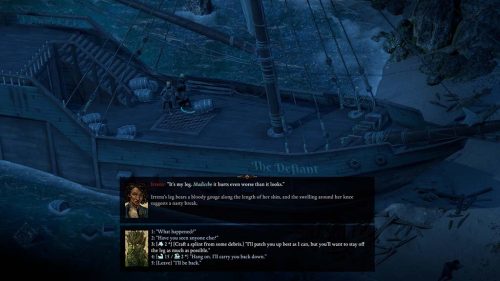 While the general flow of combat will feel familiar to roleplaying enthusiasts, the game features plenty of strategic freedom. A noteworthy feature of Deadfire is that players can opt to sneak around enemies rather than engage them in combat. Players can activate stealth with a simple key or on-screen button click. Once players do engage enemies, the flow of combat is relatively straightforward. Party members engage close enemies in real time, but players can choose to slow down or pause the action to make strategic decisions. Players can utilize a wide array of ranged weapons, area-of-effect elemental spells, and debuff spells. These spells' area of effect is clearly denoted by on-screen circles, and players can also retarget spells before they activate. A new addition is ship-to-ship combat which involve unique turn-based challenges that require players to consider their crew members' status, and the party can even engage in fights on enemy ships' decks.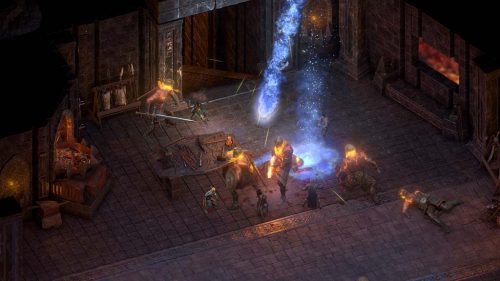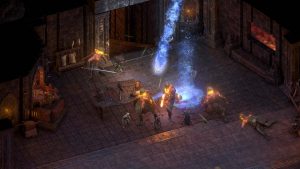 The game's comprehensive character creation system is quite robust. While the variety of options can seem staggering, the selection process is incredibly engrossing. Players have complete control of their avatar's appearance, race, class, stats, and skills. These races span a variety of diminutive and bulky humanoids that all fit into the world of Eora. Players can select classes that lead to available skills as well as a profession that can influence stats. Each race and class has sub-options that are each accompanied by extensive lore descriptions. These options can lead to players really being able to create distinct characters. Furthermore, these elements directly affect the game as certain dialogue responses only become available with specific race and class options. These options help make players' decisions seem relevant and substantial. The full-featured appearance customization options enable players to pick from an immense variety of painterly portraits, hairstyles, and colors.
One of the most striking elements of the game is its sheer level of detail and high degree of production. From detailed props to well furnished landscapes, the game provides plenty of beautiful indoor and outdoor areas to explore. A wide variety of natural and otherworldly effects help bring the environments to life. It is quite remarkable seeing ships move around with waves and experiencing starkly lit interiors. The game's predominantly island-based motif consistently leads to entertaining surprises and situations. Right from the get-go, the non-playable denizens feel believable as well. The game features full voice-over, and the consistently excellent delivery accentuates an already well-written script.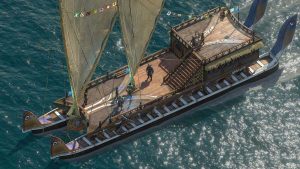 Pillars of Eternity II: Deadfire's marvelous craftsmanship and attention to detail will undoubtedly captivate anyone interested in roleplaying games. Though its expansive detailed nature can sometimes feel overwhelming, the game establishes the world of Eora in a comprehensible compelling way. Due to its widely varying dialogue and expansive content, the game can provide endless entertainment, but a single playthrough can take dozens of hours to complete. Anyone seeking an expansive roleplaying title will definitely enjoy exploring the Deadfire Archipelago.