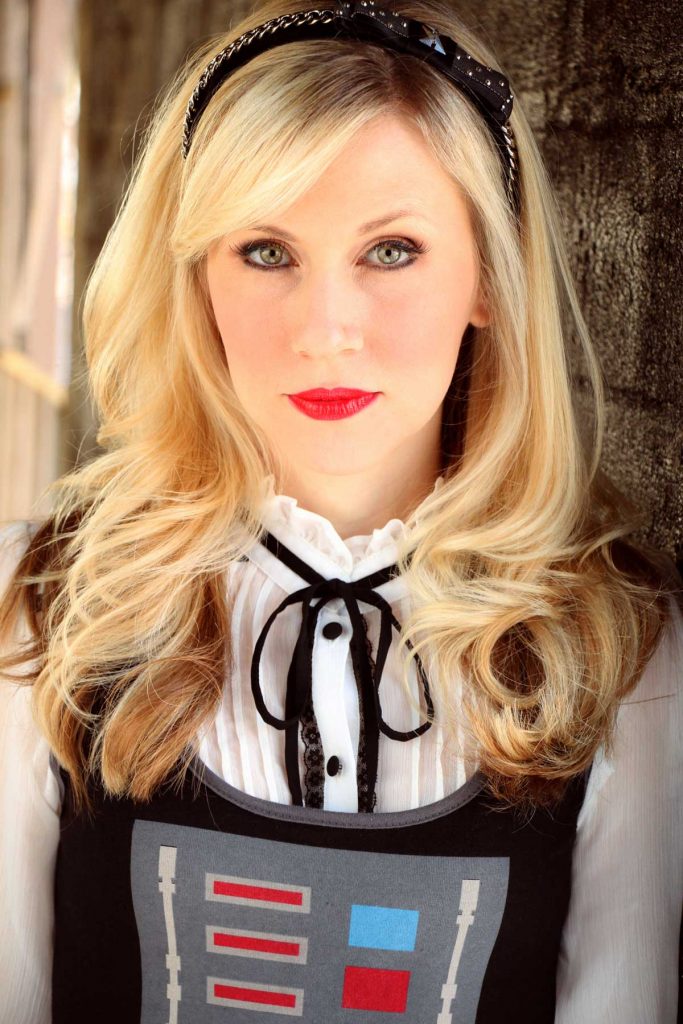 Ashley Eckstein is a modern day Renaissance woman. While mostly known for her voice work as Ahsoka Tano in Star Wars the Clone Wars television series, Eckstein is also a fan of couture fashion and started her own line. Her Universe has since taken off, selling cute outfits to fashionable geeks online, and in Hot Topic stores around the nation.
It was wonderful to meet and interview Ashley at WonderCon 2018. She has been a huge inspiration to girls in Star Wars and geek culture. Her Universe has created clothing for girls featuring their favorite heroes and villains, as well as giving budding designers a chance to show off their stuff and have their creations sold to a market that desperately wants it. She voices a beloved character that has inspired cosplay, fans, and little girls who never thought they would have anyone to play besides Leia. We need more feminine creative forces like Ashley Eckstein.
How did you get involved with Her Universe?
I founded the company in 2010. It was purely for selfish reasons at first; I wanted more Star Wars appeal for girls, which was lacking. I wanted to design for girls, all the merchandise that was available was always a babydoll Star Wars tee that was two sizes too small, and always in pink. There was no variety and I wanted that. Girls need Star Wars too!
In the five years you have worked with Her Universe, can you choose a favorite design you have seen?
It's too hard to choose! I get to know all the designers personally and everyone is so talented. I love seeing these amazing pieces they create. The first winner of Her Universe was Andrew McClain. He made a Lego couture gown that was made out of 10,000 Legos and weighed over 25 pounds! I like seeing designers take it to the couture level. Designer Harmony Leiker hand stitched an entire Fantastic Beasts inspired outfit, including hand stitched beasts and briefcase.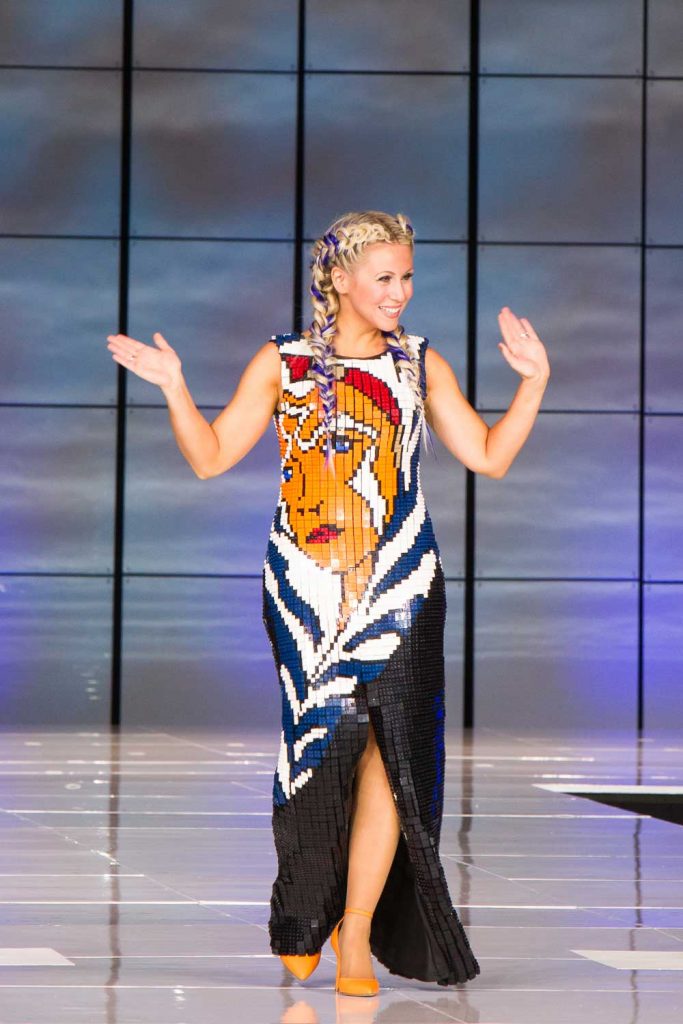 How does Her Universe help budding designers?
It has created a community, and that was what I wanted, to create a community and merchandise for a female audience. It's a safe and positive place for fans to be celebrated. I'm always passionate to give feedback to help make designers dreams come true. I like to do one on one time with designers when I can, and always give encouragement.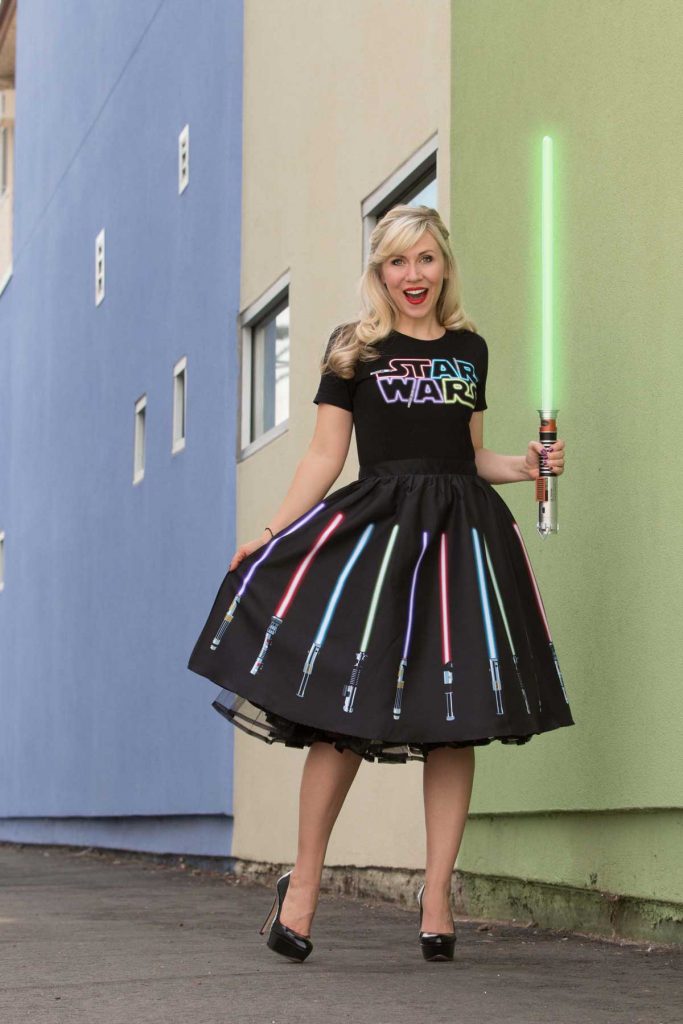 What is your favorite thing about voicing Ashoka Tano?
She was the first female lead Jedi in the Star Wars universe. I feel it gives girls someone to look up to and to play as on the schoolyard. When I was younger, the boys all played Star Wars and the girls played My Little Pony, but, I didn't want to play My Little Pony. If  I wanted to play Star Wars I had to be Princess Leia, and, if there was already a Leia, I couldn't play. Ahsoka, Rei, Jyn, Hera, characters like this give girls more options to play, more heroines to look up to. Ashoka helped paved the way for more female leads in Star Wars. A lot of that is thanks to Dave Filoni, who created Ashoka and Hera. He helped break the boundaries for female characters in the series.
Do you keep in touch with the designers who have been in Her Universe?
Yes, and the designers have kept in touch with each other as well. They have created a positive and supportive place for designers and to help each other. I'm so proud that I could help make that strong support system for them, and so proud of them for doing it. Collaboration is so important, especially with women, who society likes to pit against each other. I have worked constantly with Ashley Taylor, and, she has always been a support system for me. It is now year five of the show, and together we are working to bring Geek Couture to the world as a regular phrase. Some of these designers have even gotten job opportunities from the show, and that is incredible.
What is the process to get into the Her Universe Fashion Show?
We usually have around 250 designers enter for 25 spots. It's so hard to choose, something that I am involved with. We want to make sure these are designers that can make what they have designed, and understand this is to create couture fashion based on geek culture. That usually narrows it down to about 100 spots. From there we purely choose based on design. We want to give everyone a good chance to win. I try to give feedback to those I can. I read every submission personally and it can be heartbreaking to choose, I care about all designers who enter Her Universe.
Check out a variety of designs and apparel on their website HerUniverse.com