Written by: Jay Faeber
Art: Scott Godlewski
Published by: Image Comics
Damn, this is one smooth piece of sequential story telling! Copperhead oozes class, attitude and a fair amount of skill all of which when combined in an alien western feel,  a story that you should be reading. Issue 4 is a nailed on excellent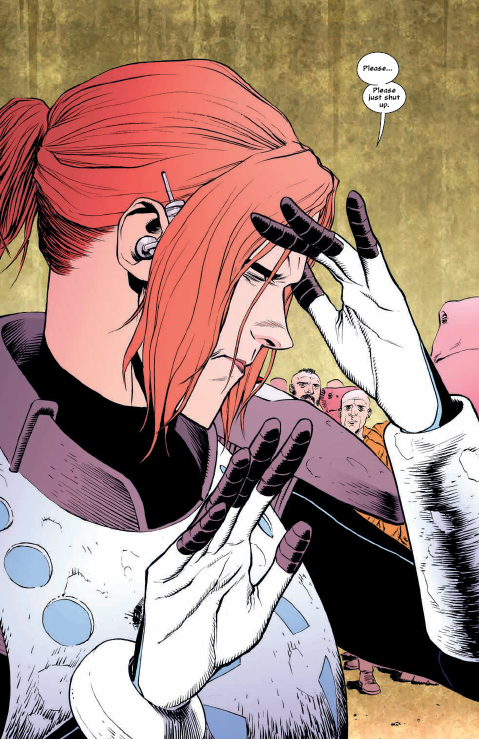 book, we have drama, intrigue, action and a fair bit of good ol' SASS! Leading from the front is the ever dependable sheriff, Clara Bronson. She's a single mother, a sole provider and she has an attitude – don't be mistaken if you think that this is criticism of stereotyping, it isn't. While there are elements that aren't that original (the gruff deputy for one), the way that Jay Faeber handles the story and characters means that you are swept along seamlessly.
The story in this issue is a mix of elements. We are dealing with the aftermath of a heinous murder. While trading 'banter' with a self important local, Clara is every inch the representative of the law: forthright and authoritative. This bleeds into a further, and humorously delivered, encounter. Copperhead doesn't overly stray into comedy but where it is employed, it is effective and gives a nice accent to the story. Similarly, in issue 4, we have moments of genuine tension, very effectively rendered by Scott Godlewski.
The writing feels effortless, in that the plot rolls out smoothly, the dialogue trips off the tongue and the characters are fleshed out, believable and, despite some alien races, their humanity shines through. Given the set up and delivery, and how the reader engages with the characters in Copperhead, we are drawn into this world, we engage with the characters and the story that sweeps them all together. There are complex relationships here, discord and conflict – all this is thrown in with an alien backdrop, a heavy dose of sci-fi and a rugged Wild West ambiance that really delivers a compelling book.