Crunchyroll Expo 2017 Convention Report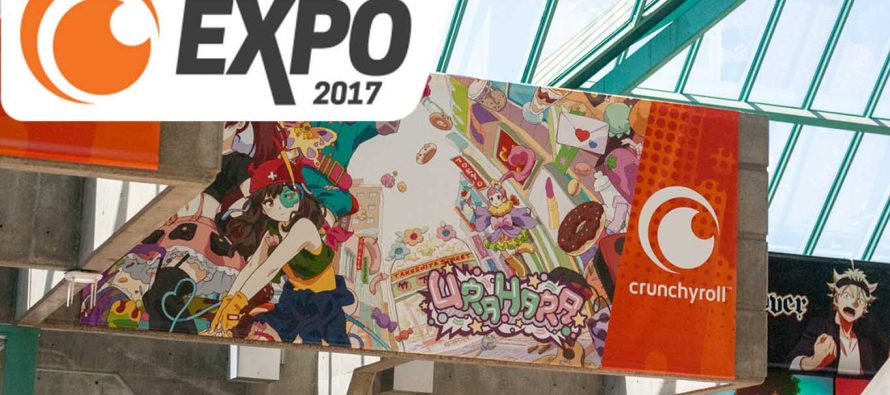 The inaugural Crunchyroll Expo 2017 was held at the Santa Clara Convention Center from August 25 to 27, and it was packed with diverse sights, guests, booths, and fun events. It was quite thrilling being able to attend events featuring esteemed North American content producers and renown Japanese guests. It was also a blast traversing the convention halls as they were filled with orange-infused signs and plenty of standees. The convention felt well run and organized, and we feel blessed to have experienced such an entertaining event during its first year.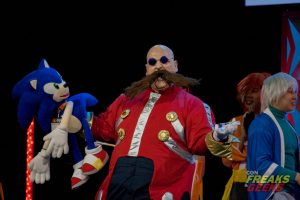 The eye-pleasing halls were filled with colorful imagery at every corner. We were impressed by the large scale banners, whimsical images, and bold signs. These signs frequently portrayed Crunchyroll-hime, who is Crunchyroll's perpetually happy mascot. It was fun seeing character standees featuring Crunchyroll's current anime series such as Restaurant to Another World. These standees included a few of the anime's mysterious doors, fantastical patrons, and kitchen staff. The convention entrance was lined with banners advertising streaming services and prominent franchises. Crunchyroll Expo 2017 also provided an art gallery full of Hunter x Hunter animation materials as well as Yoshitaka Amano's paintings for Final Fantasy and Vampire Hunter D. The screens in the halls were also put to marvelous effect as well. They further accentuated the expo's persistent orange motif and they provided helpful information such as where to find food trucks.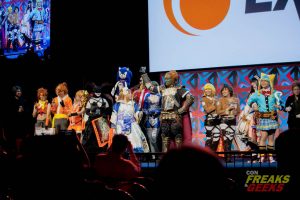 Crunchyroll Expo 2017 had a schedule full of incredible quality programming, and it was sometimes hard to decide what event to attend. With five stages full of concurrent panels, discussions, screenings, and industry events, there was almost always something exciting to attend at any given time. We had the opportunity to attend some of the fun events. We attended a Hatsune Miku voice mixing demonstration, a "Chocobros" panel featuring three major Final Fantasy XV voice actors, a discussion with legendary painter Yoshitaka Amano, and the Masquerade Super Deluxe. The "Chocobros" consist of Chris Parson, Adam Croasdell, and Ray Chase who respectively voice Gladiolus, Ignis, and Noctis in Final Fantasy XV. They provided insights about their voice acting history and experiences, and their bright personalities were consistently marvelous to witness on stage. Amano's humble beginnings were quite wonderful to hear, and he even conducted live demonstrations on stage. His sheer speed and layering process was breathtaking to watch.
We were also quite impressed by Crunchyroll's take on established convention offerings. The Artist Alley and Exhibit Hall were well organized with an incredible range of booths. Two Exhibit Hall  corners were dominated by giant inflatables of Attack on Titan's Colossal Titan head and the seal character Goma-chan. Other displays including the beloved Banana-ya and replica props were also present throughout the room. Furthermore, it was awesome being able to demo forthcoming anime licensed games such as Gundam Versus and Little Witch Academia: Chamber of Time. The Artist Alley's size rivaled that of established conventions, and it was wonderful browsing artists' diverse work. The sheer variety of items including prints, crafts, and even stationary was quite staggering.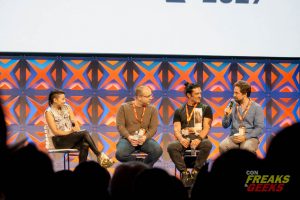 Furthermore, the Masquerade Super Deluxe is an appropriately named take on conventions' typical costume masquerade. The first half followed the typical flow of walk-on costumes and scripted performances to be overseen by judges. However, the "half-time" portion – which is in place to allow judges to tabulate their scores – was considerably more fun than many conventions'. Volunteers were asked to draw, pantomime, and even create an act to fit one of the provided anime theme songs. An endearing part of the event was how the emcees cosplayed as Noctis and Ignis of Final Fantasy XV and consistently provided in-universe banter. The masquerade was almost completely free of technical issues such as volume issues and timing delays. The costumes also spanned a wide range of games and anime while demonstrating admirable craftsmanship.
Despite being in its first year, Crunchyroll Expo provided just as much amusement as many established conventions. For the most part, the offerings focused on standard convention activities without too many extra frills. However, Crunchyroll Expo 2017 did a marvelous job delivering panels, exhibitors, and vibrant displays for attendees to enjoy. We can't wait to see how the convention develops in forthcoming years!
Vincent Lai
I'm a gaming enthusiast who enjoys a variety of platforms! I also love wisps, rainbows, and gardens!
---
---
Related Articles
Geeky News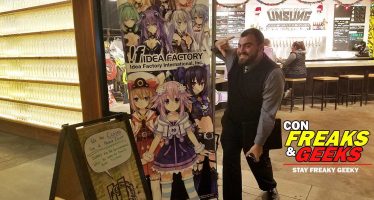 Two weeks ago, Will and myself were invited to Idea Factory International's 2017 press event at the Unsung Tavern in
Anime Features/Previews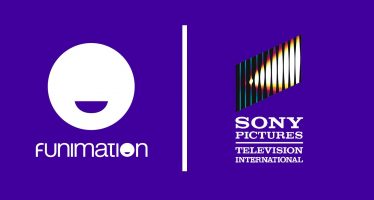 With a big surprise, An incredible announcement occurred earlier in the week. Funimation has agreed to be acquired by Sony
Geeky News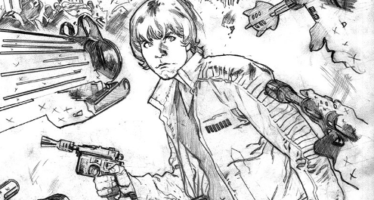 Marvel Entertainment and Lucasfim Ltd. are pleased to announce the addition of blockbuster artist Stuart Immonen (All-New X-Men, All-New Captain