Day of the Devs 2018 Recap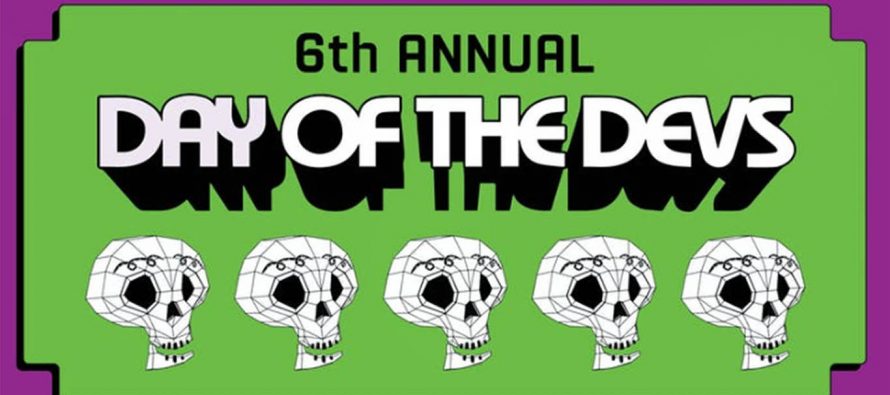 Spearheaded by Double Fine and iam8bit, Day of the Devs has prominently featured forthcoming games for the past six years in San Francisco. 2018 marks the fourth time the event has been held at The Midway in the Dogpatch neighborhood of the city. For eight hours, attendees lined up around kiosks throughout the the venue's multiple areas. The fervent crowd filled much of the space throughout much of the day. This year's game lineup encompassed over seventy games, which predominantly featured independently developed titles as well as a handful of high profile industry names such as Kingdom Hearts III and Dreams. 2018's show was just as riveting and diverse as prior years, and here are just a few of the notable games that jumped out to us.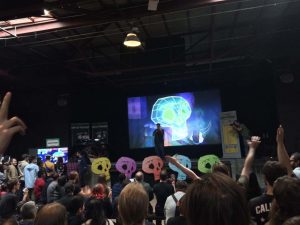 Local Shenanigans
Spelunky is renown for overwhelmingly trouncing players, and Spelunky 2 adds some new twists to the game's randomly generated platforming thrills. We tried a pair of two-player runs in which we traversed seemingly familiar cave and forest worlds, but a handful of brand new dangers and traps kept us on our toes. Enemies digging through terrain, mini-spike laden ground, partially hidden traps, and sub-rooms all provided meaningful takes on Spelunky's danger-filled progression. I also thoroughly enjoyed the addition of cats as rescuable characters. Another hysterical title was Sloppy Forgeries, which tests two local players' ability to recreate a classic painting in just over a minute. The game gives percentage completion based on covered space and accurate color use, and we cracked more than just a few jokes as we desperately tried to cover ground with frantic mouse movement. The event also prominently featured Samurai Gunn 2 and Scrappers via tournaments, and Killer Queen Black's team-based objective antics resonated incredibly well with audiences.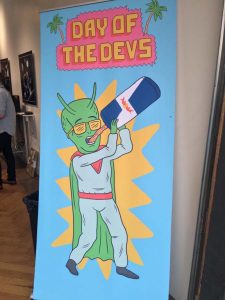 Relaxing Wonders
The show also presented numerous relaxing experiences that provided a nice change of pace. We got to try Rosa's Garden, which presents a freeform world in which players can freely move pods around a watery surface. These pods can be empty or have a fully grown tall rose plant. Mashing two rose pods together creates opportunities to grow more plants from scratch. Watching new plants grow right in front of your eyes is satisfying, and the rose colors seemed rather varied as well. We also were quite amused by Bird Alone, and the game does a wonderful job of living up to its name. The game presents a bird in a jungle that remarks about its loneliness, but it asks the player all sorts of off-the-wall questions and responds appropriately bizarrely. At times the player can even draw something as a response to the bird's prompt, which results in even more hysterical fun.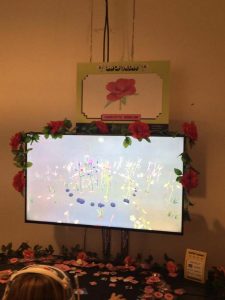 Striking Experiences
GRIS has had impactful showings throughout the year, and it continued to enthrall audiences with its beautifully crafted aesthetics and surreal settings. It is a simple platformer in which players must use carefully timed jumps and floating abilities in order to progress to the next node and move on to the next area. The most striking part about the game is that everything feels like a perpetual dream, and not everything around the player is necessarily solid. The simple mechanics and moving audiovisuals are quite impactful, and we can't wait for the game to come out. Ghost Giant is a VR game in which players play as an ethereal giant and help a little animal boy navigate the surrounding environment. The visuals are quite vibrant and bold, and we feel the game be a fascinating take on both the puzzle genre and VR. Etherborn is a puzzle title that takes place in amorphous hazy spaces, and the player controls a gravity-defying avatar that can walk up the sides of walls. We believe the title will really shift players' perceptions of puzzle solving.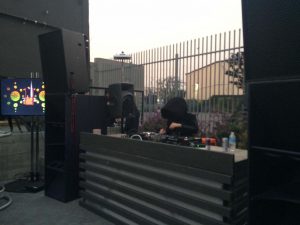 Going Back to Synaesthesia
The highlight of the night was the outdoor stage in which Hydelic performed a jamming electronic set. Hydelic is an artist renown for contributing to Rez Infinite and Tetris Effect, and the audience was quite enthralled by the performance. We got to hear the track "I'm Yours Forever" from Tetris Effect among many other pieces throughout the entire set. Attendees could also play one of the two nearby Tetris Effect stations to really get into the moment.
Day of the Devs 6 was a fantastic show just like previous years', and the sheer diversity of games on display was staggering. The roster really showcased some wonderful development talent, and we can't wait to check out the games in the future. Thanks to Double Fine and iam8bit for such spectacular organization and curation.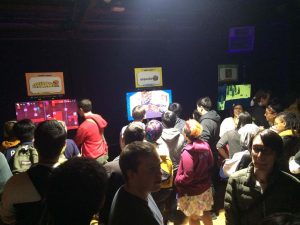 Vincent Lai
I'm a gaming enthusiast who enjoys a variety of platforms! I also love wisps, rainbows, and gardens!
---
---
Related Articles
Angelenos and visiting geeks alike celebrated Halloween a little early this year at Los Angeles Comic Con 2017. Held once
Persona 4 Golden The Animation Persona's popularity is continuing to climb, with the release of Persona 4 Arena Ultimax
In true Hideo Kojima fashion, a new trailer for Metal Gear Solid V: The Phantom Pain has been released and