Evil Empire #4
Written by: Max Bemis
Art: Andrea Mutti
Colours: Chris Blythe
Published by: Boom Studios
Max Bemis' Evil Empire is a political thriller type book with a gritty feel and some dark material between the cover and the ending. The 4th issue begins with a slight use of time shift, firstly to set the tone for the issue and then to draw the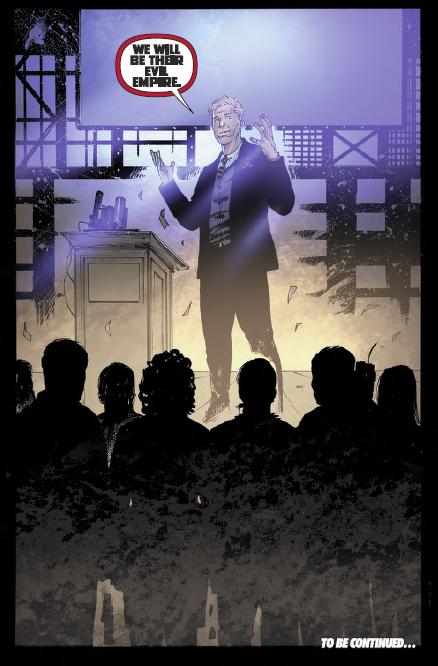 reader into recent events. The jump from 25 years in the future is a little jerky. The scene itself lends at atmosphere that foreshadows the events that follow it, while the interplay by the characters is very effectively built by Bemis, the rest of the book doesn't carry the same pace. Characterization is one area where the writer shines, as there is some craft employed in the development.
Political thrillers tend on the wordy side, which can slow the action and take the impetus out of a book. That is always a concern with this kind of comic and that reliance on the text to tell the story is the abiding feel of the book. The plot is well developed but you don't come roaring along with the story, following the initial segment, the remainder of the book is a steady progression to a final scene that, while it does provide a fitting twist to end the issue on, it is rather pedestrian and telegraphed.
On art, we have Andrea Mutti. It isn't that I dislike the art in this book, it is married quite well to the nature of the story and there are good element. My main issue with the art is possibly due to the 'talky' aspect of the book – Mutti has to render a lot of people speaking, and that does give a repetitive feel to proceedings. Some of the panels you feel are very similar to one another, and that doesn't entertain the eye. Though, in fairness to Andrea, how do you keep conversational dialogue looking interesting?
I did appreciate the gritty feel of Mutti's work on this issue, it is dark, foreboding and gels well with the overall feel of the story.
There are some nice touches in Evil Empire, and if this kind of story is to your taste, then you will appreciate the story. It isn't to everyone's taste and Bemis has their work cut out maintaining pace going forward.
Overall Score:

6/10