Developed by Beautiful Glitch and published by Those Awesome Guys, Monster Prom is an incredibly unique competitive multiplayer take on dating simulation games. Monster Prom is full of whimsical characters and tons of hilarious writing. The player enters a seemingly ordinary high school, but in reality, it is filled with off-the-wall antics and colorful characters. The students are fun interpretations of fantasy archetypes with well-defined charming personalities. ConFreaks & Geeks did a trial run and sat down with Rick of Those Awesome Guys and we had a blast and plenty of laughs.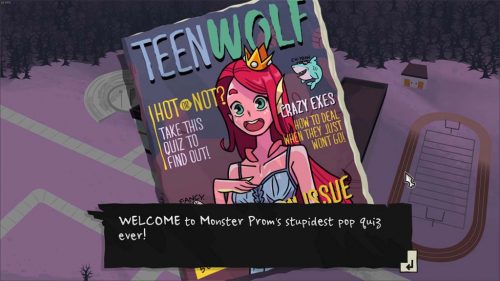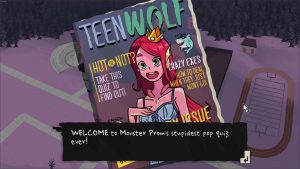 The game flow involves taking turns interacting with the school's denizens, which bolsters players' chances of romancing a monster. The ultimate goal is to successfully ask a monster to the prom at the end of the playthrough. While Monster Prom is intended to be a multiplayer experience up to four players, it can also be played solo if the player so chooses. To start with, the game asks a bunch of questions that determines players' personalities. These answers influence starting stats. During a turn, players can then pick from various high school locations, which triggers an event that boosts stats. Players then meet a character who will then have a humorous anecdote, and the game will require picking between different answers. The choice can help or hinder players' affinity with the character. These characters include the mermaid-inspired Miranda, the snake-like Vera, and the amusing horned fellow Damien.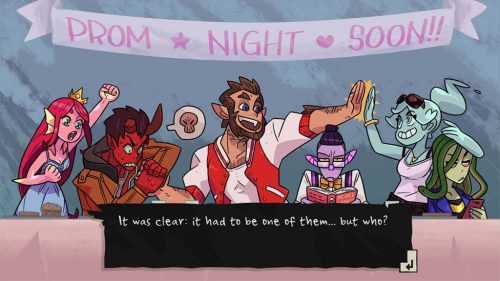 Monster Prom's turns also have other actions that keep players on their toes. At times, it will present a question for the players to answer among themselves. The answer determines the successive turn order. During our example play, the game prompted us to think of occupations, and then it asked us to decide if Rick would be able to get a job as a given occupation. This sort of zaniness extends beyond the game itself, which creates a bit of a party atmosphere on top of competing for monsters' affection. Other happenings involve a shop that allows players to purchase tide-turning items and weekend events that allow players to directly influence their relationship with a monster or sabotage another's relationship. Once all the turns have passed, players get to ask a monster to prom, and the results depend on the players' actions up to this point.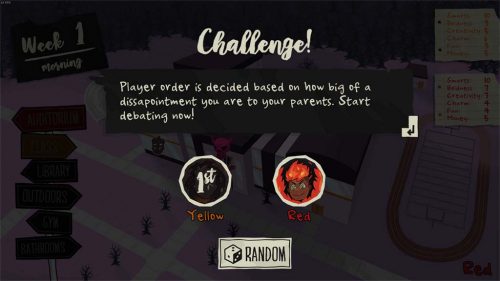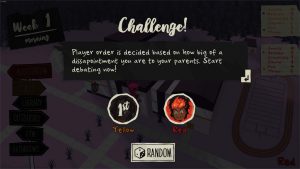 One of Monster Prom's hallmarks is an extensive amount of writing and multiple endings which creates an incredible amount of replay value. The estimated amount of text is at about 300,000 words, which is a staggering amount of content. Rick said that it may take a couple of playthroughs to grasp the characters' personalities, and they may not be what one would expect. For instance, Scott is a bit of an oblivious softie, even though his werewolf-like appearance might suggest a bit more aggressiveness. Players can sometimes pick non-sequitur responses to questions, which can lead to some entertaining responses. Rick stated that the game also has an algorithm that prevents players from seeing the same content in back-to-back playthroughs. The game's extensive number of endings include going to prom with one of the six main classmates, but players can even go to prom with others as well. Furthermore, Rick teased that the game has a ton of secret content to discover.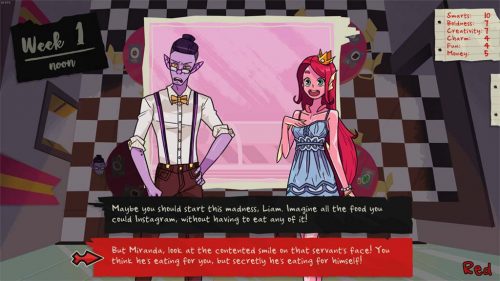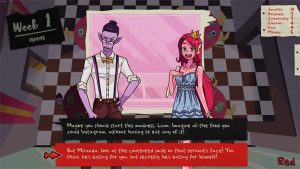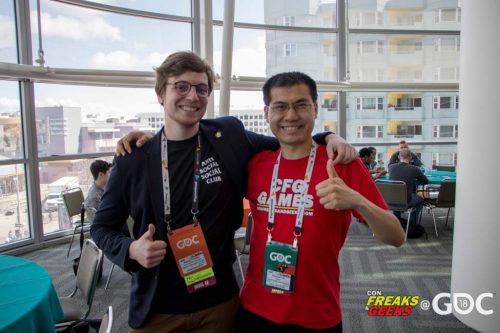 Rick spoke about the community's reactions to some of the game's characters as well as some of the game's inspirations. These insights were incredibly exciting to hear. He mentioned that artists are making tons of fanart for the game and that it warmed his heart to see people appreciating the characters in an instant. One of the main developers is Julián, who has a passion for game art as well. He is responsible for both editions of Indie G Zine, which is a compilation of game art. We asked Rick if he would enjoy having the characters in other types of media, and he would enjoy seeing the intellectual property developed further outside of games if given the opportunity. In terms of whether it was the intent to spoof high school tropes, he said that Monster Prom "spoofs them and turns them on their heads" and that "the game is aware they exist and sometimes tries to make fun of them."
We can't wait for more of Monster Prom's zany antics, and we guarantee that everyone will get numerous laughs once the game comes out. Monster Prom is slated for release for PC, Mac, and Linux via Steam on April 27.