ConFreaks & Geeks had a thrilling time attending the 2019 Game Developers Conference in San Francisco from March 18th to March 22nd. As with every year, GDC is jam-packed with content. We chatted with talented developers, attended several insightful sessions, and had plenty of hands-on game experience. This year was marked by Google's ambitious Stadia announcement, a record-breaking 29,000 attendees, continued presence from virtual reality vendors, growing presence from independent developers, and fascinating retrospectives for a handful of beloved '90s franchises. We wanted to provide a general overview of our experiences as a preview for our more detailed coverage of the event.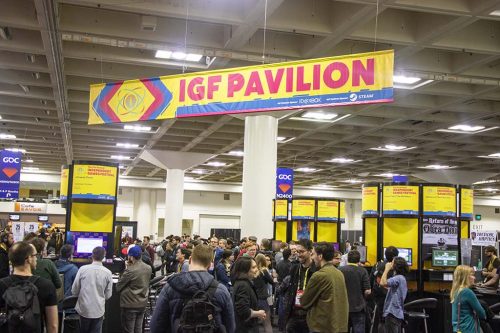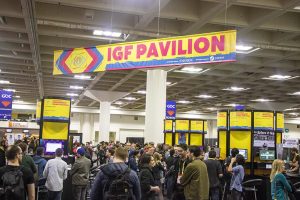 Google boosted its presence to promote their forthcoming Stadia cloud gaming service. We saw a series of display cases outside the Moscone Center alongside a timeline of developments in gaming history. This timeline mentioned notable events such as programming a chess game in 1950, the introduction of arcades and home consoles in 1972, the launch of dedicated handhelds in 1989, motion controllers in 2006, and the presence of a hybrid console in 2017. We also got to take a look at the first Nintendo Power magazine and a slew of handhelds and consoles. The Stadia announcement on Tuesday certainly portrayed an ambitious take on streaming games online. A sizable portion of the second floor of West Hall was dedicated to promoting the Stadia's goals, the controller, and live streaming demos.
As per GDC tradition, the Moscone Center's halls occupied attendees' attention with a wide variety of spaces. Last year's construction blocked off sections of the Moscone Center, but the halls now feel more open and spacious than a few years ago. GDC provided plenty of areas to experience forthcoming games from independent developers. The many examples include GDC Play, a Day of the Devs space, the relaxing Mild Rumpus area, the Indie Megabooth which rotated games halfway through the week, the Independent Game Festival Pavilion, the newly moved Train Jam exhibition area, and alt.ctrl.GDC. As always, the South Hall featured prominent industry names such as PlayStation, Xbox, Amazon, Unreal Engine, and Unity, and these booths were as grandiose as ever. The North Hall and the central connecting space featured technology partners and independent developers.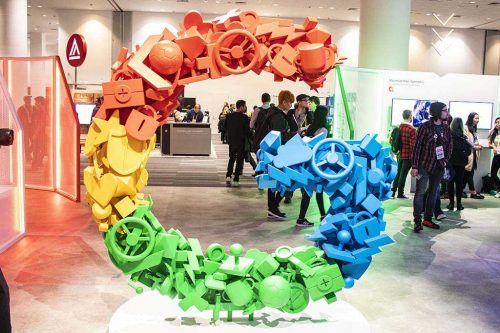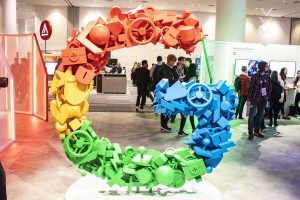 GDC always highlights recent notable games as well as postmortem sessions for beloved franchises. Attendees could check out sessions featuring notable releases such as God of War, Marvel's Spider-Man, Tom Clancy's The Division 2, and Tetris Effect. These sessions focus on specific elements such as audio, AI, texturing, animation, procedural generation, and lighting, and narration. We attended a technical talk for The Division 2 that delved deep into graphical processing pipelines, and we attended postmortem sessions for the Panzer Dragoon and Command & Conquer series that really conveyed the power of teamwork and positive collaborative energy.
We really truly had a blast attending GDC this year, and we are just getting started with our coverage. GDC provides plenty of opportunities to meet people, and much of our time was actually spent chatting with developers on the floor. Stay tuned for our continued coverage of GDC, which include interviews, game overviews, and notable insights from the event!