Once a year, Indianapolis gives up their convention center, nearly all of their hotels, and Lucas Oil Stadium to gamers of all kinds for Gen Con.  This event is the largest of it kind in North America and quite possibly the world.  Card games, board games, and table top RPGs of many different genres get bought, sold, and played throughout the convention.  With tournaments, campaigns and panels happening every hour, and an exhibit hall that rivals any comicon, there is never a shortage of new games to see and different activities to partake in.  These are just a few of my favorites from this year.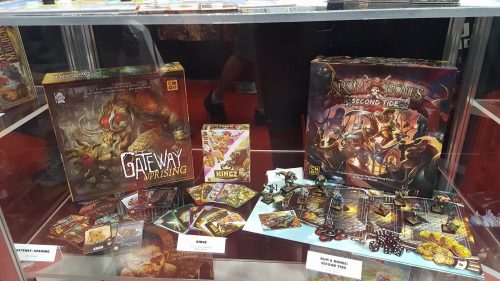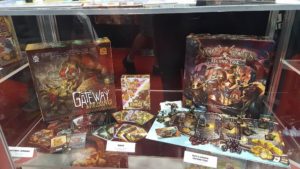 If you ever look for board game news or reviews, chances are you have ran across The Dice Tower.  Their website and you tube channel are some the biggest resources for all thing tabletop & RPGs.  They had a booth where you could go talk to them and pick up some exclusive promos, but I didn't expect that I would enjoy their panel so much.  The panel had what you would expect, companies showing off and talking about their newest and upcoming games. The way they kept it entertaining throughout the entire 2 hours is what impressed me.  The jokes were solid and the musical numbers were surprisingly good without overstaying their welcome.  Best panel to see if you only have time for one.
While Amanda and I didn't have time for a full campaign, we were happy to know that Dungeons and Dragons Adventure League offered short 2 hour sessions that anybody can jump in and play, no matter what the skill level.  They also had pre-made characters for you to use if you didn't prepare a character beforehand.  We ended up playing in 2 different sessions with different groups.  Don't want to give too much away, but one involved hordes of miniature goblins in a cave and the other was sneaking into a giant's abandoned holy temple.  Both very different, but equally fun.
Out of the hundreds of booths in the exhibit hall, my favorite one to visit was easily Cool Mini or Not. CMON had a larger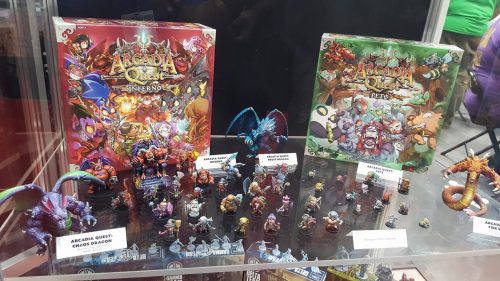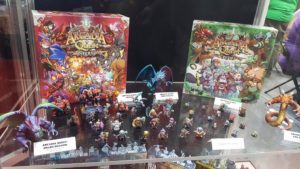 than most play test area and multiple different games to try.  My personal favorites were Blood Rage and one of Arcadia Quest's new expansions coming soon, Arcadia Quest Pets.  Blood Rage is a newer game about obtaining glory for your viking clan by completing quests, fighting other clans, or dying in Ragnarok.  Arcadia Quest is a game about using your guild to save the land of Arcadia by completing quests and messing with other guilds along the way.  AQ Pets adds exactly what you think, pets for each of the guild.  The pets act as helpers giving bonuses to the members of your guild that are close.  There's also a way to catch more of them and add them to your guild.  Had a blast playing both games and ended up picking both of them up, but I have to wait for Arcadia Quest Pets to come out later this year.
One company that's not the 1st one to come to mind when one thinks of tabletop gaming is Rooster Teeth.  I met up with some of the designers to play their game "Million Dollars, But…" that's based off of the show of the same name.  It's a very Card Against Humanity-esque game where all the player play a combination of a trigger card and an effect card to create the worst situation and it's up to the judge to decide which pairing they couldn't handle.  What's worse : million dollars, but whenever you sneeze, a roach appears in your mouth or million dollars, but whenever you hear a car honk, your house burns down?  It's a very simple game that I found myself spending a lot longer playing and laughing than I initially thought.
Amanda and I wanted to try our hand at some tournaments this year, so we entered into the King of Tokyo and King of New York Tournaments by Iello Games.  Even though it was a competitive event, almost everyone was friendly, laughing, and genuinely having a good time.  I was eliminated early, but Amanda made it to the semifinals of the King of New York National Tournament before being eliminated.  Even though we didn't win, we still earn quite a few promos for both games.
This was my 2nd time going to Gen Con and it is fighting New York ComiCon hard for my all-time favorite convention to go to. If you are even remotely into tabletop gaming, I strongly advise you to go to Gen Con.  Gen Con 2017 will be it's 50th year running the event so expect them to pull all the stops.  Hope to see you there!