Story by: Simon Oliver
Art by: Moritat
Colors by: Andre Szymanowicz & Moritat
Letters by: Sal Cipriano
Published by: DC Comics
This issue of Hellblazer Rebirth is a peculiar affair, feeling very much like a solitary story, rather than any kind of continuation. From beginning to end, in this book it's a self contained story which pervades this issue. John Constantine is back in his old stomping ground of London to reverse the effects of a demonic curse that had made him flee the country some time before.
The set up follows a simple chronology with Constantine's past laying the foundation for the issue. We are introduced to the nameless, 'Laughing Boy', demon early on, which also illustrates the relationship between the two.
In terms of the characterization of the book, Simon Oliver manages to construct a story for Constantine that fits with the overarching concept of the character. The dialogue works for the story, and it flows acceptably. The demon is a little two dimensional, but then they do manage to fulfill the basic premise of a villain. There's insufficient menace though, which is a pity as the darker overtones of the book cry out for something sinister or malevolent. As it is, the dramatic element is sadly a little flat.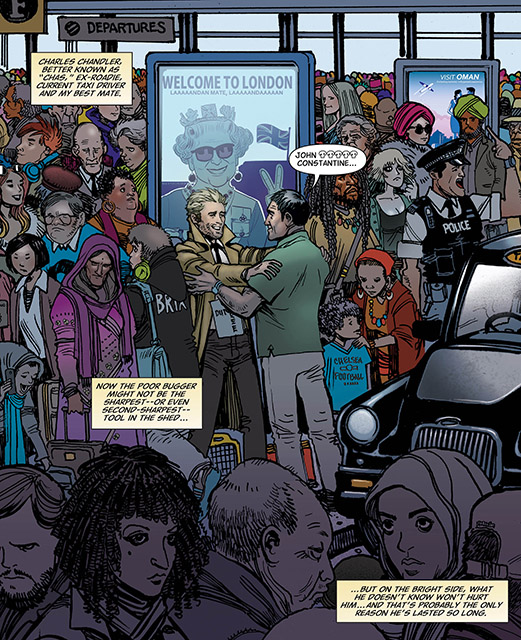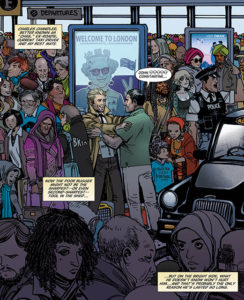 On art, we have Moritat. On the whole, the comic is functionally illustrated. The basics of anatomy and composition are covered. Some of the facial work is a little flat and could be sharper. Unfortunately, one of the aspects that is bothersome is the color. A lot of the panels seem too flat, maybe that's what was wanting to convey, a kind of washed out vibe.  Although, it doesn't work too well.
Overall, the basics of the story are functional enough, there isn't anything particularly wrong with the script but you do get the feeling that the limited scope of the story isn't sufficient. To be a standalone story it is not enough, to be a part of a continuation it feels like a filler issue. This Hellblazer Rebirth issue is a one character party: John Constantine is sufficient to carry the book but it would be eminently preferable to have a more worthy foil for him than the generic demon on display here.