Judge Dredd City Limits Vol. 1 Review
Written by: Duane Swierczynski
Art by: Nelson Daniel
Published by: IDW Publishing
Greetings and salutations, I bid you welcome to that most discerning of gentlemen, that erudite and charming of personages Judge Joseph 'Joe' Dredd! IDW's outing into the legendary waters of 2000AD's leading light starts out with an epic 12 issue story line. One that takes in the whole of Mega City One, with each strata of society on parade, as well as some leading lights from the Cursed Earth.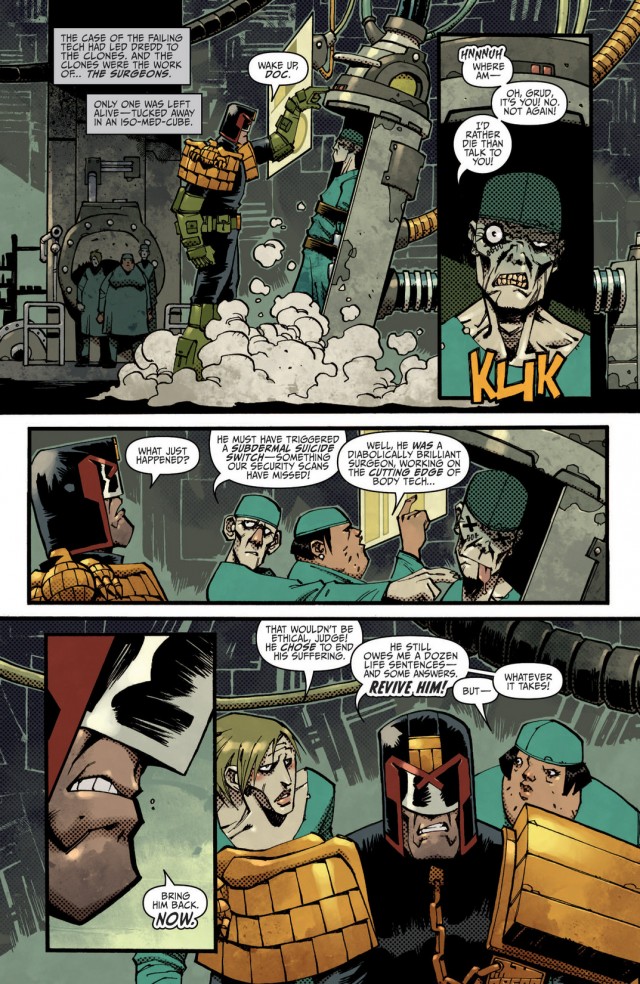 This is a hefty book, crammed full of a real page turner of quality material. Duane Swierczynski has put together a truly awesome story for Dredd to strut his inimitable stuff through, and you better hang on to your hats people, this is one hell of a bumpy ride!
Running through the book is a dark and dastardly tale, one that historians will refer to as the 'Long Fail' – a scheme so terrible that it threatens the very survival of Mega City One! As with any such danger, one Judge is always ready to throw himself to the fore. With grit and an unstoppable devotion to the Law Dredd blasts, battles and beats skulls in, as well as an odd act of robotic decapitation, on his journey for vengeance. A very able supporting cast appear at various junctures, the ever dependable Judge Cassandra Anderson is never far away.
The character of Dredd comes across in an authoritative manner from Duane, who knows how to bring to life one of the leading lights of the comic world. Judge Dredd is an icon who has thrilled and entertained for decades, so it isn't an easy trick to drop onto the character and do it the justice that he deserves, yet Duane has managed to do just that.
The team of Swierczynski and Daniel really work well together on Judge Dredd, the writing is classy, providing a compelling narrative upon which to base the book. In support, Nelson Daniel whips out some lush detail in the panels, the brutal violence is a joy to behold, while the roster of characters are all rendered to a high caliber. Together, they have brought to life a thoroughly engaging story that holds out until the very last page of the story.
Overall Score: 

9/10