Written by: Robin Jones & Michael Sambrook
Art by: Alisdair Wood
Lettered by: Robin Jones
Published by: Horrere Comics
Ahead of this years Thought Bubble comic convention, the sick puppies of Robin Jones and Michael Sambrook have come up with a 16 page stand alone tale for their Tragic Tales of Horrere series. The chaps behind Madius Comics have been busy, following their Papercuts & Inkstains series (they have 6 issues available of that title), two volumes of the Tragic Tales of Horrrere, The King's Leap, Ramlock Investigates, and their first Kickstarter title: Griff Gristle. They also have a brand new title coming very soon to the CFG: Ake's Trial (more on that soon). However, here we are concerned with Laudanum… The story delves into the mind of Percy, a widower who is coming to terms with the tragic loss of his wife. As with anything from Jones & Sambrook they take their story and imbue it with a delicious atmosphere, and given the Victorian setting they have delivered an evolving tale that sits beautifully amid the backdrop of death and horror.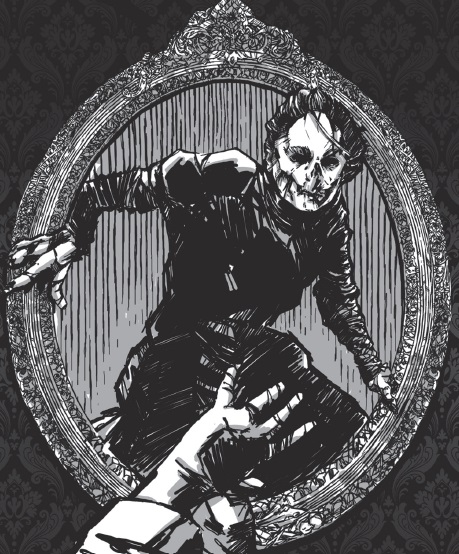 Alisdair Wood is trusted to bring Laudanum to life, and from the off the art is on point. The early panels establish the eerie vibe for the story and as the story progresses Wood never misses a beat in this splendid, creepy tale.
Grief, loss, pain, tragedy – these are just a few of the subjects covered in this 16 page slice of horror. There isn't anything gaudy, no cheap shots to play to the crowd. This is a carefully woven piece of sequential story telling, evoking a feeling very much like the literature of the setting period. This doesn't detract from the story, rather adding an embellishing layer to what is a very effective tale.
Having been enthralled by the previous volumes of Tales of Horrere, this standalone book does not come as a surprise – and adds to what is already an award nominated series. If you enjoy quality stories, and horror, not forgetting the HORROR, then dip into this delicious tale of Horrere.