SNK 40th Anniversary Collection Review
Developed by SNK, Digital Eclipse
Published by NIS America
Reviewed on Nintendo Switch (also available on PlayStation 4)
With a rich development history and a dramatic comeback, SNK has had an immeasurable impact on gaming for generations. Its numerous genre-defining titles and its renowned Neo Geo platform remain relevant even today. SNK 40th Anniversary Collection celebrates SNK's early roster of console and arcade titles. These titles are predominantly from the '80s, and they established the groundwork for SNK's renown Neo Geo brands. Furthermore, many titles on this compilation have either never been ported or have not been readily available on other platforms. With accurate emulation quality, plenty of galleries to explore, well-tuned controls, and multiple selectable versions, SNK 40th Anniversary Collection is a well-made tribute to SNK's legacy.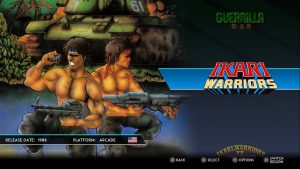 SNK 40th Anniversary Collection's highly action-packed line-up includes run-and-guns, side-scrollers, shoot-'em-ups, and more. The compilation comes with fourteen games, which are Alpha Mission, Athena, Crystalis, Guerrilla War, Ikari, Ikari II: Victory Road, Ikari 3, Iron Tank, POW, Prehistoric Isle, Psycho Soldier, Street Smart, TNK 3, and Vanguard. The vertically scrolling Ikari trilogy features fan favorite characters Ralf and Clark as they engage ferocious waves of enemies. Guerrilla War, Iron Tank, and TNK 3 provide their own spins on vertically scrolling action. Athena and Psycho Soldier feature two versions of SNK mainstay Athena as she navigates side-scrolling stages and defeats incoming enemies. Alpha Mission, Prehistoric Isle, and Vanguard are functional takes on the shoot-'em-up genre while Crystalis, POW, and Street Smart respectively represent the role-playing, beat-'em-up, and fighting genres. With so many genres, the collection will undoubtedly entertain any fan of action-oriented games.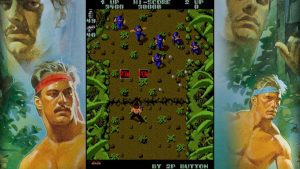 One of the collection's most notable aspects is its sheer attention to customization. The roster features both regional and platform toggles across the board, which pays incredible amounts of respect to SNK's history. Seven of the games feature arcade and NES versions, and it can be interesting to compare how the ports stack up to the originals. A handful of games feature universal worldwide versions, but many games feature a regional toggle between their North American and the Japanese versions. The most striking part is that picking different regions and platforms on the main menu will actually change the menu background art and the game logo, which is a fantastic detail. Crystalis' Western art is drastically different from its anime-inspired Japanese God Slayer incarnation. The collection also features adjustable game options, portrait and landscape display modes, aspect ratio adjustment, and optional TV and monitor filters.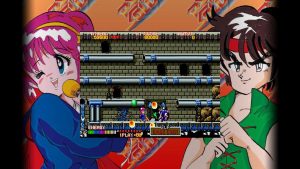 For its arcade games, the collection also pays incredible attention to creating proper control schemes that cater to modern sensibilities. Arcade games controlled with a rotary knob such as Ikari Warriors and Guerilla War can now be controlled by using the left stick to move and the right stick to aim, which fits right into the current era of twin-stick shooters. These twin-stick games also map the action buttons to the triggers so that players can constantly use their thumbs to move their characters. In the future, these games will support using a single stick for moving and aiming, which will allow for two local players to each use a single Joy-Con to play. Furthermore, the games will also enable firing whenever a stick is pointed in any direction rather than pressing a button to fire. Another addition catering to modern sensibilities is save functionality. Quitting any game will actually prompt players if they want to save, which is quite convenient.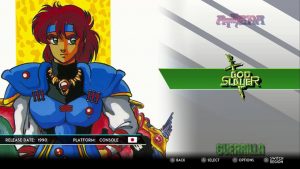 Extras like extensive gallery content, rewind functionality, and a brand new Watch Mode add an incredible amount of value to the collection. Each game features a sound test that enables players to listen to the games' soundtracks in full. The game features a detailed timeline of every SNK game from 1978 to 1990, and players can actually check out entries full of artwork and descriptions. Other gallery options allow players to check out advertising flyers across the world and scans of newsletters and guidebooks. These guidebooks' art are a joy to behold today. One fantastic part is scanned Crystalis concept art that showcases some of the pencil and line art sketches for the game's enemies. The collection even features a detailed analysis of the announced game Tangram Q that never came out, and the writing is quite cohesive and fascinating. Players can also tap a button in the middle of a game to rewind on the fly. Watch Mode features viewable playthroughs of games, but being able to actually switch from watching to playing the game from any point is a truly unique feature.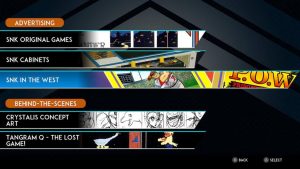 SNK 40th Anniversary Collection is an outstanding product that does SNK's legacy justice and will undoubtedly entertain anyone remotely interested in action games. The attention to detail and the extra content set a new bar for compilations of classic games. On December 11, eleven more games will be added as free DLC, which will create an even more robust experience. Nine of these games will be patched into the game while Beast Busters and SAR: Search and Rescue will be available as a free download. The collection is a marvelous way to experience SNK's legacy, and it is well worth experiencing these titles today.
Vincent Lai
I'm a gaming enthusiast who enjoys a variety of platforms! I also love wisps, rainbows, and gardens!
Overview
SNK 40th Anniversary Collection is an excellent tribute to SNK's legacy, and its games are still quite fun to play today. The extra content and control schemes set a new quality bar for compilations of classic games.
4.83
4.83 out of 5
Excellent
---
---
Related Articles
Developed by Housemarque Publisher Housemarque Reviewed on PlayStation 4 (also available on Steam) The current kings of flashy twin-stick
Developed by Square Enix Published by Square Enix Reviewed on PlayStation 4 (also available on PlayStation Vita and Steam)
Developer: Experience Inc. Publisher: NIS America Reviewed on PlayStation Vita Operation Abyss: New Tokyo Legacy is the latest dungeon exploration