Every year, a handful of offsite events really highlight the unique experience that San Diego's Comic-Con International offers. Some of the highlights were big and bold–namely, Amazon Prime Video's mother-of-pearl shiny tower and activations were pretty popular. But, another offsite in the Amazon family snuck in and connected literally and figuratively with me. 
I've always wondered how you'd promote an audiobook, especially in one of the many offsites existing within the weekend of chaos that is SDCC. Audible completely knocked it out of the park with their Stan Lee's Alliances: A Trick of Light activation, a beautiful audio-immersive journey on 4th ave. While the experience was tucked away in a small building storefront on 4th Ave, it was difficult to miss the gorgeous key art.
The Experience
The audio-immersive experience suspended visitors in a literal "trick of light." I was captivated by crackles of lightning streaking across tall columns of layered acrylic, a dark labyrinth of transparent walls woven with glowing beams of red light, and user-activated platforms. It engaged me in Cameron and Nia's journey in the audiobook through various speakers as lights flickered/pulsed/beamed on-and-off with the story and their voices. I found myself having to take several moments to close my eyes and immerse myself, just to slow time for a moment and be present in the pocket dimension of the cyber-world Cameron and Nia traverse in Stan Lee's Alliances: A Trick of Light.
Additionally, I was also really moved at the late Stan Lee's voice walking with me at the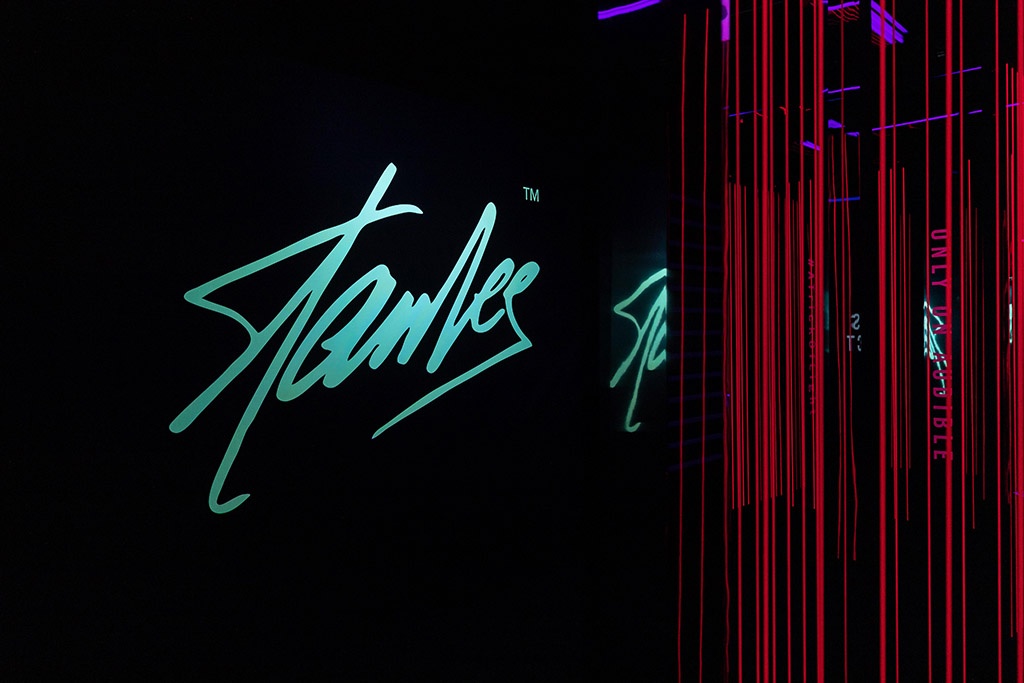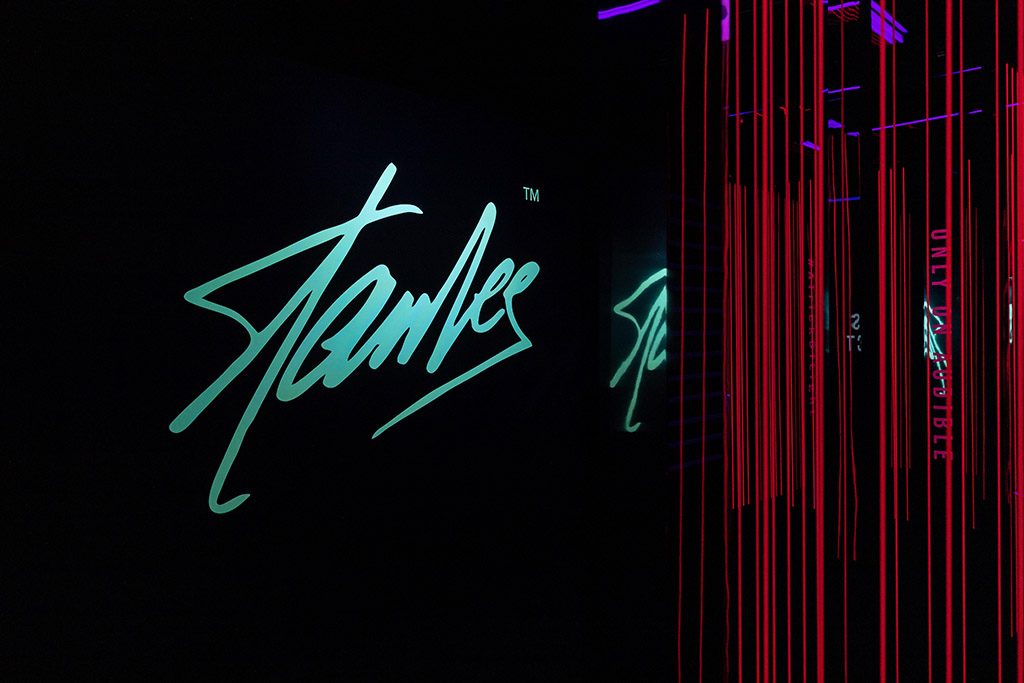 end of the activation, before I was tossed back into reality and returned to the Gaslamp District. Many visitors to the activation also took to the time to take a photo with Stan Lee's neon signature, a highlight of the labyrinth portion. Visitors were also gifted a pretty rad half-face visor and a copy of the audiobook upon completion of the activation. 
Creative Roundtable
I sat with a few other Audible fans and press members to learn more about the project. The roundtable included co-writer Kat Rosenfield, and co-creators Luke Lieberman and Ryan Silbert. Luke Lieberman opened the discussion by explaining how Stan Lee was keenly aware of how technology was dividing us and creating "bubble realities." These concerns included how the anonymity of the internet was dehumanizing us and how we weren't connecting as people. Ultimately, the team worked to explore the Alliances universe and truly explore what it means to make a human connection. "The concept of A Trick of Light is that looking at digital technology with virtual reality with augmented reality.. what we're getting from our phones.. that's not real. That's a trick of light." -Luke Lieberman
Has this project then affected how you use technology? Do you have a second thought when using your phone? Is it kind of over your shoulders now?
Luke Lieberman: I did not touch that "Face App" thing.
Everyone: [laughs] Nope.
Kat Rosenfield: Yeah, God, I wasn't even thinking about that. But I too did not participate in the FaceApp meme. It wasn't even a conscious decision, but I think maybe it's imbued me with a little bit more suspicion of the digital realm and your data.
Ryan Silbert: You know, it's an interesting question because what it brought me back to was what it must have been like in the 60's, and to have experienced going to the moon through the Fantastic Four and not actually through the Apollo Landing. [laughs] Because, you know, we hadn't reached that point yet. Reached the stars. And it was really up to Kirby and Stan to figure that out. I do think about the idea of this is what we're doing now—just on the precipice of augmenting our realities, and thinking what that's going to be like, and how will that that change us… And I hope my superpower is something cool.
Kat Rosenfield: I'll add on to that. Is that this project was a way of exploring. It's not necessarily about becoming fearful of technology but digging in a little bit into the way it impacts things because the internet is still in its infancy. It's already changed. Social media has changed the way interact with each other, engage in each other in different ways. I don't feel that we've even fully become to reckon with it. We've just begun to reckon with it. And then we'll be figuring out for a long time "what did this do to us?"
Luke Lieberman: In the way of communication technologies, it's probably the biggest thing since the printing press. That definitely changed the world. And just the greater ability now to sort of manipulate our own perception and manipulate other people's perceptions. And there's a dangerous, obviously. It's a tool. It's not in and of itself good or bad. It's really about how it's being used.
"Social media has changed the way interact with each other, engage in each other in different ways. I don't feel that we've even fully become to reckon with it. We've just begun to reckon with it. And then we'll be figuring out for a long time "what did this do to us?"" -Kat Rosenfield
How did you juggle the creative process of trying to come up with this digital world and story, and the importance of these strong characters tied to this world? Did you start with the characters or world building? How did you create this symbiosis?
Kat Rosenfield: For me, it always came back to the characters first. They were kind of the beating heart of the story. Placing them in situations as part of the world building process. I think you guys [Ryan and Luke] can talk more about that, because you were part of the world building aspect of things.

Ryan Silbert: You know, this is a multi-year process, and it did actually start as a world-building activity, which I actually think is what allowed it to be introduced in such an original way with it as an Audible Original. It became this because we had this framework and a lot of ideation. Like anything, when you're dealing with Stan, he really went back to the foundation of the Marvel universe. He was about setting characters from real places with real problems to a point where it feels like it's coming from our reality, you know, and it feels familiar. You can see Spidey flying down the avenue, which was an amazing experience. And now, with our characters, it was great because we could work with stuff that felt very familiar. And it was for a very specific reason that we started with these "street level" heroes, you know Cameron, Nia, because it provides a way in for an audience or a listener to experience.

Luke Lieberman: He always wanted them to have–and it makes it easier to write them that way–he wanted them to have a natural reaction. The real question is, what would happen to you, if you woke up one day and this happened, what would your reaction be? And Cameron's initial reaction to his abilities is to be apprehensive and scared and feel sort of hurt by them, and then eventually he understands this is something that can be a blessing, this can help him in his life. If one of Stan's characters characters saw an alien crawling down the street, their reaction would be to scream and run away, or call the cops. They're going to have the reaction we think a normal person would have. 

Ryan Silbert: My favorite of the Fantastic Four was that they get their powers and they were like… unhappy with with that.
Everyone: [laughs]
Me: [joking] "Life was already complicated, whyyy?"
Ryan: [laughs] Exactly.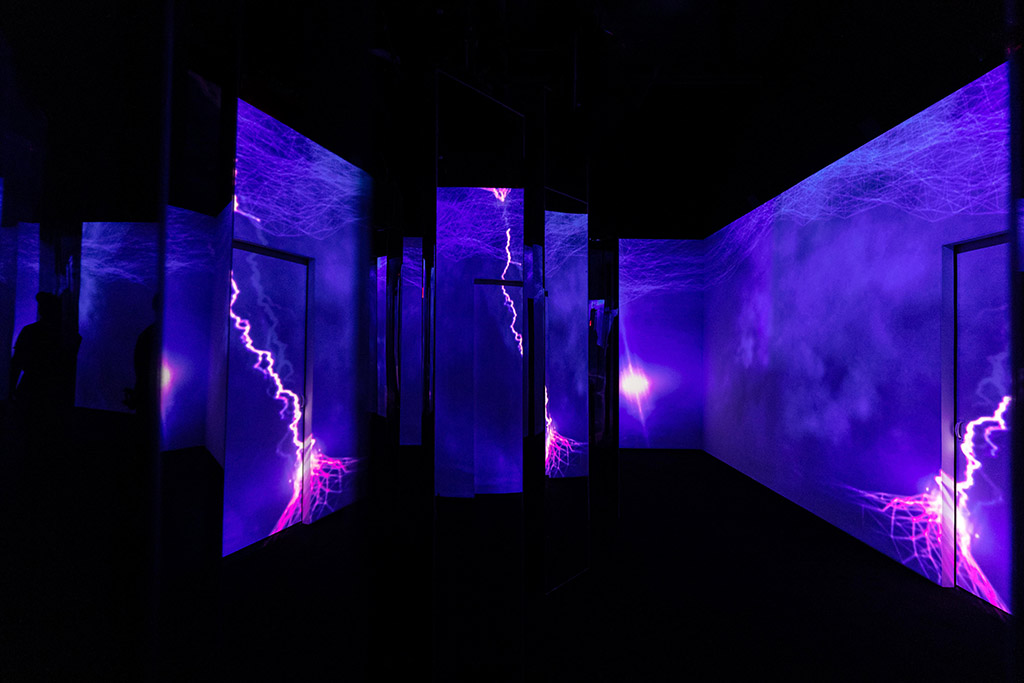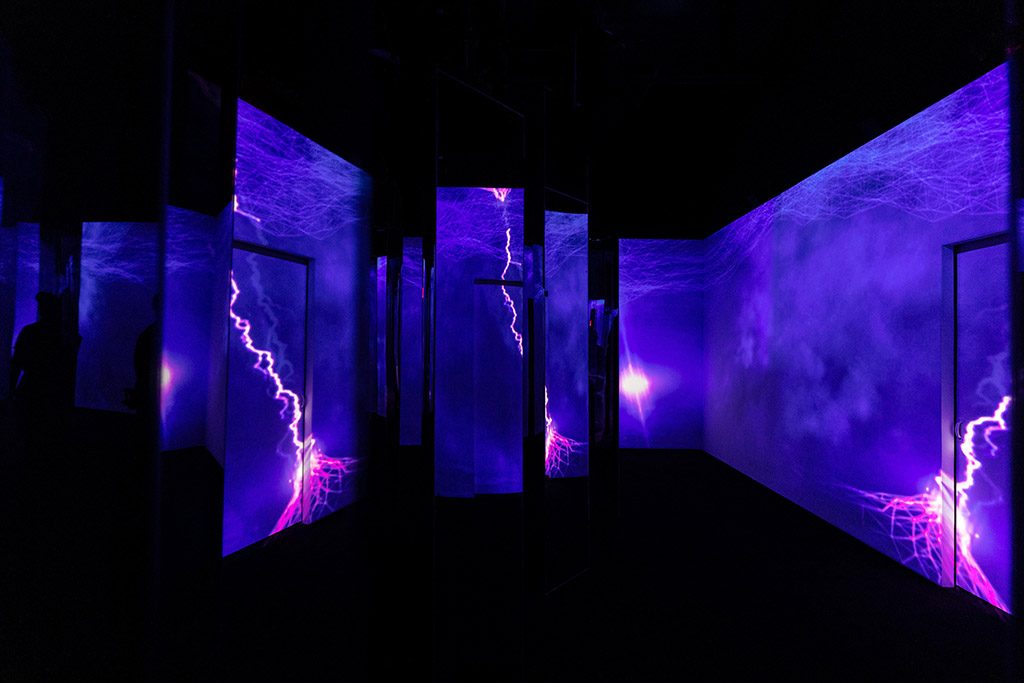 As the roundtable wrapped up, the team discussed how phenomenal the actual activation experience was, circled back to why everyone was excited to be involved in the project. Everyone expressed that working with storytelling, over visual media, offered more opportunities with an immerse tale that strikes home with listeners. It's an exciting time to combine heroes, who are really people just like us (who sound like us!), gifted with powers that might not immediately solve their problems–in the form of technology. The symbosios transforms the narrative. 
Our campfire stories are now carried on our mobile devices, and Stan Lee's Alliances: A Trick of Light is just the first exciting step to exploring a world that explores a cautionary tale about technology, that also appreciates the connections that wouldn't be possible without it. 
Stan Lee Alliances: A Trick of Light is available exclusively on Audible.
"We're all a combination of our experiences." -Luke Lieberman