Developed by 5pb.
Published by Spike Chunsoft
Reviewed on PlayStation 4 (also available on Switch and PC)

Its that time again to jump between lines into an infinitely expanding event horizon! If you're confused by that, to put it simply, it's time for Steins;Gate Elite! I am super excited that I got the chance to review this game because I am a huge fan of the Science Adventure series that was created in collaboration with Mages and Nitroplus. To think that this year marks the 10 year anniversary of the original release of Steins;Gate blows my mind. Probably the most popular and well received entry of Science Adventure series, it is back with a brand new update with a unique twist for Nintendo Switch, PC, and PlayStation 4.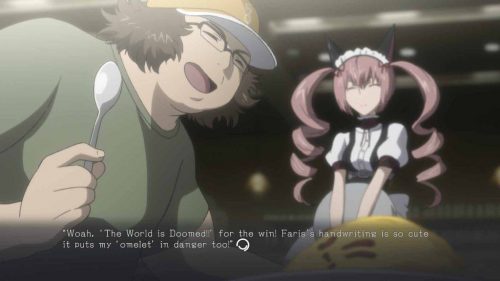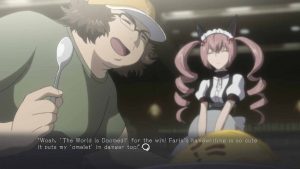 That twist is that this time the game is almost entirely animated. While this is technically a visual novel this feel more like you are actually playing the anime at your own pace. This put you more in control of the story since you are actually watching it unfold. While most of the animation is just carried over from the Steins;Gate anime, animation studio White Fox returns to provide new animation that has never seen before. While I was a little taken back when they first announced that Steins;Gate Elite was going to be animated instead of using the beautiful Huke artwork that has been a staple of the series, I was surprised how well it works. It's a very smooth transition and doesn't slow down the experience at all.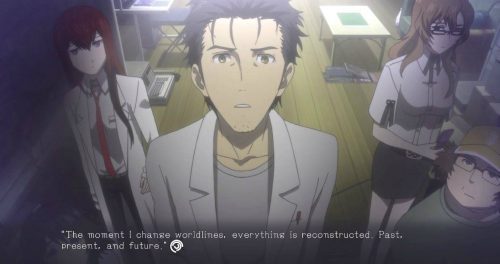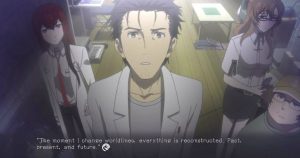 Something that changed as result of making Steins;Gate Elite animated was that we lost a lot of the descriptive text that was used to paint the scenes in the original visual novel. This is to be expected because a lot of the descriptive wording used in the original isn't necessary anymore since the animation takes care of illustrating scenes. While it didn't take away from my experience it was a little off putting; however as I progressed I got used to it. I am very interested to see to the total word count for Steins;Gate vs Steins;Gate Elite to find out how much descriptive text was replaced by animation.
If you've already played the original Steins;Gate and have watched the anime then you will mostly know the twists and turns of the story. While it is still a wonderful story and worth being part of your collection, I didn't feel a major rush to get to the ending and I'm wondering if other players will feel the same way. Depending on which version of this game that you purchase you will get a voucher for another title as well. For the Nintendo Switch you receive 8-bit ADV Steins;Gate, an adventure game inspired by older 8-bit classics, and for the PS4 and PC versions you receive Steins;Gate Linear Bounded Phenogram.  The latter is a full HD port of a series of side stories that was never released in English until now! While I reviewed the PlayStation 4 version of Steins;Gate Elite and fully enjoyed Linear Bounded Phenogram, I plan to buy the Switch version so I can play the 8-bit adventure since I really like old style games like that.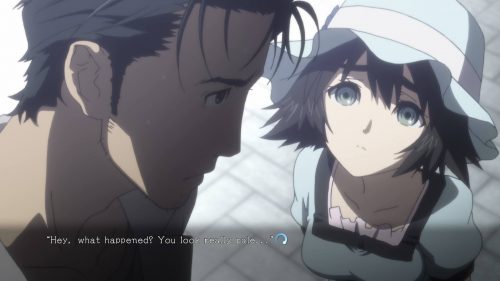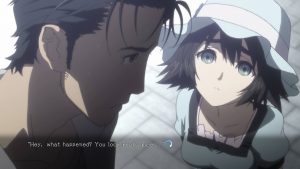 Overall for anyone who has not experienced the masterpiece that is Steins;Gate, I highly recommend picking this iteration of it up. For people who have already experienced it, this is worth it just to get the extra content included! I'm really hoping that this does well so that we get more entries in the Science Adventure series over state side. I'm looking at you, Chaos;Head.