Stray Bullets Killers #7
Story/Art: David Lapham
Published by: Image Comics
Issue 7 of Stray Bullets: Killers is a really good quality book, the story in the issue is deftly handled and builds really well. The characterization is bloody perfect and really engaging. For the aspiring writer, this issue sets out how to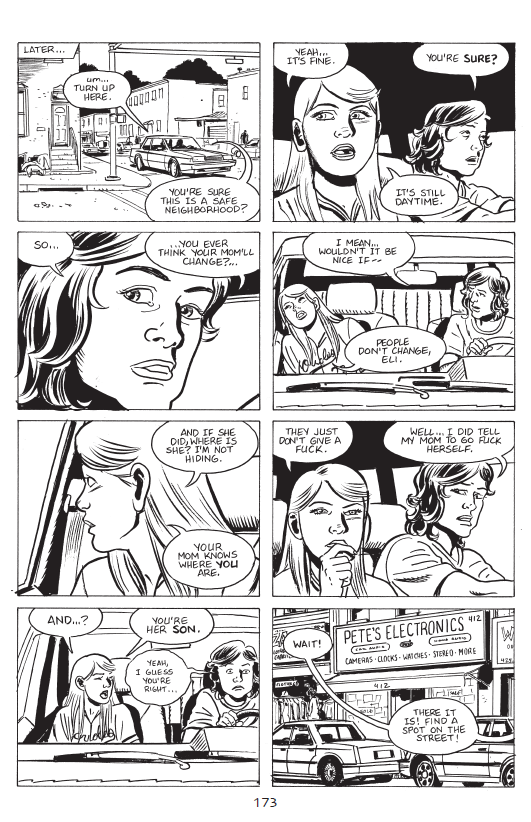 put together a compellingly told sequential tale. In this issue, Virginia is revisiting her past with her boyfriend Eli. The set up is conventional, the initial pages peppers the reader with tastes of the characters and then the story expands, giving us a view on Virginia's friends, albeit friends of questionable morals – which provides tension and conflict within the relationship between Ginny and Eli. An effective implementation to add to the story. The pace of the book alters with the dramatic shooting, involving Virginia's friends and a very unlucky bystander. This event draws out more of Virginia's nature, and sets her on a collision course with Eli, but also drives her back into her prior life. Given the events and her relationships, the reader follows her actions and understands her motivations. Eli, as the unwilling accomplice, is believable and earnest.
In the final section of the book, the events progress with uncertainty to the survival of Marisol, which is used as psychological leverage against a captive being beaten in reprisal for the gun attack earlier in the day. Virginia is left holding the gun…
As news is relayed regarding the fate of Marisol (Virginia's close friend) the action skips to Eli and Virginia driving away, yet without a resolve on what happened with Virginia and the captive. The lack of resolve is an effective ending to a thoroughly entertaining issue.
The art for the book is of a quite simple style, inked pages of black and white throughout. The line work is effective and the lack of colour isn't a detriment to the delivery of the book. If anything, the style really works well. The composition of the panels is nicely laid out and there aren't any quibbles along the way to distract you from the book. All in all, this is a very effective piece of sequential story telling.
Overall Score:
9/10