I used to think some older comics just couldn't be updated for the modern day. Shows like Riverdale have really opened my mind that, with a good creative team, the sky is pretty much the limit! Originally an underground press comic strip (and later translated into fourteen languages with 40 million comics sold worldwide), The Fabulous Furry Freak Brothers was just announced to have been picked up for an animated series, with the original creator, Gilbert Shelton, joining as an Executive Producer.  The comic first appeared in 1968 featured around a threesome of "freaks" and a mischievous cat from San Francisco who are consistently looking for a state of bliss, relieved only by bursts of paranoia or stimulant induced frenzies. 
There will be more information on The Fabulous Furry Freak Brothers at their talent panel at San Diego Comic Con next week, but they've already announced a pretty powerful creative team with alum from popular animated series. Some names include Mark Canton (Power, 300) and Courtney Solomon (AFTER, American Haunting, Dungeons & Dragons), along with the Executive Producers of King of the Hill and American Dad, the co-creators of Silicon Valley, and the talent and co-creators of Workaholics, will bring the infamously famous comic book, The Fabulous Furry Freak Brothers, to the small screen with an adult animated series. 
"We connected so much to these characters," said Adam Devine and Blake Anderson. "They're just trying to enjoy life while understanding the world around them, and the adventures they go through along the way had us fully giggling while simultaneously making us think. When the opportunity arose to get involved not just as talent but also on a creative level, we jumped at the chance and also WEED, man!" 
Talent Highlights
Alan Cohen and Alan Freedland (King of the Hill, America Dad) will be joining as showrunners, and John Althschuler and Dave Krinsky (Silicon Valley) will be writing and producing.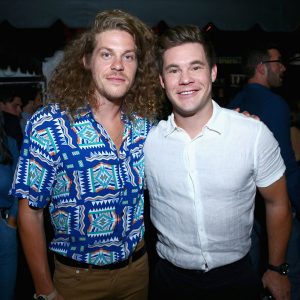 For Workaholics fans, Adam Devine and Blake Anderson will voice characters, Executive Produce and be involved in the creative development process.
Daniel and Jeremy Lehrer (Highly Gifted) will serve as writers and producers. 
Executive Producers include Courtney Solomon (CEO of WTG) and Mark Canton (former Chairman of Sony Pictures Entertainment's Columbia Tri-Star Motion Picture Companies and President of Worldwide Production for Warner Bros. Pictures), and Jeffrey S. Edell (president of WTG and former Chairman of MySpace parent company Intermix Media, CEO of Soundelux Entertainment, The Kids Are Alright, Killer Elite, The Grey, Just Friends) will also serve as Co-Executive Producer. (The deal was negotiated on behalf of Gilbert Shelton by Manfred Mroczkowski, Executive Director of InterLicense, Ltd., who will also be joining as an Executive Producer.)
Starburns Industries (Rick and Morty, Animals) and Pure Imagination Studios (The Simpsons, Lego Batman) will handle animation on the series.
Where to Catch the San Diego Comic Con Panel Next Friday
The showrunners, talent and writers will be at San Diego Comic Con to reveal details about the show at a panel on Friday, July 19 at 7:00pm in room 6 BCF of the Convention Center.
The discussion will cover the behind the scenes process around adapting this iconic 50-year-old comic book into a unique series.