Thought Bubble – Leeds Comic Art Festival Anthology 2014
Written by: Various
Art by: Various
Published by: Image Comics & Thought Bubble Festival
Welcome to the 4th installment of the annual Anthology courtesy of one of  UK's biggest comic conventions: Thought Bubble! This edition is brought to you by the convention, in an association with Image Comics, and features a wide range of talents; from industry pro's, indie creators and a selection of winning entries from the Thought Bubble Comic Art Competition.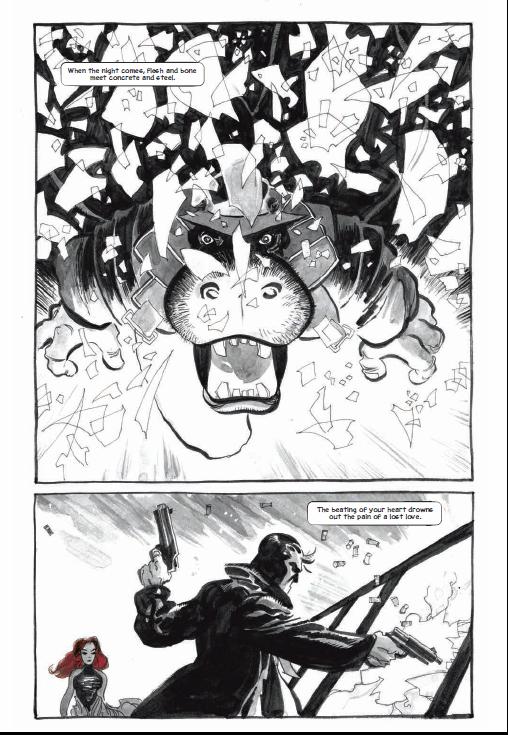 As with most anthologies, the tales vary in style and content, some are polished stories befitting the big publishers, while others posses an endearing charm reminiscent of the first stumbling steps into the world of producing comics. The stand out story comes from Richard Starkings & Tim Sale in the form of an Elephantment 2260 tale called 'When the Night Comes' – a noir fused and stylish story.
Morning On Europa is a simple tale, easy on the eye and done in a single page. Mixed in with these stories, you have some real charm and in the delightful 'Comics Jamtastic' – another single page story that captures the creative magic behind making comics. The art is simple but very effective here.
In 'Have a Nice Day' we are treated to an amusing story, told in half a page, about the concept of luck. The visuals are again, while different in style, of a similar feel to Comics Jamtastic. Again, they work in relation to the story.
The diversity within the book works well, always giving the eye something to keep it occupied. Some do work better than others, some entries into the anthology don't quite deliver the same impact as the stronger material. However, given the nature of an anthology, the balance is pretty well handled by the editorial team. The good does outweigh the 'not-so-good', and the highlights are captivating and entertaining. Worthy of note, again due to an ageless charm, is the story by Lizzy Mikietyn – called 'The World of Oliver' – this is a slight tale told in half a page (one of the winners from the Thought Bubble comic art competition.)
Given that this is supported by Image Comics and features some industry professionals, it does help to raise the level of this Anthology above many of its peers.
Overall Score:
6/10