Treasure Stack Review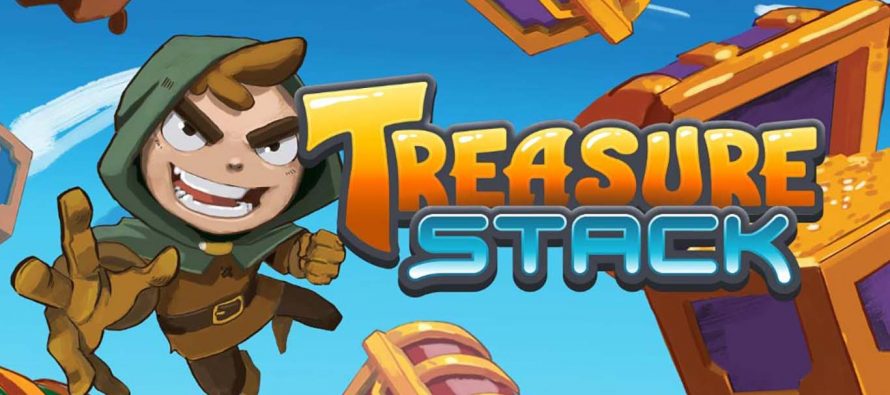 Developed by PIXELAKES LLC
Published by PIXELAKES LLC
Reviewed on Nintendo Switch (also available on PlayStation 4, Xbox One, and Steam)
Treasure Stack provides a high-octane take on the well-trodden puzzle gaming genre. With hybrid puzzle and platforming mechanics, tide-turning items, and plenty of garbage blocks, the game has plenty of moving pieces. While it may take a few tries to fully grasp its mechanics, the game provides plenty of potential for speedy stacking action. Being able to duke it out online and in four player local matches is also welcome. While the modes are basic, Treasure Stack's unlockables and frenetic pace still result in a fun time.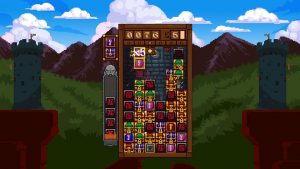 True to its name, the game features plenty of stacking, and the mechanics can take a bit of practice to fully grasp. The player controls a selectable avatar who walks around the playfield and manipulates incoming blocks to clear them. The avatar can pick up a stack of blocks and place them elsewhere. These blocks consist of chests and keys. When a key touches a straight line of chests of the same color, the chests disappear from the playfield. While this sounds simple, managing four colors can quickly result in messy stacks, and reaching the top of the screen ends a run. Another catch is that the game periodically sends rows of pesky garbage blocks onto the field, which naturally can only be eliminated with adjacent clears. To make clearing easier, the player can jump, use a grappling hook to snatch incoming stacks, drop blocks underneath their feet, and deploy helpful items that can clear parts of the playfield. While our initial runs quickly generated tall stacks that were seemingly unmanageable, quickly clearing blocks by grabbing and rearranging them becomes empowering.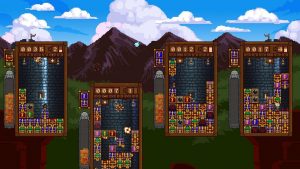 Treasure Stack's audio and vibrant pixel art functionally support the action. The color palette and block design draw inspiration from the 16-bit era of games, and the shapes and colors are fortunately easy to read at all times. Players can pick from a variety of minimalist characters and grappling hooks, but these elements are rather simple. One interesting feature is that the playfields dynamically change depending how many players remain. If someone loses in the middle of a four player round, the remaining players' fields will actually expand to occupy the rest of the screen. This touch is pretty handy, and it does not feel disorienting in the middle of a match. In terms of audio, the game's poignant synth sounds give a solid sense of feedback. The orchestral music fits the game's fantasy motif, but it is quite subdued in contrast with the action and many other puzzle games' tunes.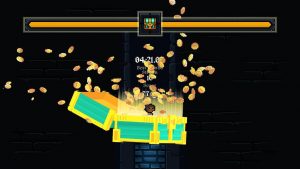 While the core mechanics are engaging, a sizable portion of the game's replayability stems from multiplayer. The game does feature online ranked modes with seasonal rewards, which is an interesting take on the puzzle genre. Multiplayer matches can really become frenetic as players race to clear lines. This results in a tug-of-war dynamic of throwing garbage at opponents while trying to maneuver around. While the game does have a single player mode, it largely plays like a straightforward high score survival run. Since puzzle games often feature level progression or some sort of campaign, this solo mode feels relatively spartan. While players can unlock selectable avatars and new grappling hooks by playing the game, the thresholds and unlock requirements seem a bit ambiguous.  
Treasure Stack is a fascinating take on the puzzle gaming genre that stands out with its platforming elements. While its learning curve is a bit higher than that of other puzzlers, the game can provide a rewarding dynamic experience for anyone willing to spend a few runs learning the ropes. However, the game really shines with local players, and the solo experience might feel a bit sparse otherwise. Any local group of like-minded puzzle lovers will undoubtedly get a kick out of the game's frenetic pace and back-and-forth action.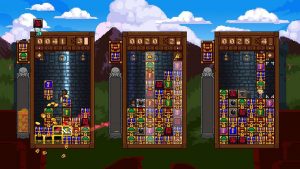 Vincent Lai
I'm a gaming enthusiast who enjoys a variety of platforms! I also love wisps, rainbows, and gardens!
Overview
Treasure Stack hybridizes puzzle gaming and platforming for a unique experience. While grabbing, hooking, and stacking blocks leads to dynamic antics, the game thrives when players duke it out locally.
3.17
3.17 out of 5
Average
---
---
Related Articles
Developed by HandyGames Published by HandyGames Reviewed on Nintendo Switch Aces of the Luftwaffe Squadron is a vertically scrolling
Developed by Avalanche Studios Published by Warner Brothers Games Reviewed on PlayStation 4 It's been a wonderful year for the
Developed by 5pb. Published by Spike Chunsoft Reviewed on PlayStation 4 (also available on Switch and PC) Its that