The 6th Gun #42
Story By Cullen Bunn
Art By Brian Hurtt
Colors by Bill Crabtree
Published by Oni-Press
Issue 42 of the 6th Gun is the first part of the Hell and High Water story arc and features the creative efforts of series creators Cullen Bunn and Brian Hurtt. The Issue continues in the same vein as we have come to expect from the 6th Gun series – a twisted western tale that heavily delves into dark mysticism.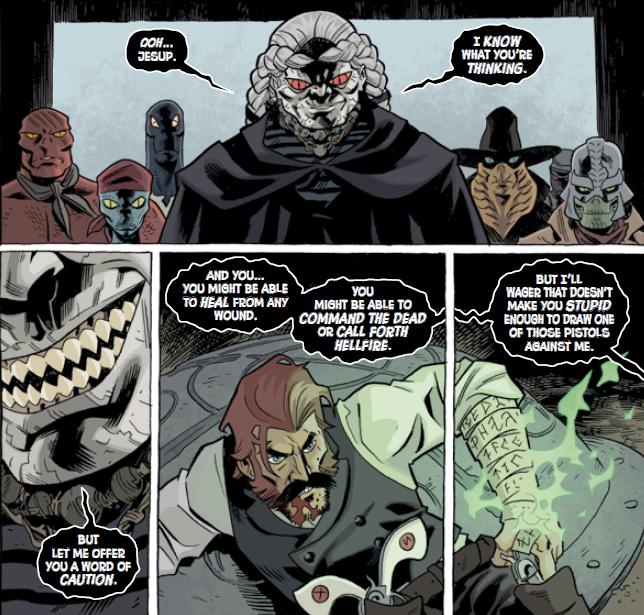 The pace feels a little off in this issue, with maybe a little too much set up of the protagonists. That may be a little harsh as Cullen Bunn does round out the characters well in this issue, and that does take some time. The brighter elements fall within the first and last thirds of the book. In particular, the wonderful opening pages dealing with the King of Secrets really evokes a beautiful feeling of Silent Hill – not in tawdry imitation but more in a loving homage sense. Brian Hurtt really does render these darker elements beautifully. Having said that, I do feel that the character design of Griselda and her entourage are not as strong as they could be. Panel layout and composition is, as expected, nicely done. Some of the angle work is a nice change which helps visually break up the flow of the more dialogue driven sections.
As is typical with Cullen Bunn's writing the dialogue flows nicely throughout the issue, the interplay feels natural. I do feel that for the plot of this story arc, that the story related in this issue could have been told in less pages – the effect being that taking the story over the whole book delivered a slowed pace. The story is a good one and it will be interesting to see how it develops in later issues, but a more energetic pace would have driven it with a better impetus.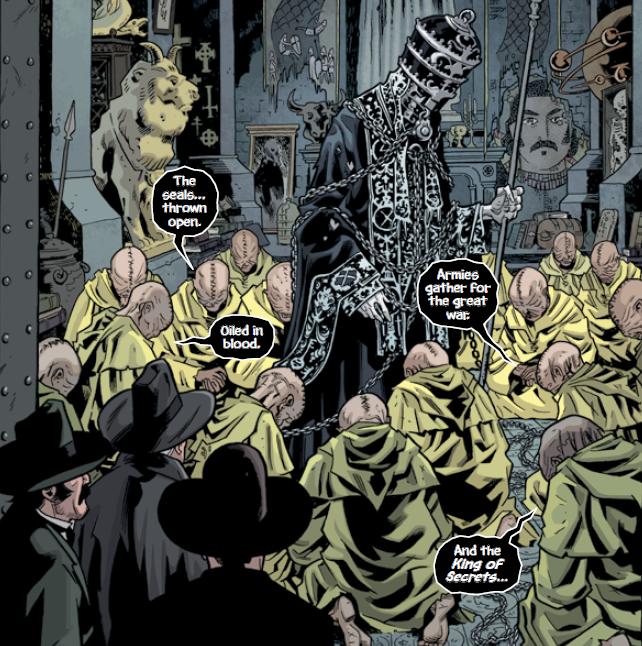 Likewise, Brian Hurtt's art is typically effective for the majority of the book but the consistency falls in the section dealing with Griselda. Backgrounds, panels and scenes are all solid.
The 6th Gun continues to be an interesting read; the mix of weird Western and dark horror blends well and the stories do offer some good entertainment. The protagonists and reveals are well constructed to give the creators a good scope for their book to develop, twist and intrigue.
Overall Score:
6/10