This past weekend geeks, nerds, and all manner pop culture fans descended upon the Washington State Convention Center in Seattle for a weekend of fun, frolic, and no shortage of impressive cosplay at Emerald City Comic Con (ECCC) 2018. ECCC is one of the most popular comic conventions in the Pacific Northwest and I can safely say that it was one of the smoothest run conventions I have ever attended. Not surprising considering that it is run by ReedPOP, the same people who runs PAX (Penny Arcade Expo) and Star Wars Celebration just to name a few. Those folks know how to put on a show! Insane crowds are always a given at large conventions, but depending on how smoothly a con is run, those crowds can either be amiable and enthusiastic or exasperated and annoyed. Fortunately, the energy at ECCC was quite positive and upbeat. Even with shoulder to shoulder crowds on Saturday and Sunday, I overheard few complaints and people were generally polite and jovial.
Show Features
This year, ECCC featured a variety of new diversions to enjoy in between shopping the show floor, browsing the artist alley, and attending panels. The first floor of the main convention building featured the League of Libations, a beer garden where fans could partake of an array of local brews, such as Fremont Brewing's Dark Heron IPA, the official beer of ECCC. Seriously, how many conventions have their own official beer!? Up on the 6th floor, just off to the side of the Artist Alley, was MusicAlley where fans could enjoy the diverse musical stylings of the PNW nerd music scene. Music artists Kirby Krackle, "Rock, Paper, Cynic", The PDX Broadsides, Death*Star, and Shubzilla.  Bill Beats even graced audiences and passersby with the their unique brands of nerd-rock, filk, and nerdcore music.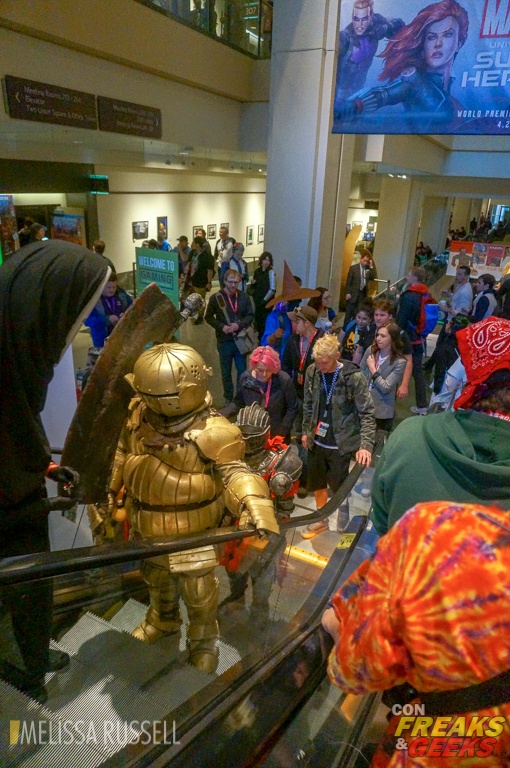 Also new to ECCC this year was Cosplay Central, the main hub for all things cosplay. Cosplay Central featured workshops and panels hosted by some of the most talented and experienced cosplayers and prop makers in the local cosplay community including special guests like Ani-Mia and Ivy Doomkitty. Cosplay Central also provided a cosplay changing room and a cosplay repair station sponsored by Singer, complete with sewing machines and everything a cosplayer could need to patch up their costume and get back out to the show floor. The hallway was lined with photo backdrops for impromptu photo shoots and a PNTA (Pacific Northwest Theatre Associates) makeup booth that provided makeup demos and sold makeup supplies. Cosplayers young and old braved the frigid weather to show off their best costumes. Voltron Legendary Defender, Critical Role costumes were quite popular this year. There were also plenty of Star Wars and Marvel cosplays, particularly Thor Ragnarok, although a surprising lack Black Panther costumes but it may still be too early for those.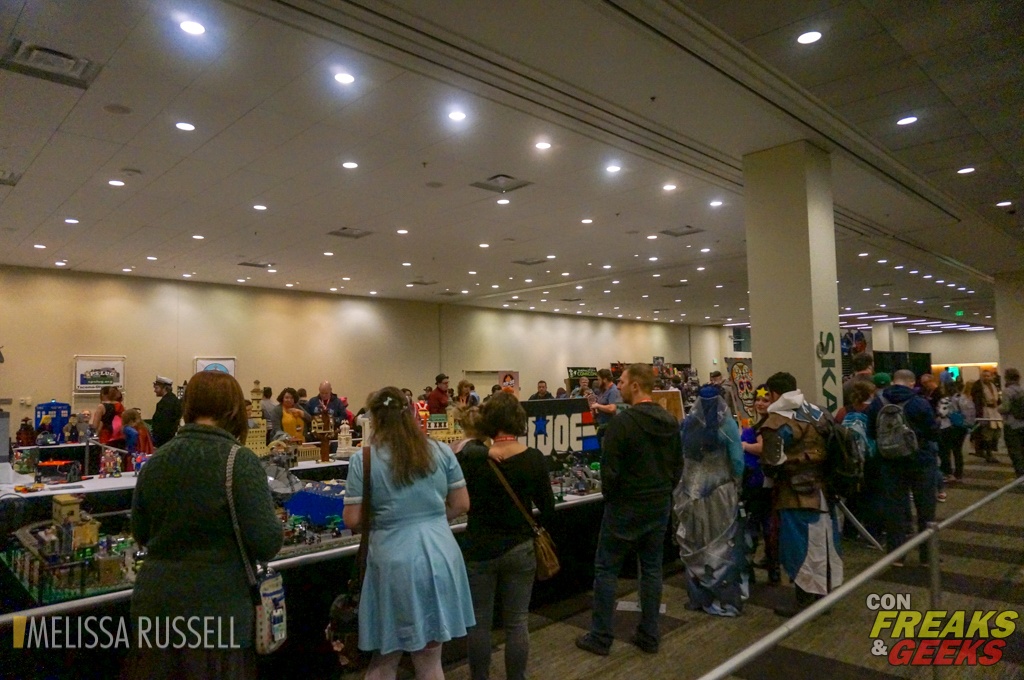 Downstairs from Cosplay Central was Family HQ, a family friendly space which featured the Ultimate Star Wars Experience where the local Star Wars groups of Washington (the 501st Legion, Rebel Legion, and Saber Guild) assembled to take photos with fans against sleek Star Wars backdrops to raise money for the Seattle Children's Hospital. On the bottom floor of Family HQ was Brick Nation which provided a slew of Lego themed activities for the whole family to enjoy.
With so much to do and see, it can be easy to forget the importance of comfort and rest. Fortunately, ECCC provided Quiet Rooms in both convention buildings for people who needed a mental health break from the churning crowds. Sometimes all it takes is a bit of convenience make your con experience the best it can be and having a place to escape the noise and calm the sensory overload is immensely helpful. A conveniently located coat check was incredibly useful for offloading bags, backpacks, and thick winter coats so that fans didn't have to worry about dragging them around con all day. There were also designated All Gender restrooms throughout the convention center for the comfort for fans of all genders.
Guests
No convention would complete without special guest appearances and ECCC brought together a talented assortment of entertainment, literary, and comic guests. Spotlight guests included Billie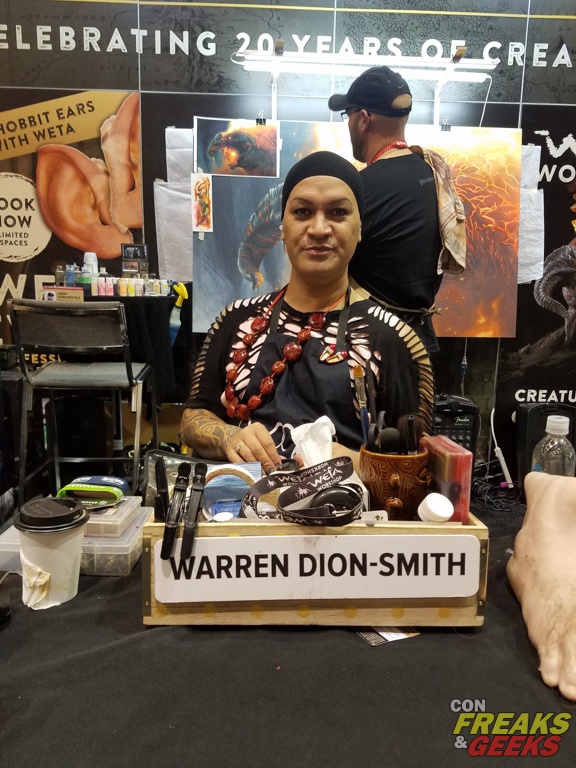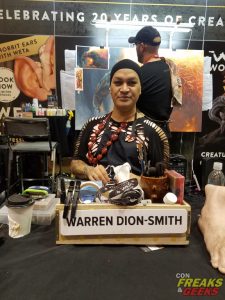 Piper and David Tennant from Doctor Who, Ricky Whittle and Yetide Badaki from American Gods, Laura Bailey and Travis Willingham from Critical Role, Phil Lamar, Wil Wheaton, Felicia Day, and many more. In addition to spotlight panels, fans were treated to live interviews with guests right on the showroom floor at the ECCC Live Stage presented by SYFY Wire. Fans of fantasy and science fiction literature enjoyed literary guests like Chuck Wendig, Brandon Sanderson, Patricia Briggs, Patrick Rothfuss, Cherie Priest, and R.A. Salvatore to name a few. Comic guests like Babs Tarr (Motor Crush), Brian Michael Bendis (Jessica Jones), Chris Claremont (X-men), and Jody Houser (Mother Panic) graced the Artist Alley along with hundreds of amazingly talented writers and artists of all levels of renown.
The Show Floor
Upon entering the exhibitor hall, fans were greeted by the Weta Workshop booth which displayed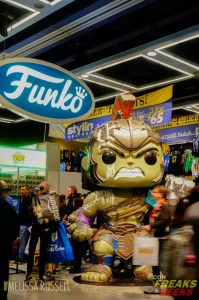 original artwork and figures from Lord of the Rings, The Hobbit, and a full sized statue of The Major from Ghost in the Shell. Weta Workshop presented live painting demos throughout the weekend and even offered professional prosthetic makeup application by renowned Weta makeup artist Warren Dion-Smith, who even graced the booth in green sequined drag one day.Exclusives are all the rage when it comes to comic conventions and ECCC had some cool exclusives to snag. Local toy juggernaut Funko held a lottery in order to streamline the process to purchase convention exclusive Pop! figures. This years exclusive figures included Maui with Shark Head (Moana), Mourning Prince Robot IV (Saga), a Flocked Good Luck Bear (Care Bears), and much more. The Dark Horse booth sold a limited print run of Critical Role: Vox Machina Origins #1 comic book. Only 1000 copies were made available at ECCC and they disappeared fast.
The Artist Alley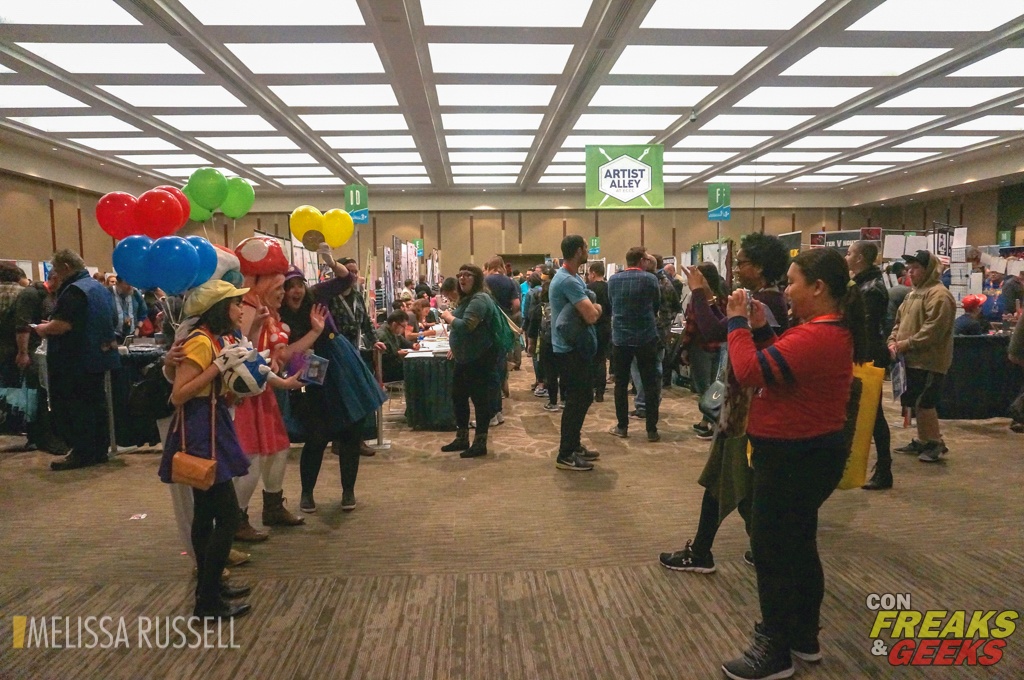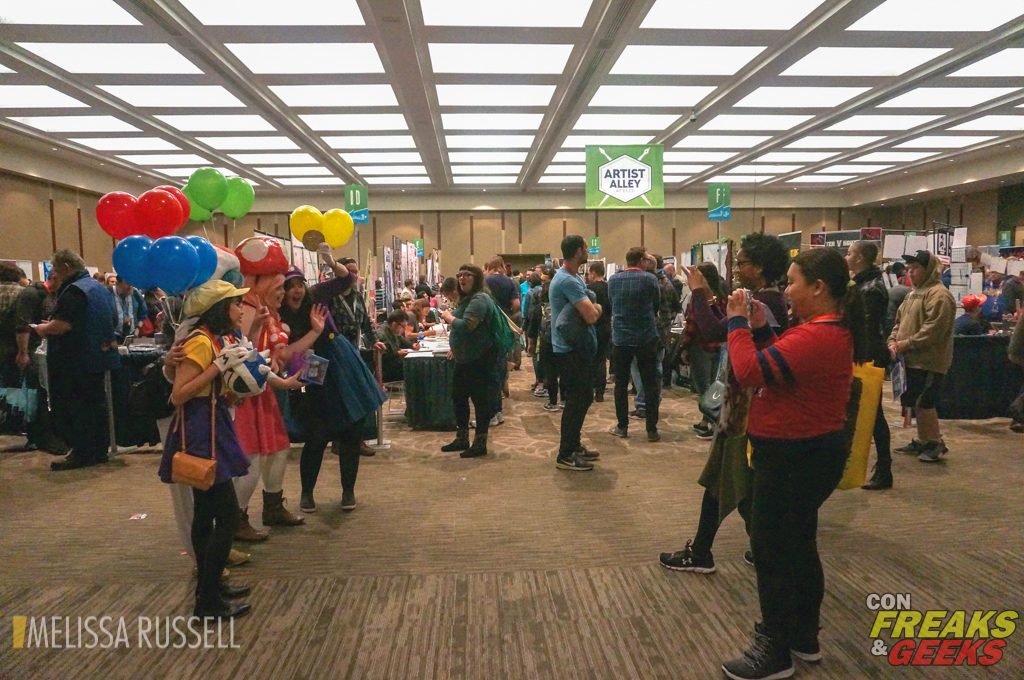 By far the most impressive display of talent at ECCC was the artist alley which took up the entirety of the 6th floor. The aisles were crowded with eager fans seeking out their favorite artists and looking to discover some new ones. Steven Universe and Voltron artwork was very popular, however my personal quest was to hunt down any and all Black Panther artwork I could find. My quest led me to Jen Bartell, the artist responsible for the mermaid cover art that graced the ECCC Official Program Guide. Jen had a lovely print featuring the women of Black Panther, (Shuri, Okoye, and Nakia) that I had seen on Twitter and was thrilled to pick up in person. Another illustrator, Marcus Williams, had three Black Panther prints, including the only fanart of M'baku I found at the con. As a fan of Kevin Wada's watercolor style, I made sure to dropped by his table and grab his Thor/Valkyrie print, then stopped at Crystal Graziano to pick up her print of Fem-Shepard (Mass Effect).
Part of the fun of conventions is never knowing who you're going to run into. In the artist alley I spotted a wild Amy Dallen, the resident human comic encyclopedia of Geek and Sundry's The Wednesday Club. Unfortunately, I lost sight of her in the swelling crowds before I could tell her how much I love her show. Another random encounter was running into Patrick Rothfuss, author of the critically acclaimed The Name of the Wind novels, as he spent some down time shopping art.
Highlights
Fan favorite Twisted Toonz returned to the ECCC the main stage this year. Twisted Toonz is a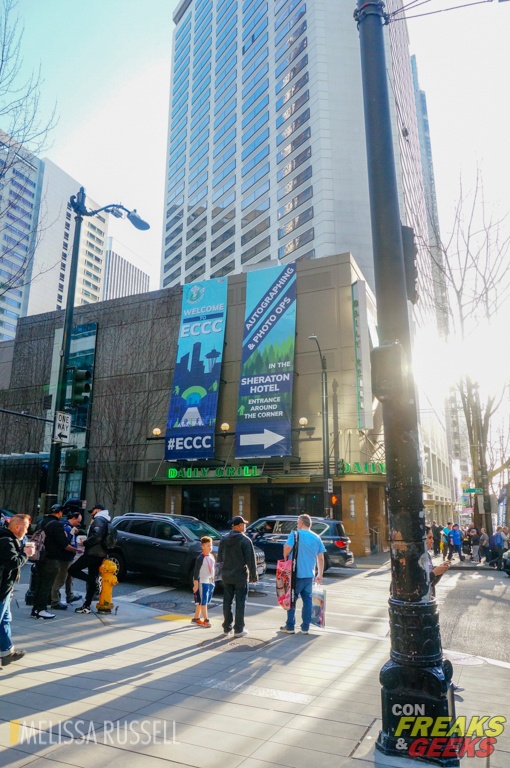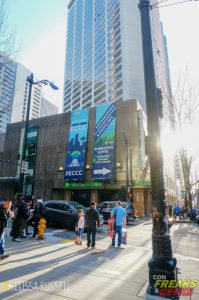 hilarious panel where a group of all-star voice actors read through a movie script in their most popular character voices. This year's script was Willy Wonka and the Chocolate Factory and the cast included Khary Payton (The Walking Dead), Phil Lamar (Futurama), David Hayter (Metal Gear Solid), Jeremy Shada (Adventure Time), and surprise guest Nolan North (Uncharted).
The absolute highlight of my ECCC experience, was the Guardians of the Sexy Vol. 3 nerdlesque (that's "nerd burlesque") show after hours. The show featured burlesque performers in geeky themed costumes including characters that should not be sexy but somehow the performers made them sexy. Characters such as the Babadook, Jason Voorhies, Harry Potter's Cho Chang, X-File's Scully and Mulder, and to top it all off, every Supernatural fangirl's wet dream: Sam and Dean Winchester slash striptease.
Emerald City Comic Con was a wonderful adventure and not nearly as bloated as other large conventions. ECCC had just the right amount of content and activities to keep all four days jam packed with plenty to do. If you missed ECCC this year, be sure to save the date for next year. ECCC 2019 will take place March 14-17, 2019!
[FGAL id=18512]