Afterlife with Archie #4
Archie Comics
Written by Roberto Aguirre-Sacasa
Art by Francesco Francavilla
All good things come to those who wait they say. Finally, the newest issue of Afterlife with Archie makes the old adage true.  Though to be honest I don't think Archie Comics had any idea just how big a hit this would be. The immense demand has set them back a bit making it necessary to have multiple printings of the first few issues allowing the readership to grow and meet said demand.  Needless to say, if you haven't jumped on the bandwagon yet you are missing out on THE comic book event of the century.
This issue follows young Archie after he sneaks out of Lodge Manor.  He's on the way home to check on his parents, after all he is a normal teenage boy who loves his family. Along the way we see him and his relationship with his own dog, Vegas.   Before this I was not even aware Archie had a dog but the story outlines when he first meets Vegas and the bond they share, shown brilliantly when Vegas jumps in to save him!  This is something every pet owner can relate to as we know our furry friends will do whatever it takes for us!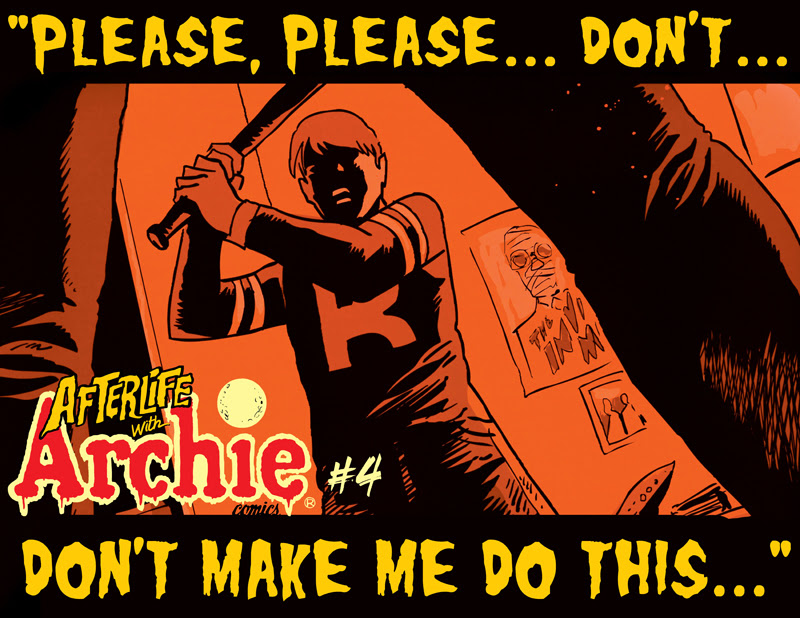 Still this is a poignant and touching story about Archie, his folks and what they go through during this zombie outbreak.  It's a nice tale of remembrance as the events unfold forcing a child to make the most difficult decision of his young life.  I now really look forward to seeing just what this experience does to him as the series progresses.
I was wondering how this series would go with such a large cast. However,  spotlight issues on characters allow us to get into their psyche and a greater understanding of who these people are and what drives them.   Roberto Aguire-Sacasa does a remarkable job taking characters we're all familiar with, albeit somewhat peripherally, and puts them in a situation that should be as alien to them as us on the Moon.  Still he's taken these wholesome characters, kept them that way, and integrated them into a world more like our own with such success and vigor it really shines a whole new light on the Archie world.
Francesco Francavilla does more than his part here too.  The darkness he manages to create with his work is breathtaking and compliments the seriousness and futility that these characters feel at this point in time.   This is not a lighthearted world anymore in the least. Filled to the brim with doubt, uncertainty and most of all fear, Francavilla portrays those emotions perfectly.  Forget what you know and throw preconceived notions out the window because this my friends is the real deal.
Overall score:
9/10