Amazing Forest
Written by: Erick Freitas & Ulises Farinas
Tank art by: Julien Dufour
Wolf Mother art by: Matt Rota
Ronnie the Robot art by: Melody Often
Bird Watcher art by: Yumi Sakugawa
Published by: IDW Publishing

Amazing Forest #1 is a collection of 4 unrelated stories penned by Erick Freitas and Ulises Farinas. The subject matter varies between stories, starting out in a straight up science fiction yarn called Tank – in a world awash with alien invaders four human inhabitants of a monolithic tank hold out. The story is probably the strongest of the ones on show, allied to some nice artwork from Julien Dufour. The set up and culmination in the short form story works okay, the tank crew characters are painted pretty vividly – given the page constraints for a short form story it isn't always possible to employ subtlety in terms of characterization. Given the nature of the subject matter and the feel of the story the effect doesn't cost the story. The artwork is pretty solid on Tank, one scene involving a sea of babies, is really nice.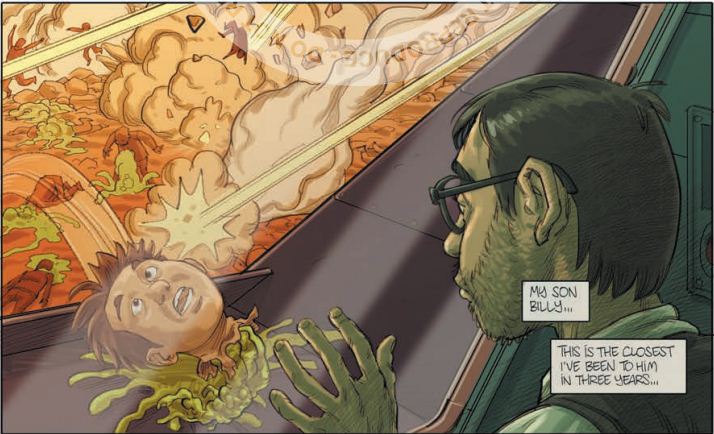 The second story of Amazing Forest is a kind of fable of a story, called Wolf Mother. In the story there is a basic chronology, the effect is possibly meant to be haunting or impose a sense of something impending. The effect doesn't quite convey that. Script-wise it is quite tame and visually the art is quite a departure from Tank.
Things pick up again in Ronnie the Robot, which, amazingly enough, features a robot named Ronnie.
The tale is a future set dusty farm story with AI linked soldier robots. The set-up is a family torn apart by the husband/father's disappearance – he's the eponymous Robbie. This is the second pick of the book in terms of quality of story and the art by Melody Often.
The Final story of the book is Bird Watcher – a self-fulfilling prophesy type of tale. The protagonist is an unsympathetic character and while the piece plays out to a fitting culmination Bird Watcher lacks the same energy and interest that were witnessed in Tank and Robbie the Robot.
In terms of a collection piece the book is effective – like most collections there are some stories stronger than others, the quality of the writing and the various artists, are worthy enough without setting the world on fire. Tank, in particular, is one story that would potentially make for a longer format story.