Amplitude (2016) Review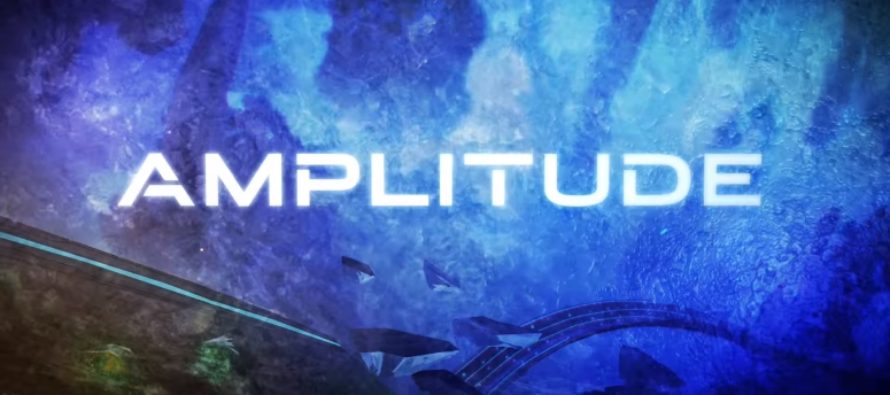 Developed by: Harmonix Music System
Published by: Harmonix Music System
Reviewed on: PlayStation 4 
Back in 2003, before Guitar Hero and the Rockband, there was a small category of rhythm games on the PlayStation 2. One of the most memorable experiences I had with rhythm games back then was playing the original Amplitude. After 12 years, Harmonix, with the help of Kickstarter backers, has rebooted the beloved cult classic for the PlayStation 4.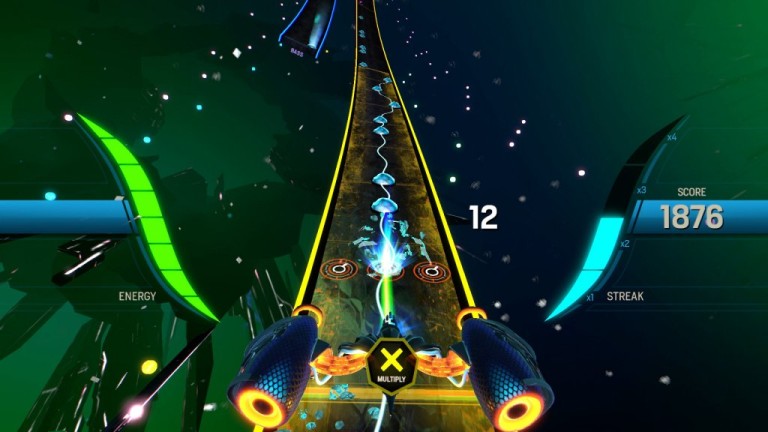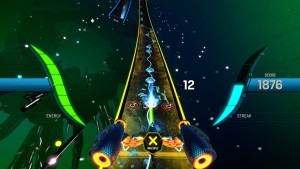 Amplitude focuses on rhythm based gameplay by having your beat blaster ship hover over tracks representing musical instrument such as drum, guitar, bass, vocals, bass guitar, and other instruments. The goal is to to shoot gems using the L1, R1, and R2 buttons within track lanes along with the timing of the music. As you hit the gems and complete the track sequence, you steadily increase your score. If you miss too many gems or sequences, it's game over.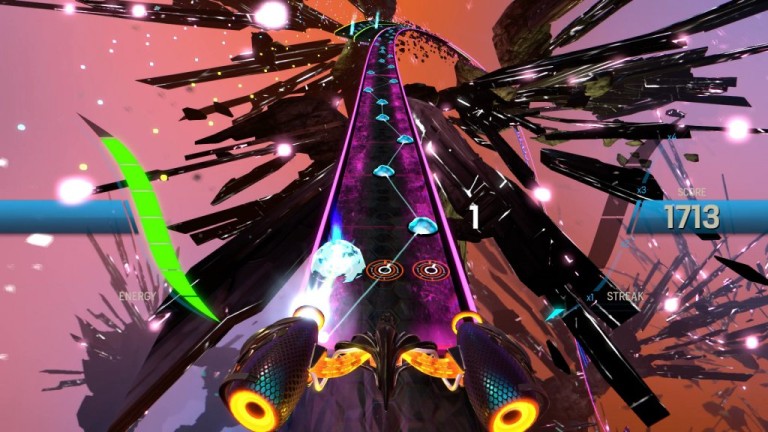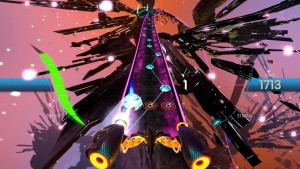 When you start Amplitude you'll first go through a tutorial on how to play the game. After completing the tutorial you'll be taken to the main menu where you're given the option to play quick play mode or thecampaign mode. In Campaign mode you can choose from four difficulty levels, select your ship, and depending on your skill level you can finish the campaign in about 30 minutes to maybe an hour. The campaign consists of 15 tracks with all the music composed by the talented people at Harmonix.  After completing the short campaign you're left with the feeling of wanting more. Once you finish the campaign there really isn't a reason to ever play it again unless you miss the various unlockables, which I got in my first play through.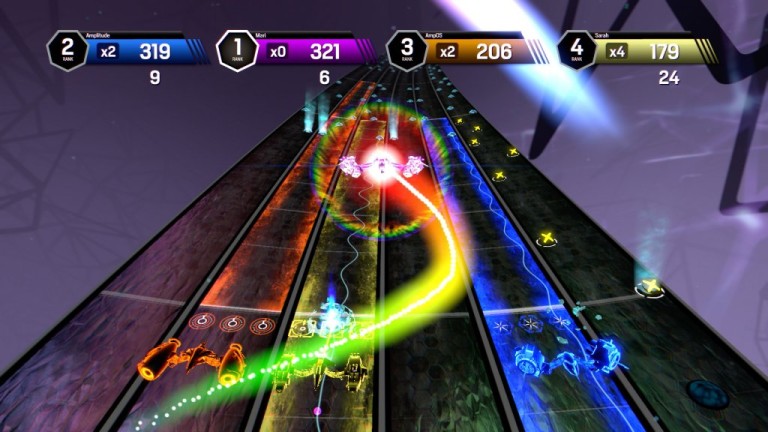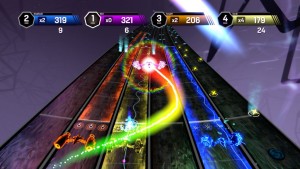 Once you're done with the campaign you'll most likely be spending the rest of your time in quick play mode. In quick play mode you have the option to play solo or in offline multiplayer (1v3, 2v2, or 1v1). No online multiplayer is available but Harmonix has added online leaderboards as well as friends leaderboards. Playing songs in quick play mode a number of times will unlock more songs. There are 30 songs in total, with most created by Harmonix and a few songs from other contributors like Danny Baranowsky (Super Meat Boy) and Darren Korb (Transistor).
Being a super fan of the first Amplitude I can't help but to compare the music between the two games. The original game had a diverse variety of memorable music like trance song "Shades of Blues" to alternative rock such as Blink 182's "Rock Show" to metal songs like Slipknot's "Before I Forget." The new game's soundtrack is mostly full of ambient trance and light dubstep music that feels a bit forgettable when compared to the original's diverse selection. Not to say that the music isn't good, as the beats are catchy and the gem patterns are well put together. That's one area where Harmonix does better compared to many other developers.
What I love about Amplitude is that it doesn't have a steep learning curve and that the game itself is just pure fun. If you're a veteran Amplitude player,  you can hop in on an expert level song and won't miss a beat. As a reboot of a 12 year old series, I expected this game to have a lot more content, better song diversity, and bigger track list. Amplitude falls very short of that goal.   With a very short campaign it makes you feel a little disappointed and wanting more.  Having couch co-op makes Amplitude a fun party game experience with friends. If you have never tried Amplitude I'd suggest picking it up and challenge yourself to get the highest score possible. For $20, you can go can't wrong with Amplitude.
---
---
Related Articles
Developed by Bplus Published by Bplus Reviewed on Nintendo Switch Pixel art is a fun and creative medium for
Developed by CreAct Games Published by Another Indie Reviewed on PC (Steam Early Access) Nerverinth: the Never Ending Labyrinth
Developed by: SEGA Publisher: SEGA Previewed on PlayStation 4 Yakuza 0 starts off strong, grabbing you by the shoulders