Anime Expo 2017 Convention Report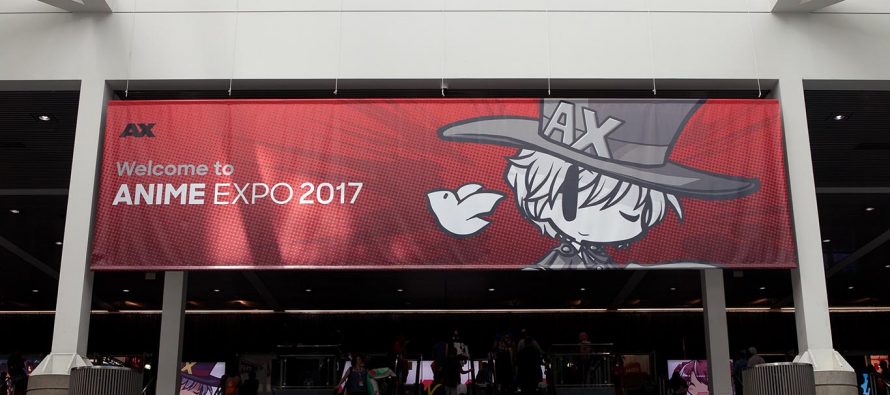 Anime Expo 2017 was held at the Los Angeles Convention Center for the ninth consecutive year during the 4th of July weekend. This year saw yet another marked increase in attendees, which unfortunately created massive lines to enter. In the wake of the attempted assassination of Jason David Frank at Phoenix Comic Con 2017, security has become paramount for convention organizers. SPJA (AX's host company) and the LACC decided to go with additional security checkpoints and outdoor peace bonding stations instead of instituting a full prop ban. However, these additional measures also contributed to the time it took to enter the convention center.  There were many reports of attendees having to wait an upward of 5 hours or more to enter the exhibit hall, many of which were unable to enter in time before it closed at 6 pm.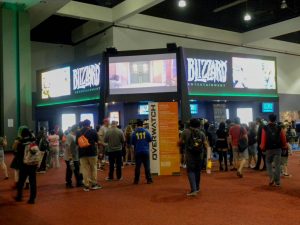 The third day saw a smaller, more sustainable crowd thanks in large part to it being held on a Monday. Still, the convention center was filled to capacity, a good portion including cosplayers that brought their A game. The Exhibit Hall and Entertainment Hall offered topnotch vendors including Nintendo and attractions like photo shoot sets for cosplayers. The latter was dominated by Blizzard Entertainment's booth, which always had a huge line of attendees seeking to buy its wares. Overwatch was well represented not only at the booth, but by many attendees that cosplayed characters from the popular game. On the other side of the convention, the Exhibit Hall provided a dazzling variety of anime, video game, and entertainment related booths.
There was an impressive variety of gaming booths, the most popular being Atlus' Persona 5 themed booth. Another highlight was the Degica Games booth, which showed various Japanese titles like the upcoming Senko no Ronde 2 for PlayStation 4 and Steam. Their commitment to publishing obscure, hardcore Japanese titles is greatly appreciated by both fans of shoot em ups and visual novels. Other noteworthy booths included Anime Lootcrate, who offered a unique build your own create deal at its booth, presenting a tremendous variety of options for anime fans on a budget. They also offered exclusive Dragon Ball Super figures for annual subscribers. Their other offerings include gaming and other popular franchises such as Harry Potter and WWE. This coming month's theme is Kingdom, featuring Lord of the Rings, The Legend of Zelda, and Adventure time.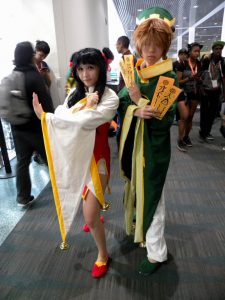 A key improvement this year included additional hours to pick up badges and the use of air conditioning in the artist alley. The lack of air circulation was a major safety hazard for vendors and attendees last year, so Anime Expo 2017 thankfully addressed that issue. The artist alley walkways are still a bit too narrow, however, making it difficult to traverse. Anime Expo scored a big exclusive by hosting the world premiere of the Cardcaptor Sakura: Clear Card Prologue OVA. While there wasn't much going on the third evening aside from the AX Dance, many attendees attended the Asian Kung Fu Generation concert that same evening, held off site at the Novo Theater nearby. Ideally, the convention will include more musical events throughout the weekend instead of front loading it with the Anisong event. 
Anime Expo plans to alleviate the registration wait lines by mailing out the badges ahead of time. They had actually done this in 2007, but still required attendees to pick up the badge holder in order to have access to the con; hopefully this won't be the case for Anime Expo 2018. SPJA may have to consider instituting a hard cap on registration in order to prevent additional hardships for would be attendees. Overall, Anime Expo 2017 was a very memorable event, with a great guest list and fantastic events marred by overly long lines for the first two days. 
Checkout some of amazing cosplays at Anime Expo 2017! Photos Courtesy of Vang Her Photography
William Hong
I'm CFG's editor in chief. I also like cats.
---
---
Related Articles
Storm #1 Written by Greg Pak Art by Victor Ibanez Color by Ruth Redmond The Storm rider gets her
Earlier in the week, BOOM! Studios released a logo, subtly announcing their next movie into comic project. If you are a
Brian Miller has been in the comic book industry for years as an amazing colorist. His love of  coloring art