Story By: Hope Larson
Pencils By: Chris Wildgoose
Inks By: Jon Lam
Colors: Mat Lopes
Published by DC Entertainment

Batgirl #10 is part 4 of Son of Penguin; Ethan Oswald. After ransacking one of Penguin's night spots, Ethan's "Reign of Terror" continues! Not in the way that you would think, but more than a relationship level. Batgirl is conversing with Commissioner Gordon about the incidents that occurred within the club when she gets a text from her boyfriend, you guessed it, Ethan! They meetup shortly and all of a sudden, it was splits ville for the two of them. Of course, being the good friend that he his, Nightwing was there to comfort Babs on the breakup. Meanwhile, Ethan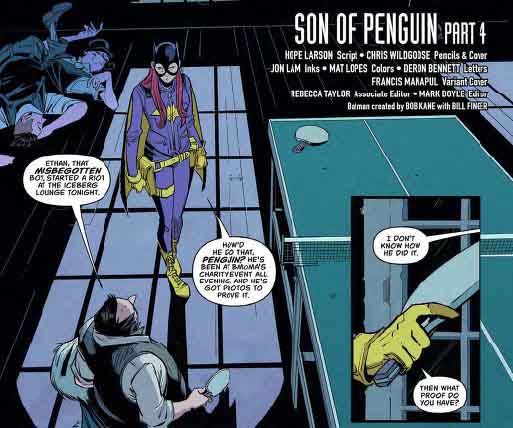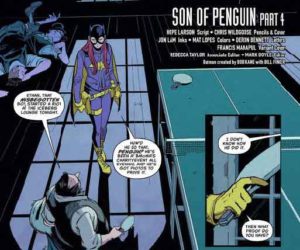 continues his terror by creating a phone app called VicForm, which looks like everyone has downloaded on their smartphones. Of course this app is more than meets the eye. Batgirl investigates this app until she has a suspicion on who is behind it. 
 I really want to like Batgirl since she is a part of the Batman universe. I am happy that the writing is being done by a woman, Hope Larson, and she does capture the character of a twenty something woman who is juggling dating, friends, school and family, who also just happens to be a crimefighter. The dialog is just the right key; how she deals with being dumped, her inner thoughts and how quick she can change and switch personalities. The story, though, has too many corners to a point of being almost bipolar. The storyline is a little weak but I will give Batgirl a chance when the new arc happens.
The full on Imagery by Chris Wildgoose, Jon Lam and Mat Lopes blend together well. The pencils by Wildgoose are fantastic, detailing within the characters and just enough in the background to not totally dismiss it. Inking by Lam puts depth into the panels, I like the heavy inks in focal points and thinning in background images as well as the warm and cool hues used by Lopes. Warm colors used with the panels Barbara Gordon and the cooler hues used on Batgirl. They work well together and look forward to seeing more of this team.