Written by: Ian Edginton
Art by: I.N.J. Culbard
Published by: Rebellion
It is difficult to know where to start with a book like Brass Sun; far too easy to drop into exuberant exultation at a modern masterpiece, to label the scope and execution as epic and brilliant. Ian Edginton has composed something of true delight here, this clockpunk fable of a dying, mechanical sun and the quest to save the varied worlds that revolve around it. From the first few pages, where our heroine Wren sees the twisted vengeance of the ruling religious leader, a justice of the pyre. Brass Sun, while being centred around an apocalyptic terror, is really Wren's story; her journey from a most uncertain beginning, to enlightenment.
During the passage of this book Ian takes in a wide scope. We have a range of wonderfully human characters, their finer aspects mixed with the most brutal of human failures. The treatment of authority, be it dogmatic religion or demented despots, is a recurring element. It is in the lesser aspects of the human condition that is beautifully realized here. Along with a really fine study of humanity, you have to appreciate the wealth of each world that we visit in this tale. Each different location has a fully realized environment, the varied peoples who populate each world bring their own unique flavour.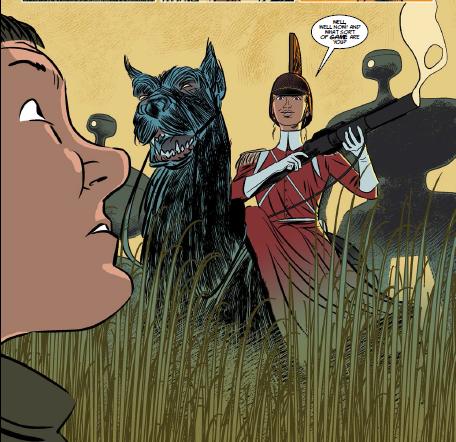 Culbard's art on this book throws up some wonderful differences, from the ice of Wren's home to the monstrous scale of an impossible conservatory on the Keep, and an even more insane library – the library is a really standout section for me, the librarian could almost be straight from Hayao Miyazaki's Spirited Away; indeed, the mighty dreadnought could have easily appeared within Miyazaki's Laputa. The range on display from Culbard is excellent and gives fabulous life to Edginton's tale.
What really sets Brass Sun apart from other such tales is the sheer consistency of the story. Plot, characterisation, dialogue, action, the science of the whole thing, everything about this is flawless. Once you turn the final page of this book you want more, you need more: Brass Sun can't stop. The story is too vital, too joyous. Rebellion have an absolute peach of a book here and it is one everyone should read.