Story by: Jeff Lemire
Art by: Dustin Nguyen
Published by: Image Comics
Descender #1 is one of those books where when you pick it up, you see an iconic cover. One that really captures a mood and you think, on the basis of the cover alone, that this could be good. Thankfully, Jeff Lemire and Dustin Nguyen, do not let you down. The cover is just the statement of intent and what follows lives up to that promise!
From the beginning, Descender is a beautiful book to look at, one steeped in a thoroughly immersive world-view. The imagery in the book is different, fresh; the use of color in particular, that washed out feel, works wonderfully. Dustin Nguyen really brings a level of quality to the book that sits perfectly on top of the story by Jeff Lemire. Indeed, the art has an elegant feel to it, the scenery, architecture, people and crafts, are all presented to the reader with an authentic and realistic vibe.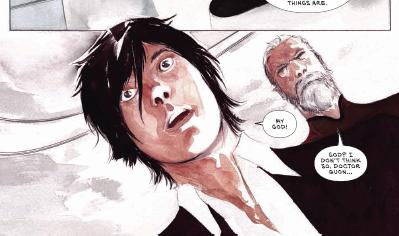 The story of Descender revolves around a mysterious and catastrophic event that is dealt with in the opening pages of the book. The ramifications of which are carried through until the close of the issue. As a science fiction story the technology represented, the imagery on show, all come across very efficiently. One of the first elements to grab your attention is the scope of the book, in the opening section alone there is an immense moment, one which sets the mood for the story and the way in which it is rendered is splendid. From this moment a thread emerges, one of the central tropes of comics: difference. This isn't immediately employed, not in the sense of the flow of the plot here. The fact that it emerges gradually, and with full force at the close, pays testament to the quality of the writing on this issue. While 'difference' is commonly used as a means to drive plot lines and conflict, here it is organically employed (yes, there are the same areas in common with this use in many other stories but it is developed here by Lemire in excellent fashion) – from start to finish this is a really solid story. I hope the team keep up the level of quality found in issue 1. This could be special!