Story by: Rob Lazaro & Eric Gignac
Art by: Steve Erwin
Published by: IDW Publishing
Welcome to the world of Robert A. Heinlein's Citizen of the Galaxy, as rendered by the team of Rob Lazaro, Eric Gignac and Steve Erwin. The story is a straight up science fiction volume, set on a dusty alien world featuring slavery, bazaars and a distinct middle eastern flavor. Our hero in this tale is a young, and precocious, child slave by the name of Thorby.
The basic premise of this book, one where not everything is as it seems, is one that Lazaro & Gignac weave into the plot almost from the very start. While the book does start slowly, this is due to establishing the central characters of this issue; or developing their relationships and natures. This is time well spent as the characters come across as well rounded and believable people. The set up of the society, the backdrop for the developments of the plot and characters, is also well managed. The slow pace does suffer from being a little too slow at times. However, once the set up is complete, once the mid point of the book is reached, the story and plot do take over and the second phase of the book is quite brisk.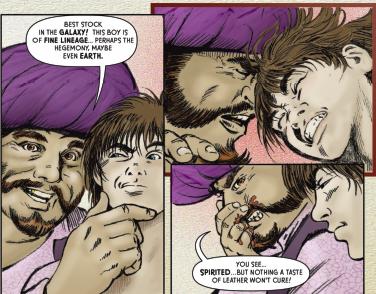 There is quite a rustic feel to the story, and the art of Steve Erwin has atmosphere and effect reminiscent of a bygone area. The pages are, for the main, quite effectively illustrated. However, at times, this isn't always the case: there are a few panels that don't add to the story. In terms of the character design and the layout of the panels is competently handled, and while the panels are okay there isn't a wow about it. There isn't a standout page/panel that really arrests your attention.
Citizen of the Galaxy #1 is a bit of a mix of a comic, the characterization and the world/society are well done, but the slowness of the plot (somewhat necessary but also a little detrimental to the flow of the book) do take something away from the story. The overall effect of #1 is that the story has some merit, the art is effective in places and that the worldview and characters are believable. It is a mild sci-fi, with a nostalgic feel.