Story & art: Matt Kindt
Colors by: Sharlene Kindt
Letters by: Marie Enger
Published by: Dark Horse Comics
"Murder six miles deep" announces the cover's subtitle, which sets the vibe for the book nicely. This is an oddly affecting tale, set in the deep cold of the sea, with Mia on the trail of a killer – a murderer who killed her father. The issue starts out with our heroine in a perilous situation, one where she is literally hanging by a thread. The situation is resolved but leads into another trauma for Mia as her brother is still lost in the depths.
Matt Kindt makes use of flashbacks to develop the back story of Mia and her brother Raj – and also for the dearly departed father. Those flashbacks are used sparingly and the plot benefits from those elements. The progress of the book is a little stop/start in nature – one emergency sparks something else – this keeps the reader's attention as the interest keeps being piqued.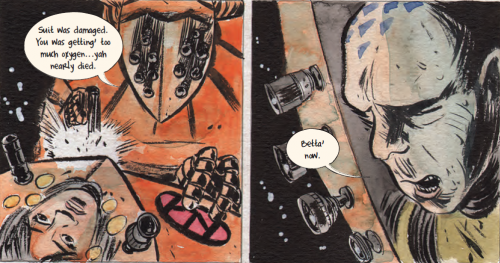 In terms of the artwork, Matt has a particular style, one very rooted in a more indie feel, which may not be to everyone's taste but it is effective. In particular the use of watercolour is really evocative of the underwater placement for the story and adds to the story.
The plot for the book is well developed by Matt, there is sufficient character development of the central character Mia to engage our interest while the story in the issue evolves enough to keep you hooked. As is the standard in a continuing story arc the culmination of the book brings the requisite hook to draw you into the next volume.
Dept.H is a different kind of story, the setting gives the book an interesting backdrop, but it is also true that the setting lends a good deal of useful claustrophobia and tension to the book. While the artwork may not be to everyone's taste the story is solid and strong enough to hold your interest. With a deteriorating situation it is highly likely that as the story progresses things will become yet more fraught and tense, which should prove to be an interesting read. Roll on more from Dept.H!