Story By: Joshua Williamson
Art By: Carmine Di Giandomenico
Colors By: Ivan Plascencia 
Published By: DC Comics
Following up the success with The Flash Rebirth #1 issue, here is… The Flash Rebirth #1… This is the first official issue of the new Flash rebirth series as oppose to its counterpart which was a brief catchup of the story so far. The Flash Rebirth #1 starts from the most part as any other beginning of the Flash storyline. It explains that Barry Allen is a forensic scientist that has an accident with a mixture of chemicals and a lightning bolt that turns him into, you guessed it, the Flash. From there, the reader experiences Barry's struggle on juggling being a superhero, forensic scientist, mentor, and his personal life. This issue was uneventful near the very end where another reveal occurs.
The story is written by Joshua Williamson who writes great indy series such as Nailbiter and Birthright. I do not blame Joshua about the start of this series, but rather, I am praying that the Flash will be more eventful soon. The pace issue 1 gives off is fairly slow and I know that the writer is wanting to setup the world of the Flash Rebirth but, I felt that this was something that could have been told in the previous recap issue.  The best part of The Flash Rebirth was at the very end when Barry realizes that his cop friend was in trouble but, he had to save a bunch of civilians in a burning building before he can assist him. Prior to that, the build at that point was dull.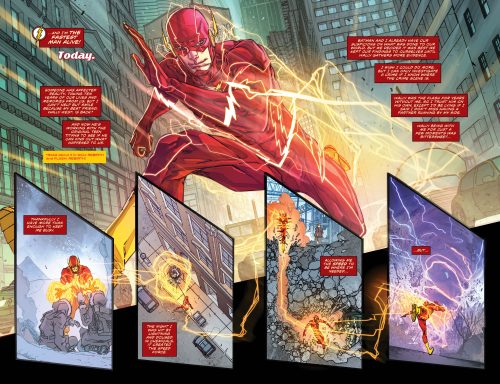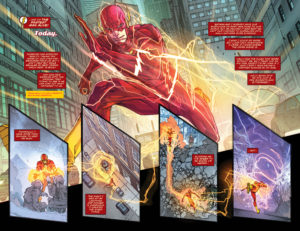 The art in this story was done by Carmine Di Giandomenico who has done a ton of work for Marvel in the past. In fact, this is his first DC title. His style in this book feels a lot different from his normal style. I would have not of believed that it was from Carmine if his name was not on the credits! I think the reason for this was from the dark colors Ivan Pascencia provides with his work. Carmine's characters pop out a lot more from what I have of ever seen from him in the past but, his flash feels a little off to me. Maybe, I will need to give him more time to see where he goes with it. 
Overall, The Flash Rebirth #1 is mediocre at best. Nothing really new was offered in this age old story and I feel that we have heard this many times before. Do not fret though, hopefully in issue 2, the Joshua Williamson will pickup the pace with the story so I will not give up on this quite yet.