Wayward #2
Story By Jim Zub
Art by Steve Cummings
Colors by John Rauch and Jim Zub
Published by Image Comics
This series is getting better and better after every read! The team of Jim Zub and Steve Cummings is outstanding.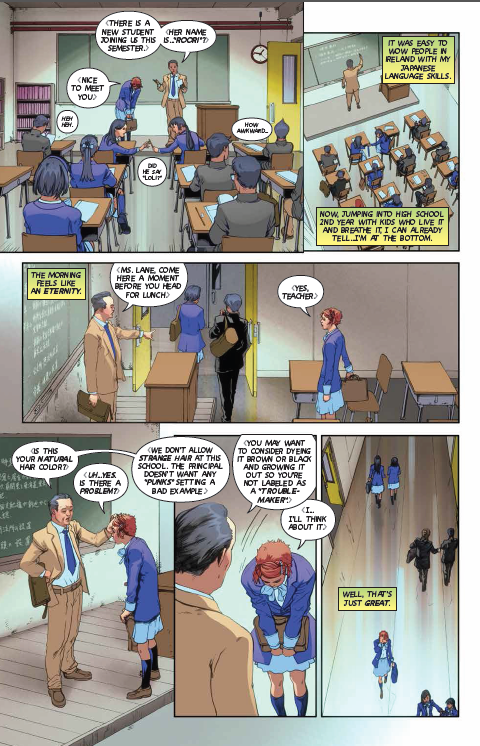 In the second issue, it is Rori's first day of high school in Japan. The issue starts off as a normal teenager's day in school. This story depicts being "the odd person in a new environment" very nicely. Rori is having some troubles fitting into
the normal groove of things. During her day, she sees a brooding teen that is sitting alone in the mess hall. She has a weird feeling and decides to follow him after class. To her surprise, this boy (named Shirai) has special powers as well! Without spoiling it for you, it is a must read sequence! 
Overall, the story starts off normal but ends in a strong note. What I really like about Jim Zubs storytelling is the small anecdotes that he puts into the story that gives the characters a more human feeling. One of my favorite examples in this issue was the part where Rori is introducing herself to the class. Her name "Rori" is mistaken as the Japanese word "Loli" which is short for "Lolita" (Frilly dresses and kawaii stuff). I love the fact Jim added these small tidbits of Japanese culture. By doing this, it added interest in Rori's daily schedule until she meets Shirai.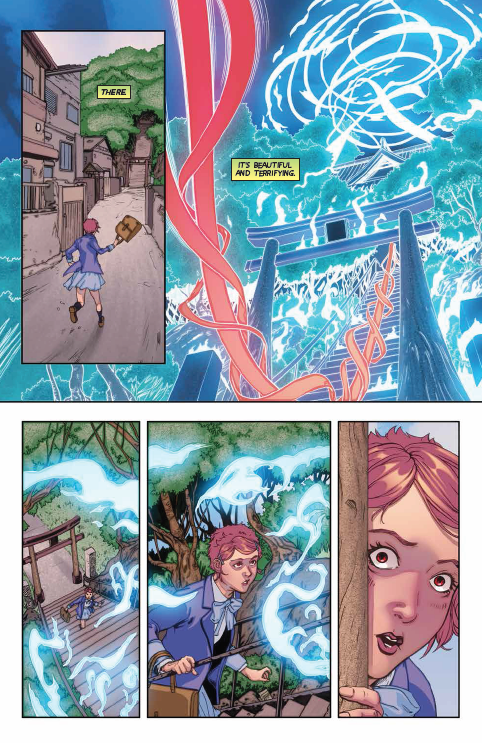 Once again, Steve Cummings did an excellent job on the art. The coloring brought out his style even more and I am really digging the anime-like facial expressions in this book. The best thing besides his character style is vibrant environment settings. From the school all the way to the temple shrine, his style is amazing to just look at.
As Rori's story continues on, her powers manifest even more. Waywards's story is progressing very strongly and is leading to something very big. Kudos to Jim Zub in keeping my interest in this epic story. It is making me yearn for more!
I would highly recommend reading this series for 
Overall Score:
9/10