Story by: Grant Morrison
Art by: Chris Burnham
Published by: Image Comics
Nameless #2 kicks off with our distinctly 'rough around the edges' anti-hero journeying to the moon. The premise of the book is an effective mix of science fiction and horror, with a dose of mysticism and humor thrown in for good measure.
The story is well balanced between developing the characters while expounding on the plot. Nameless benefits from the setting in this issue, which is a distinct difference from the fantastical and surreal elements of the first installment. Issue 2 is heavier on the horror, and with the implied claustrophobia of the setting, you get a deliciously unsettling aspect at play.
As a central character, Nameless, he is quite a mix in terms of personality. He's definitely enigmatic and full to the brim with personality however, this isn't a one man band; there is plenty of characterisation on this venture. Grant Morrison delivers a well crafted tale, the pace is expertly judged so that we get a well developed story with energy, yet as fast as the plot is being built, Morrison is reigning in the pace and giving the piece the time necessary to bring in some tension and atmosphere.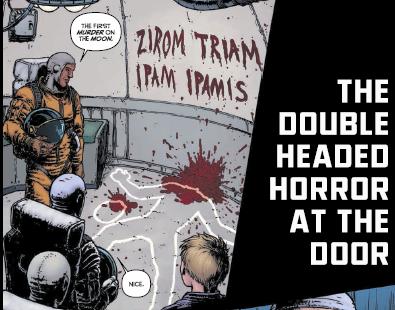 On art duty we have Chris Burnham, who, while not being spectacular, is very consistent. Some of the panels in this issue are a delight, while some of the facial characteristics don't feel quite as accomplished. The scenes of horror, and where Chris sets the scene (like the opening phase of this issue) are a real boon to the story. Nameless is turning into, if only after two issues, quite a solid story. The development so far has been faultless, Grant Morrison has crafted a well judged and interesting tale and the pacing of the issues is spot on. It is nice to see a story evolve out of the shadow of the first issue, while retaining the essential characteristics that made the first book so interesting. The evolution of the characters, especially as the issue reaches its climax, is very effective in terms of the story and organic.