Written by: Chris Welsh
Art by: Ammar Al-Chalabi
Site address: www.wartcomic.com/
Welcome to the wonderful world of Wart – a delightfully surreal take on the 'unfortunate hero dragged into an alternate dimension by a giant, tentacled monster bursting out of a lake with a speculative employment offer of: 'You Will Serve'. Albeit, prior to ending up at The Eldritch Asylum for the Belligerently Insane' – yes, you guessed it, this is a horror with a twist of humor, a kind of gentle but effective humor. Think Lovecraft meets the Prisoner with a dash of 'fun' and, along with an exasperated Wart, you have the essence of this tale.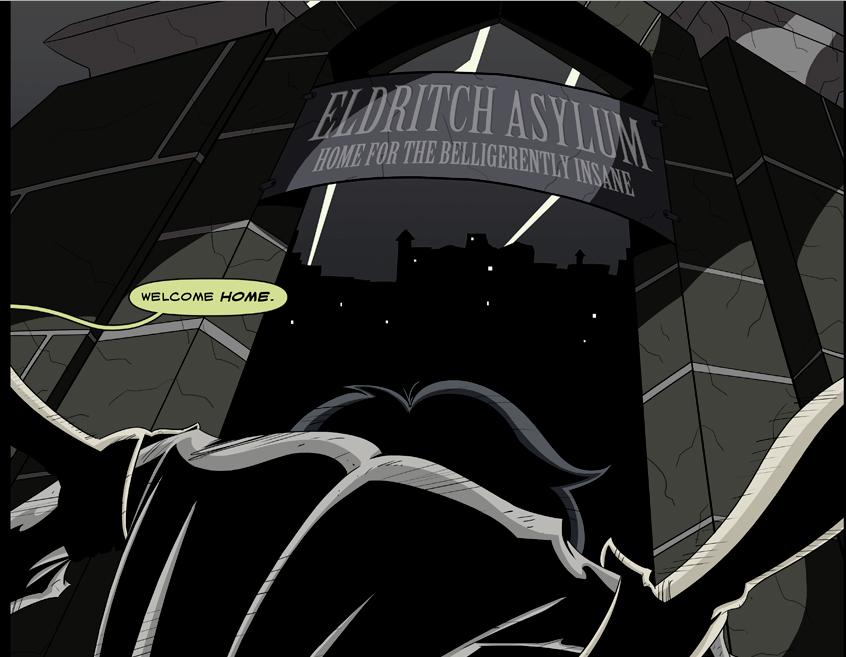 On writing duties you have Chris Welsh – an affable chap with a nice grasp of humor. On art duties we have Ammar Al-Chalabi – one thing Ammar really grasps well is big monsters, and if you enjoy Herculean monsters, tentacles, a funny/wet seeming group of hooded geeks and a curious rat – then Ammar will make you decidedly happy. The art of Wart works very effectively with the web medium, there is a feeling that Wart could easily make the transition from static pixels to a form of motion comic – or, indeed, a web toon. The material is definitely suited for this kind of treatment.
Wart is a really good example of a web comic. The material is bright, breezy and easily digested in the quick satiation of the internet.
The story of Wart is now (as of 01/28/2015) onto the 8th page of part 5, Wart Bellamy has come a long way since he first espied a giant eyeball under the surface of the frozen lake. With the makers of Wart recently easily surpassing their Kickstarter campaign to produce their second print installment of this material it is clear that there are many adventures awaiting our eponymous hero, whether or not he enjoys them remains to be seen.
In terms of producing comics for the web, you have to keep in mind the nature of the internet. Computer interaction, particularly in terms of web activity, has altered how we receive and process such information. Studies have shown that continued use of the internet changes our receptiveness – the brain likes quick satiation. That is one of the strengths of Wart – Chris and Ammar have snappy tales that are easily digested in this format – which is perfect for a webcomic.