There are many conventions that have a theme of one type or another. You have anime conventions comic book conventions, and even fantasy / sci-fi mash up of all these things and more. But rarely are there conventions that focus on a single universe of characters.  Star Wars Celebration is one of those conventions!
When I actually walked from the drop-off point to the Convention Center it was a sight to behold! There were plenty of fans in a HUGE line for the queue to get into the opening panel with director J.J. Abrams and Lucasfilm President Kathleen Kennedy! There were not a lot of people in costume but there were so many friendly faces and people wearing Star Wars t-shirts, hats, you name it! It was incredible to say the least!  There on stage was Abrams, Kennedy and the cast of the new Episode VII Star Wars movie, both original cast from the previous movies and the new.  You can see part one of the panel here on YouTube.  The opening of this con was spectacular and every panel was fun and entertaining.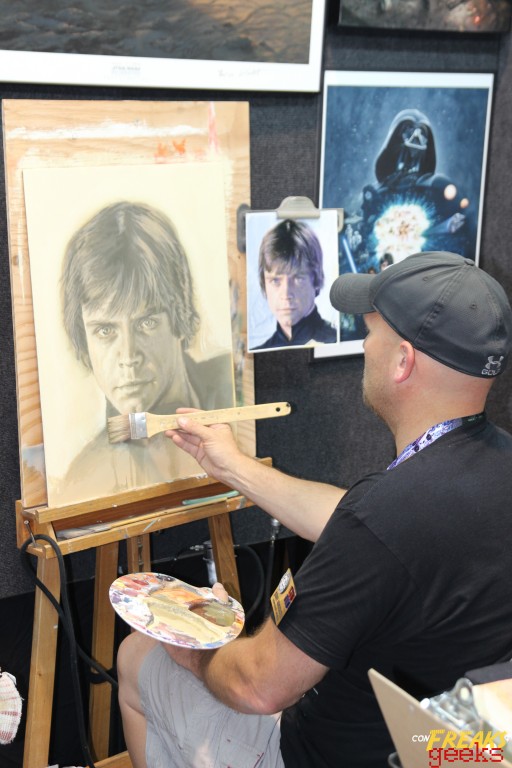 The exhibit floor was fantastic! There were recreation of iconic Star Wars places such as the Mos Eisley Cantina and the lounge area of the Millennium Falcon. There was even a huge life size Jabba the Hut stage and statue that you could take a photo next to.  There was plenty of merchandise to buy both at from the Celebration Store as well as the many vendor booths.  One of the things that really catches my eyes at most conventions is the 'artist alleys.' There were top notch artist at Celebration. I saw so many fine works that I wish I had more money and a gallery to devote to. Artwork from Jerry Vanderstelt, Joe Corroney, Alex Ross and so many others were on display at Celebration for art lovers to buy and enjoy. It's rare to see so many amazing artists at one con event.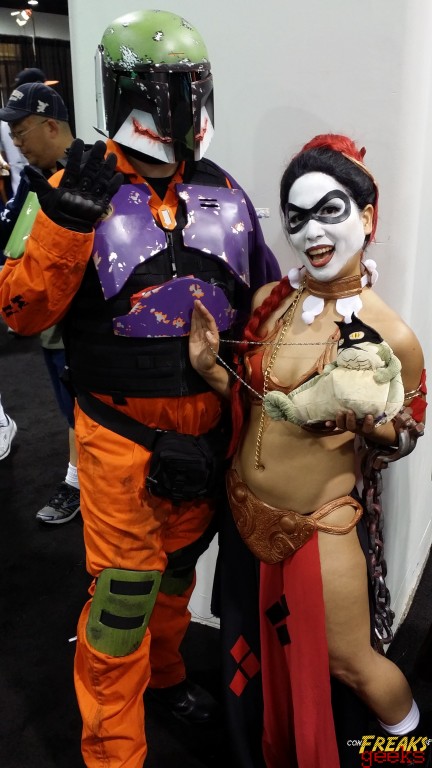 The cosplay game at this event was so strong! There were many variations of iconic characters at Celebration. The amount of creativity of the cosplayers was Uncanny (by the way, I appreciate the fans that dressed up as characters from the Expanded Universe (EU)). Disney/Lucasfilm may have wiped away the EU as we knew it but that hasn't stopped people from cosplaying their favorite characters from it. I from Darth Talon to a cool Mara Jade cosplay, the experience was fantastic. There was even a female version of Darth Revan that entered and placed in the Celebration Cosplay Contest. Celebration had no shortage of Mandalorians or Stormtrooper cosplayers. There were a lot of canon and creative variations of both that was a feast for the eyes. One of the most impressive cosplays I saw at the contest was an imperial 3PO droid that was all metallic black with red glowing eyes. Every cosplayer in the contest looked incredible.
I want to acknowledge and show appreciation for the fans that were there. There were fans of all ages at Celebration 2015 and they were so very friendly and such great people to geek out with about Star Wars lore. The CFG journalist, Sheila that covered the convention, was as huge a fan and we had great conversations about the series. If you are a fan of Star Wars and go to any Celebration event you can count on having a fun time with the people there. You can meet and talk to anyone about Star Wars and even the introverts will be really receptive. Social events were held that catered to the attendees such as 'Speed Dating.' There was also a 'cosplay club that passed out flyers for an event that Saturday night during the Celebration weekend that a lot of cosplayers showed up to.
It was exhausting doing so much in one weekend but I had a blast and I would highly recommend that if you are a super fan or Star Wars or just like the movies that you try to go to Celebration one of these years. I would recommend anyone who is a Star Wars fan should experience this once in a Lifetime. The next time the US will get this epic event will be in 2017. Next year, Celebration will be held in London.  It is an experience that is out of this galaxy!!