Story by: Cullen Bunn
Art by: Brian Churilla
Colours by: Dave Stewart
Lettered by: Crank!
Published by: IDW Publishing
Cullen Bunn and company returns for another round of hellish fun in Hellbreak #2! If you didn't manage to catch the first fun packed issue, then you missed out. Hellbreak is one of those books that has just marvelous concept: a military outfit breaks into Hell to extract lost souls.
The story isn't all 'silly' or all 'serious' – Cullen Bunn has a fine grasp of 'story' and employs that skill on Hellbreak. Issue 2 continues the fine introduction from the first issue, the pace is spot on, allowing the narrative to grow naturally through the pages. The dialogue works well, and the delicious use of gore is a welcome treat. None of which jars the reading experience.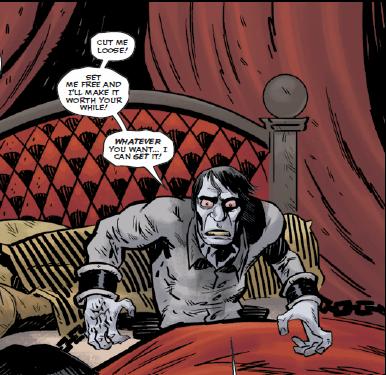 Cullen's characters are a lively bunch, some more colorful than others, but what he has achieved is bringing together a coherent 'team' feel to the book. While the nature of the material is the realm of demons and machine guns, the players in the story are grounded and believable. As the situation expands during the book, you gain more of an insight into the workings behind the team, of the dynamic that underpins them.
The art from Brian Churilla puts in a fair effort regarding the art of Hellbreak. Some of the character work could be a little tighter, though the overall feel of the book is okay. One particularly disgusting scene is beautifully rendered by Brian; it would have been nice to see more of this kind of illustration in the issue. As it was there were a few too many scenes that were too normal for any such delightful gross stuff. It is in the more gross and disgusting elements of the art that Brian really hits his stride. It is sometimes difficult to make the ordinary look interesting in comics, and that is evident in Hellbreak. Thankfully, there are the more monstrous parts of the story that elevate what would otherwise be a somewhat disappointing issue (in terms of the art) and when Brian hits his stride the art flows better.