Dredd Uprise #2
Written by: Arthur Wyatt
Art: Paul Davidson
Colours: Chris Blythe
Published by: Rebellion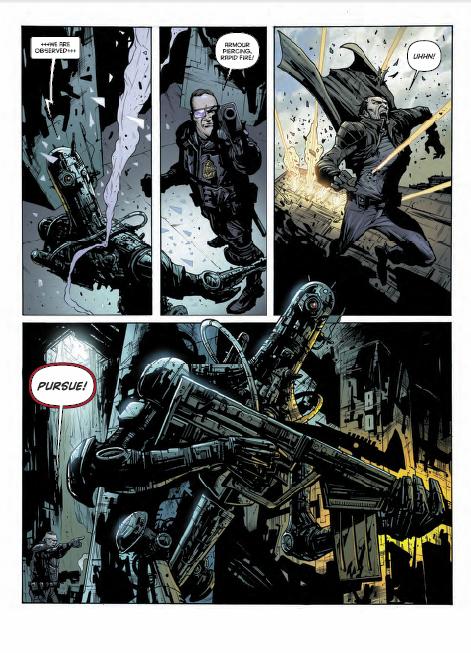 Dredd: Uprise – issue 2 of 2 is a frenetic and pulsating conclusion to this 2 parter. We pick up the story with the city in chaos, a conspiracy involving a duplicitous Judge, an army of robot pacifiers and the toughest Judge of them all: Judge Dredd. As the events in the book begin to unfold, it is up to Dredd to unravel the mystery and bring the full force of the law to bear on the 'perps. The structure of the issue is well laid out, we are given enough of the plot early on to draw us into the book. As with any book under the stewardship of editor Matt Smith, the quality is there to see from the first page.
Delving into Arthur Wyatt's story, we find the set up is very open, we see the strings being pulled and it isn't too long before Joseph Dredd is on the scene. In terms of the pace of the book, the energy is good, we do have the essential elements where the plot is drawn out for the reader and then we switch to the action that drives the story. The art by Paul Davidson is very in keeping with the set up from the motion picture Dredd – the style translates well and there is a suitably dark feel to the art. Particularly well rendered are the robot pacification units which hark back to the feel from Star Wars IV.
With Wyatt and Davidson working in combination, we have an effective creative partnership on the book. The script is tight, the plotting and characters put in equal shifts and we arrive at the conclusion with an almost neatly tied bow to finish off proceedings. It is a little too neat, the bad guys get taken down, the good guys have done what is necessary but it all feels a little too fast. Maybe this was a one-shot length story pulled over 2 issues, maybe they rushed it a little. The story is a good one; it is fun, fast and well illustrated. My only real concern is that it drew to an end with what felt like a mis-step.
In addition to the main story we are gifted a lovely little bonus by Rob Williams and RM Guera – this features an aged Dredd still fighting the good fight for the Law. The perp' in the story is orchestrating an exploding suicide jumper campaign as a cathartic method of dealing with their own impending mortality. It's a little gem of a short story.
Overall Score:
7/10