Story by: Mark Russell
Art by: Steve Pugh
Colours by: Chris Chuckry
Letters by: Dave Sharpe
Published by: DC Comics
A Stone Age Classic Is Back!
Welcome to the town of Bedrock, the home to the one and only Fred & Wilma Flintstone,  Barney & Betty Rubble, Mr Slate, and all the others from the classic Hanna-Barbera cartoon. The Flintsones #1 have been re-imagined by DC Comics by Mark Russell and Steve Pugh.
As with any comic translation, for those with a familiarity with the original interpretation (in this instance, the cartoon) you compare the two. Fred has been overhauled, not quite as rotund as before, but when you consider the simplistic style of the cartoon you do need (in terms of DC Comics) to have a greater level of detail. The updated Wilma, Barney and Betty come across well.
This initial issue manages to cover the bases in terms of laying out the world of Fred Flintstone and Co. We get introduced to the major players in Fred's world, from his job at the quarry to his family and friends. There is a minimal plot at play here, Mr Slate wants Fred to chaperone three prospective Neanderthal employees, and to get them to work at the quarry. Considering this is Fred things don't necessarily go to plan, though, like the cartoon, he is a trier! It's a slight disappointment that we don't witness one of Fred's legendary explosions of frustration, which are a hallmark of the character.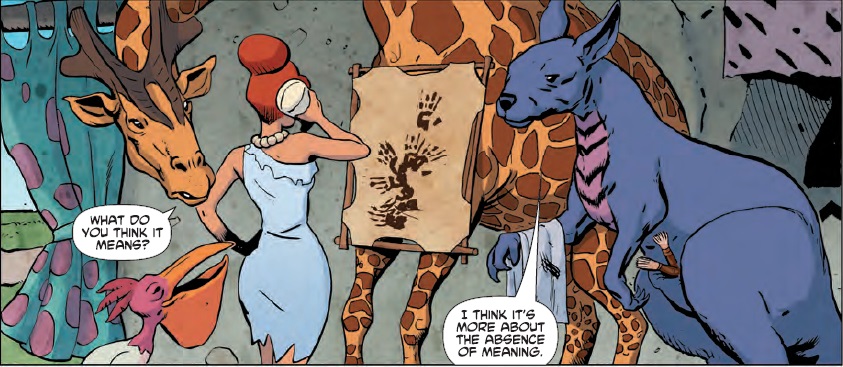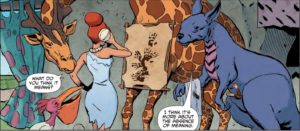 The art for the book is provided by Steve Pugh, and Steve manages to capture the feel of the Flintstones nicely. The world of the Flintstones – with the prehistoric equivalence of modernity comes across to the reader, and the array of creatures gives you plenty to view.
There is vibrancy to the art; not just in terms of the pencils by Steve, but the colour really accentuates the pages.
In summation the Flintstones brings to life the premier persons of Bedrock, the story is a pleasant amble down memory lane. The characters have been brought to life with a certain care; their relationships come across very convincingly. While the story isn't the most engaging it does adequately paint a picture of life in Bedrock and it allows a firm introduction (or re-introduction) to Fred and the gang.