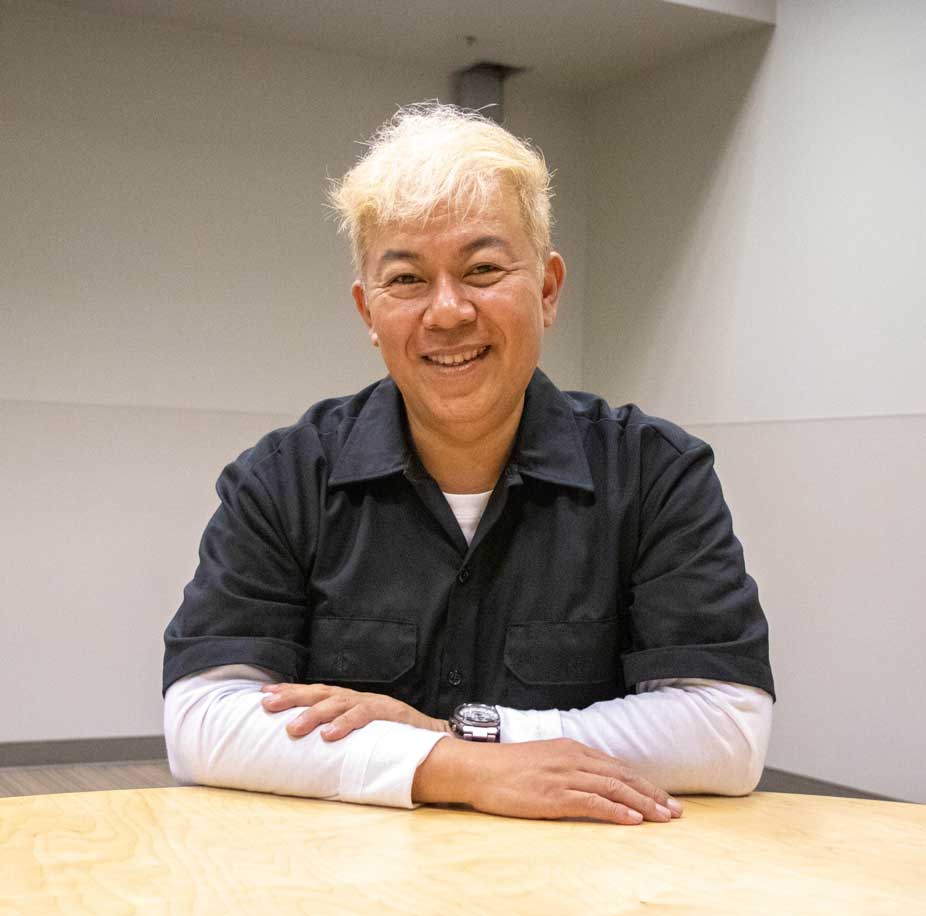 Nobutoshi Canna is an experienced anime voice actor who's best known for his roles as Lancer (Fate series) and Guts (Beserk). Along with his experience doing Japanese dub work for live action Hollywood films, he's also appeared in popular shows such as Naruto, Bleach, Fushigi Yuugi, and the Sonic X anime. 
CFG had an opportunity to chat with Mr. Canna about his career, hobbies, and inspirations during FanimeCon 2019.
Interviewed by William Hong
Translated by Lisa Kawada
Transcribed by Davies Green and Vincent Lai
How are you enjoying FanimeCon so far?
It's very fun and interesting.
Have you ever been to San Jose before?
This is my first time. Its very similar to Hokkaido in Japan. I really like the nice temperature and weather here. The blue sky and nice air and all the people are really nice. So I'm really enjoying it.
So what inspired you to become a voice actor?
This is going to be a long story. When I was three years old, I started being a child actor in a stage play. Since then, I've started  thinking and dreaming of becoming an actor. The reason I became a child actor was not through me, but my mother. She suggested it. I really enjoyed acting and it became my dream to become an actor. As I kept going, around middle school, I was called upon by the president of the agency I was in and he asked, "What do you want to be when you grow up?" I just replied "an actor" and he was like okay, I need to be educated because he wanted me to focus on school. He didn't want me to become an actor who struggles to read scripts. He suggested to leave acting temporarily and can come back after high school or even after college. He wanted me to go and enjoy school life.

So I listened to the president and decided to just take a step away from TV for a while and focus on my studies. Around when I was graduating high school, a good friend of mine, a classmate who wanted to become a director for movies, recommended me because I still wanted to be an actor. He suggested I should go to plays and grab more experience than just knowledge. He gave me a lot of flyers to go to small plays. I listened to his suggestion and saw a memorable show produced by Toshio Furukawa's agency.


When I went to Toshio Furukawa's company's play, I realized that they were looking for new members. I went to the audition and got in. So I was part of his company for a while. A little while longer, I got an offer to audition to a different agency and I decided to go. I did get in and that agency is Aoni Production. After getting into Aoni Production it took me around half a year to realize this isn't quite like acting, but just a voice acting agency. So after I realized it wasn't the kind of acting I dreamed of doing, I considered quitting, but then I was like, no, I'll dedicate myself at least three years. And this is where I am now.
Of all the characters you played, is there one that stands out to you the most?
So if I had to choose, it's going to be my debut series, Kikō Keisatsu Metaru Jakku (Armored Police Metal Jack ). In particular, the character Kanzaki Ken that I played. At the time there was the pressure to be good since that was my first main character and the fact that I was still very new to the whole voice acting, I remember struggling a lot. But of all the characters that I've acted as, Ken is very important to me and I treasure that role most of all.
How do you prepare yourself for each role?
The first step is that I'm given a script that has the most information about the character so I really like taking that. The second part is the character's display or the artwork. That helps me a lot and I like trying to create an image of the character. The last thing is interacting with the director when recording and getting specific details.
In what ways has the anime industry has changed since you started?
I think the main thing that has changed are the technical improvements. Like the audio, because of that, the range of flexibility and acting. There are a lot of talented new voice actors.
Are there any performers or artists that you admire?
So I believe that my master, Toshio Furukawa*, is number one to me.
You are very well known in the west for playing Lancer. What are your thoughts on the enduring popularity of Fate series?
All I can say, it's like, I'm truly lucky to be part of such a big, wonderful series.
What do you like to do in your free time?
I particularly enjoy singing. (laughs)
What kind of music do you like to sing?
So I generally like rock. I grew up with parents who liked jazz or big band music. I might make mistakes with the names, but musicians like Glenn Miller,  Harley James, and Benny Goodman. So I do enjoy a broad range of genres.
What was the most interesting or challenging scene you performed in?
So recently, it was dubbing Matt Damon's character in The Martian. Mainly because I'm acting a lot in that alone. So I remember struggling with it.
So if you weren't a voice actor, what would you be doing instead?
I can't quite imagine it. Since I was a child, I've always wanted to be an actor so I can't really think of anything else.
*Check out our interview with Toshio Furukawa here!