Grayson #1
Written by Tim Seeley
Art by Mikel Janin
Colors by Jeromy Cox
Brace yourselves readers, this is going to be a bumpy ride.  The brand new and exciting New 52's have our young hero playing undercover detective for a corporation and…wait, haven't we seen this before? Oh right, yes we have. Well this is awkward.  I guess in their defense this time, Grayson knows he's working for a boss that is known for being crooked and intends to cause their collapse from the inside out and…oh wait! Huh.  I could be assuming too much, as Grayson could be oblivious to the fact that Spyral is dirty.  But being who he is (or was), its a safe assumption.  This is not going to be a soft cuddly review, readers. Brace yourselves.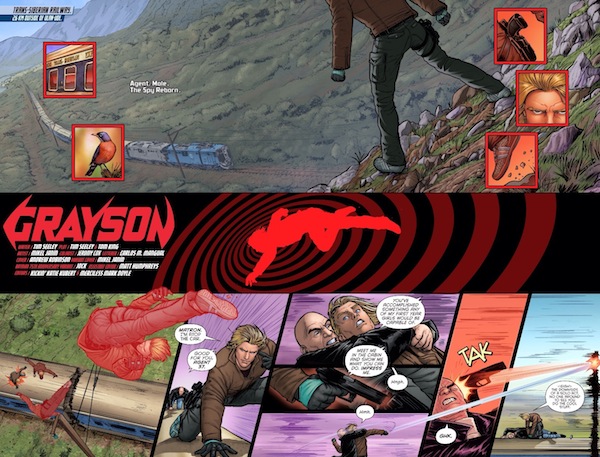 It starts off with Archer and Lana having an argument over… Sorry! Sorry. Archer is actually funny and amusing.  Let's try this again.
Like with most first issues we start with an inner monologue.  Dick, Robin, Nightwing, Mole, and the spy reborn! Followed by a Skyfall train sequence taking place and an argument over using something called Hypno takes place. All the while the two undercover spies are in fact being spied on!  Confusing, isn't it? The mission takes a sudden turn and the spy is revealed, but exactly which one you might ask? Well readers I'm afraid you will just have to pick it up and find out for yourself.
Where to begin?  I'm almost certain it is clear how much of a fan of this issue I am not.  Everything was so…mediocre.  The story, the plot? This all seems like something I've seen before.  Its predictable (even if you have not read past stories) and just plain dull.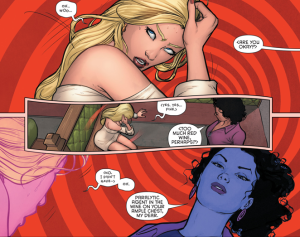 But fret not dear readers! Not all is lost for the art is pretty nice to look at.  Nice coloring, no awkward faces or posing. The layout of the panels and speech bubbles are easy to follow and nicely laid out. The cover however, I was not as in love with. It looks more like a sad attempt at a 70's spy movie. It almost felt like the creators were shouting to the females, "Hey look I'm pink and have a pretty man on me! Buy me!".  I'm not sure what they were going for but one thing's for sure. They missed the mark.
Over all I was not very entertained and left feeling unfulfilled.  If you are looking for a fun side story then perhaps you might enjoy it. But if you really love Nightwing?  Well, you won't be seeing him for awhile.
Overall score:
4/10
Edited by Brian Duncan