Harley Quinn #2
DC Comics 2013
Written by Jimmy Palmiotti & Amanda Conner
Art by Chad Hardin & Stephane Roux
Colors by Alex Sinclair
This book continues to just completely entertain in fun and surprising ways. The opening pages you would think the Joker was guest starring, pre facemask look. Chad and company did a magnificent job here rending the Clown Prince of Crime in a Madame Tussauds style of wax figures. When you start a book off this way, you know the rest of the book is going to be interesting, more since Jimmy's a contributing writer. To be honest, it could gone downhill but instead, we get another member of Gotham's elite coming to pay a visit and well a girls night just would not be complete if she did not have her bestie as her first visitor to her new home.
So Harley is out and about when she comes across a shelter that will euthanize the animals if no one adopts them. So tomorrow, at least fifty animals are slated to die. This sets off an emotional response in Harley and the hilarity soon ensues. I mean, she only has the dog she picked up last issue and that charred Beaver. Hilarity indeed because the corpse she has in her living room seems to come back to life asking for a bath and instead it's Ivy having herself a giggle at Harley's expense. Again, the writing here is hysterically funny and the way words are phrased and the look on the faces are in sync making it just incredible.
So next up we're back at the animal adoption center where the ladies end up freeing all the animals they've got. Of course, the police do not arrive but the man who has followed her to New York does and well yeah this is a fun, fun interaction between these characters. Whoever he's supposed to be, is definitely no match for Harley that's for damn sure. I do love the fact that Ivy knows about the contract out on Harley and what he supposed solution is but to know those details read the book.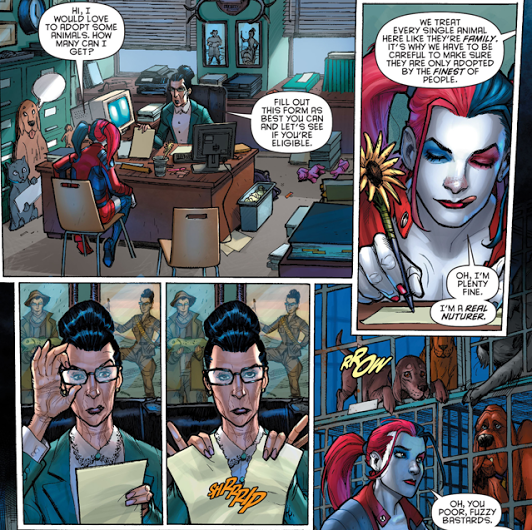 Though I've got to admit, you know Ivy has this huge soft spot for Harley and what she does. So the animals have a place to play and well go potty is delightful. Also, the neighbors are crucial to her keeping her place and helping out with the animals she now looks over. Who would have thought these animals would make Harley come across as more human almost mothering? With writing this good and with incredible art to match it this is fast a runaway hit for DC.
Overall Score:

10/10