This year's Image Expo on January 8th featured a slew of announcements from the top writers, artists, colorists, and storytellers in the industry, including Scott Snyder (Wytches, Batman), Skottie Young (Rocket Raccoon, all those baby variant covers you didn't know you needed), Todd McFarlane (Spawn), Brian K. Vaughan (Saga, Runaways), and Brian Wood (X-Men).
Comment below to let us know what you're most excited about!
New Titles
A.D.: After Death
Scott Snyder (Wytches, Batman) and Jeff Lemire (Trillium, Sweet Tooth) team up to tell a story about the cure for death. What do you do with your life when you don't have to die? The story is set in the near future and follows one man as he tries to come to grip with the new reality of infinite lifetimes. (Due November 2015)
Black Road
Brian Wood (Star Wars, Northlanders, X-Men) and artist Garry Brown (The Massive, Iron Patriot) reunite for their first project together since The Massive. The story follows Magnus The Black, an agent for the Christian Church who loses a Roman official to bandits on the infamous Black Road. As he tries to fix the problem and complete his contract, he discovers a secret that threatens to shift the power balance for all of Europe. Where will his loyalties lie: with the Church and his employers, or his pagan Viking roots? (Due September 2015)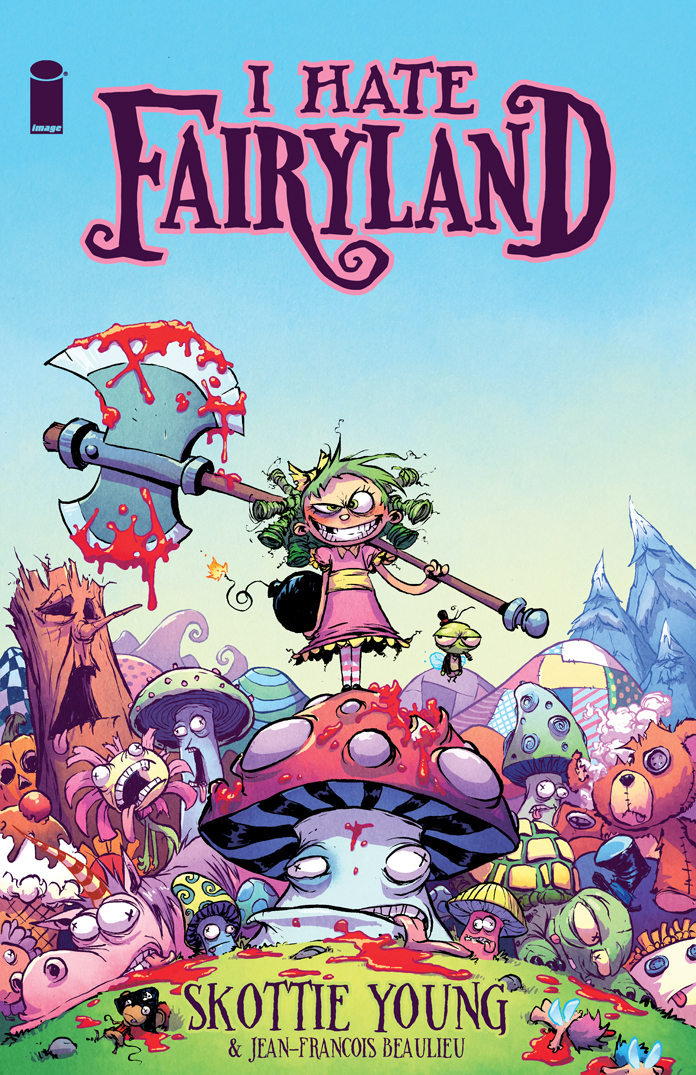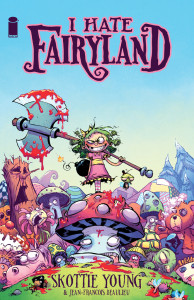 I Hate Fairyland
Skottie Young (Fortunately, the Milk, Rocket Raccoon, Dorothy and the Wizard of Oz) and Jean-Francois Beaulieu (Dorothy and the Wizard of Oz) reunite for a snarky and morbid tale of a not-so-perfect world. Fairyland is all fun and games… unless you've been stuck there, never aging, for almost 40 years like Gertrude. Skottie Young previewed several pages of the new comic, most of which showed Gertrude bashing her way through technicolor Fairyland creatures with her favorite battle axe. Check it out if you think "cute" and "violent" are perfectly at home in the same sentence. (Due Fall 2015)
Heaven
James Robinson (The Saviors) and Phillip Tan (Spawn, Uncanny X-Men) are telling a story set in the distant future where men and aliens have used religion to conquer the known universe. It's time to invade the next one: Heaven itself. Prepare yourself for "The Good War" between man and angel, complete with flaming swords and futuristic rifles, with all of space and time as the backdrop. (Due in 2015)
Island
Emma Rios (Pretty Deadly) and Brandon Graham (Prophet) are spearheading an oversized 72-page monthly magazine, featuring stories by different creators each month, illustrations, prose and poetry, and fictional fashion. The first issue will include an original story from Emma Rios called ID, which explores the theme of identity in a world where body transplants are an option. Brandon Graham will also revisit Multiple Warheads and Ludroe will add Dagger Proof Mummy. Marian Churchland is contributing some illustrations to round out the inaugural issue. (Due June 2015)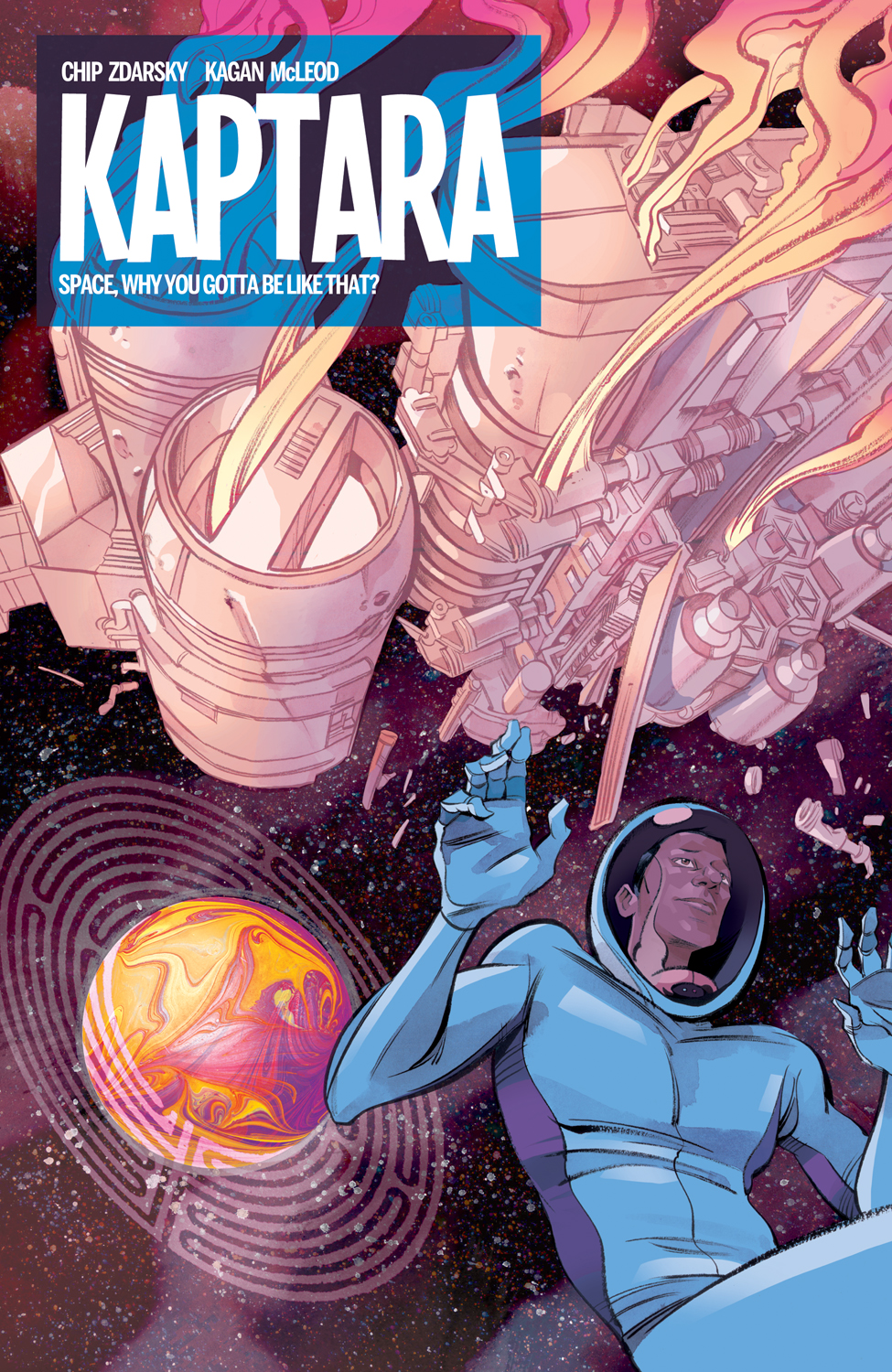 Kaptara
Chip Zdarsky (Sex Criminals) and Kagan McLeod (Infinite Kung Fu) introduce Kaptara, which Zdarsky continues to refer to as "gay Saga" whenever he is asked to describe it. The story follows young bio-engineer Keith Kanga as he discovers weird creatures and weirder people on the other side of the universe. But if he doesn't get back to Earth, the planet is doomed! (Due in 2015)
The Ludocrats
Kieron Gillen (The Wicked + The Divine, Phonogram) and David Lafuente (Ulimate Comics: Spider-Man) have teamed up to bring you the comic book to break all other comic books. This miniseries promises to be silly, strange, opulent, intensely fun, and… ludicrous. If it's anything like Gillen's display of pomp and circumstance at the Expo keynote, it should be a happy little adventure. (Due Summer 2015)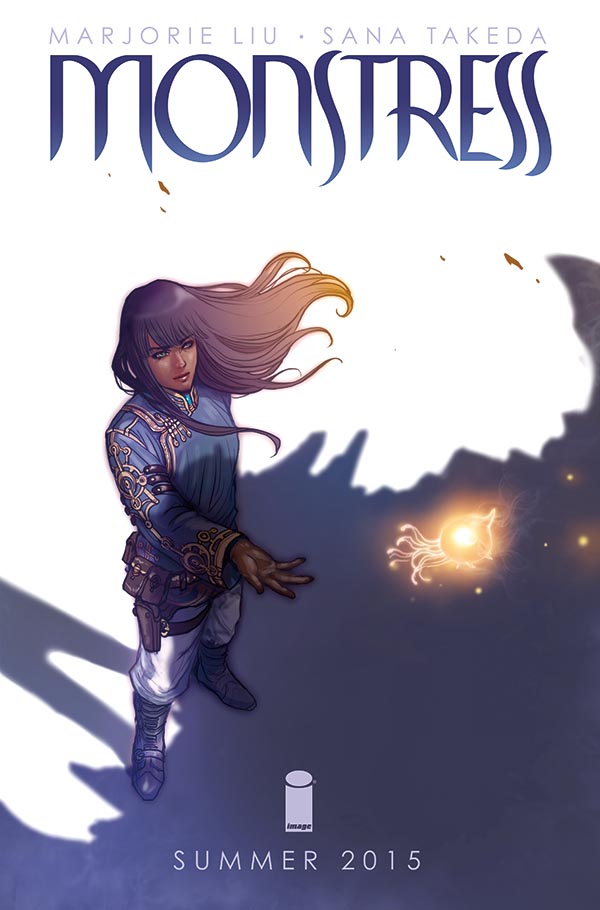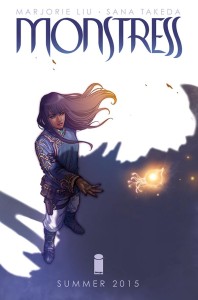 Monstress
Marjorie Liu (X-23, Tiger Eye) and Sana Takeda (Ms. Marvel, X-23) join forces to tell the story of an alternate history where dangerous and mysterious monsters inhabit the world around us. Some people are afraid of them. Some people try to control them. Then one day, a young girl in Asia discovers she has a psychic bond with the most powerful Leviathan of them all, making her a target for those who seek to control its power. (Due in 2015)
No Mercy
This new series from Alex de Campi (Smoke/Ashes, Grindhouse) with art by Carla Speed McNeil (Finder) and colors by Jenn Manley Lee (Dicebox) will follow a group of college students on a volunteer trip in Central America. When disaster strikes, all they want to do is survive and get home. As Alex de Campi stated at Image Expo, "Teenagers are just really fun to write!" (Due Spring 2015)
Paper Girls
Brian K. Vaughan (Saga, Runaways) and artist Cliff Chiang (Wonder Woman) bring us a story of four young newspaper delivery girls who encounter… something… one day. It changes their lives. Vaughan and Chiang have been waiting to collaborate on a story for years now, and Vaughan promises Paper Girls will be full of surprises. (Due in 2015)
Plutona
Jeff Lemire (Trillium, Sweet Tooth) and Emi Lenox (Emitown) with colors by Jordie Bellaire (Pretty Deadly, The Manhattan Projects) are teaming up to tell the story of five suburban kids who discover the body of the world's greatest super hero, Polara, dead in the woods. What they do next will test the bonds of friendship and the lines between good and evil. (Due in 2015)
Revengeance
Darwyn Cooke (Catwoman, DC: The New Frontier) announced his first fully creator-owned comic, a psychological thriller that will examine what happens to a man who becomes obsessed with revenge. After tragedy strikes, Joe Malarky will dive into the seedy underside of the city and discover the madness that was always there. (Due June 2015)
Run Love Kill
Eric Canete (The End League, Iron Man: Enter the Mandarin) and Jon Tsuei (Comic Book Tattoo) are back after a brief hiatus with an ambitious sci-fi action story. The book will follow fugitive Rain Oshiro as she tries to evade military capture and escape a barricaded city in under 24 hours, but it will be told partially in the present and partially in the past, in the moments and choices that led to where she is today. (Due Spring 2015)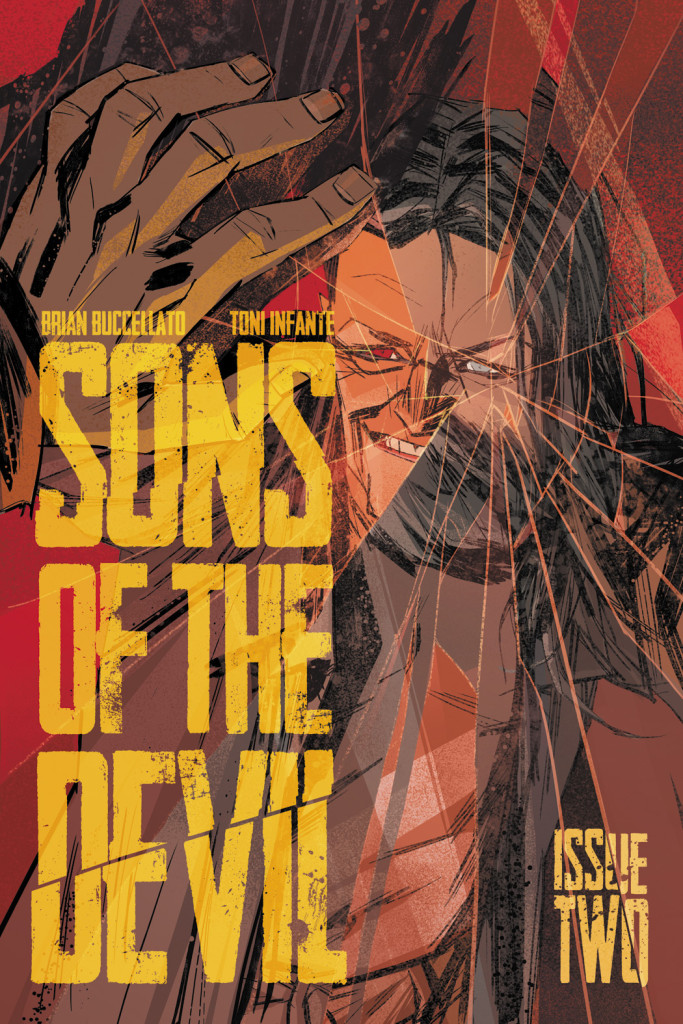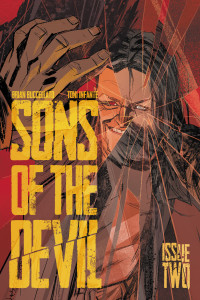 Savior
Todd McFarlane (Spawn) and co-writer Brian Holguin (Spawn, Mr. Majestic) with art by Clayton Crain (X-Force) announced a new eight-issue miniseries. A mysterious man appears out of nowhere, with no memory and no home, but with strange and inexplicable powers that seem to come straight out of the Old Testament. Is he the Savior the world has been waiting for? Or is he Doom walking the Earth? (Due April 2015)
Sons of the Devil
Brian Buccellato (The Flash, Hellblazer) and Toni Infante (Sons of Anarchy) bring us a story about a 25-year-old orphan who discovers he's the son of an infamous cult leader. It's a psychological horror book that promises to be a grounded take on cult culture, with character-driven stories and a dash of the supernatural. The project was originally launched on Kickstarter in 2014, and it's great to see it find a home at Image Comics! (Due Spring 2015)
Starve
Brian Wood (Star Wars, X-Men) and artist Daniel Zezelj (Stray Dogs) with colors by Eisner-winner Dave Stewart (Hellboy, The Walking Dead covers) join forces to tell a twisted tale of a future where celebrity chefs are the ultimate superstars, and it's decidedly unsavory. Chef Gavin Cruikshank is back in town to discover that his cooking show "Starve" has been turned into a mockery of good taste, with endangered species being served up to the super-rich just for the scandal of it. He must work to repair his relationship with his daughter and make amends to the corruption his show has become. (Due May 2015)
Tadaima
Emi Lenox (Emitown) returns to autobiographical writing with a story based on her return to Japan after a twelve-year absence. Unfortunately, it's not under the rosiest of circumstances, as her trip back was prompted by the death of her grandmother, whom she hadn't seen in those twelve years apart. Tadaima is a touching journey through cultural differences, memories, and family. (Due in 2015)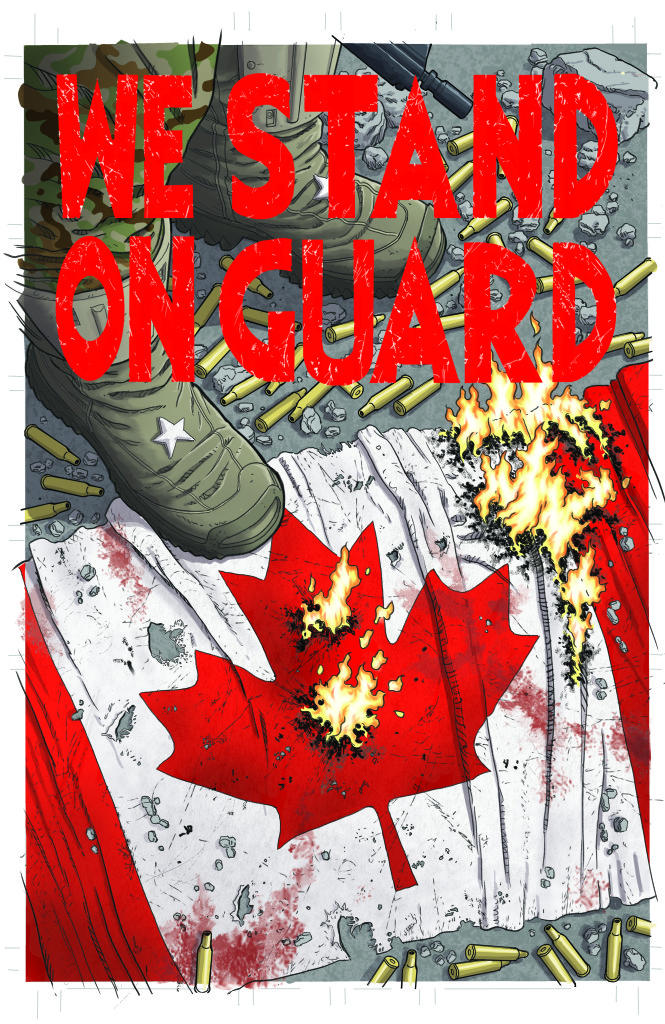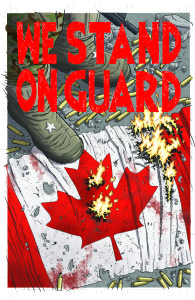 We Stand on Guard
Brian K. Vaughan (Saga, Runaways) with art by Steve Skroce (Doc Frankenstein, storyboard art for The Matrix and V for Vendetta) introduce an action-packed miniseries that follows a band of Canadian civilians who must take up arms against hostile invaders: the United States of America! (Due Summer 2015)
8House
Brandon Graham (Prophet) had further details on his 8House project, which was initially announced at Image Expo 2014. The miniseries that make up 8House are all set in the same universe ruled by eight houses, but are written by different creators. Two of the miniseries are 8House: Arclight, written by Brandon Graham with art from Marian Churchland (Beast), and 8House: Mirror, by Emma Rios with art by Hwei Lim (Boris and Lalage comics). (Due in 2015)
Existing and Returning Titles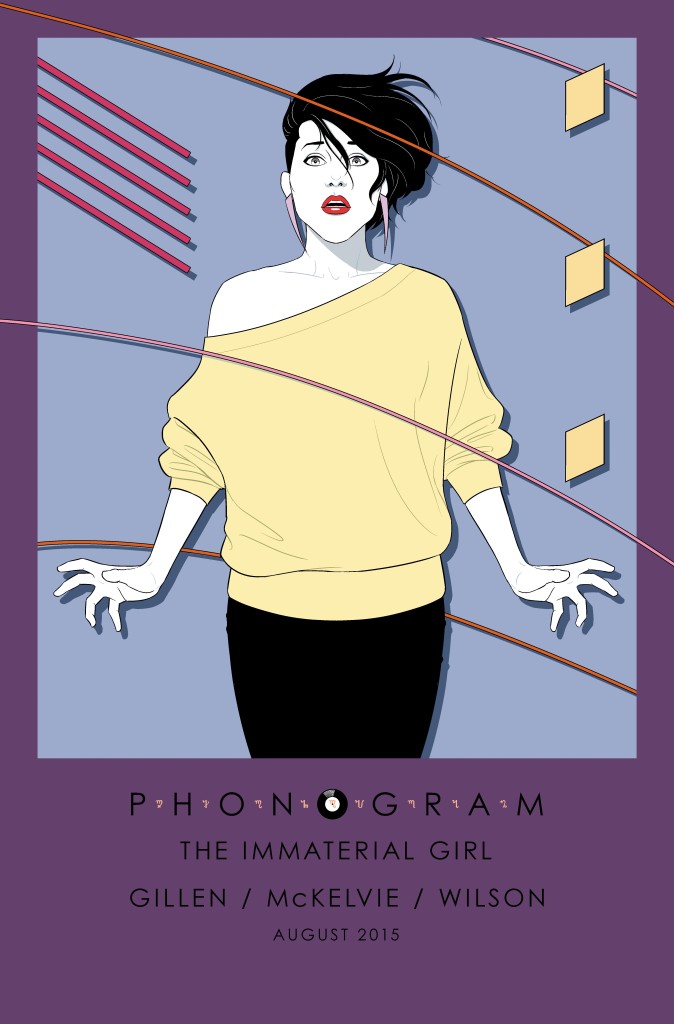 The Wicked + The Divine
Writer Kieron Gillen and artist Jamie McKelvie unveiled details of the third arc of the hit series. Amaterasu, Tara, The Morrigan, Inanna, and two other gods will get individual portrait issues, and five of them will be drawn by guest artists representing some of the best in comic art today, including Tula Lotay (Supreme: Blue Rose), Stephanie Hans (Angela: Asgard's Assassin, Dark Tower: The Gunslinger), and Kate Brown (Freakangels, Fish + Chocolate). (Due Summer 2015)
Phonogram
The first volume of fan-favorite Phonogram was published in 2006. The second was in 2010. Kieron Gillen and Jamie McKelvie, the team behind the current hit The Wicked + The Divine, are finally back for the third arc, Phonogram: The Immaterial Girl, which will explore Emily Aster's origins. She sold half her personality in exchange for power, but what has the other half been doing all this time? (Due in August 2015)
Pretty Deadly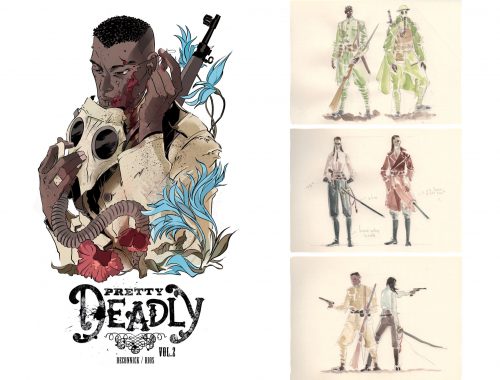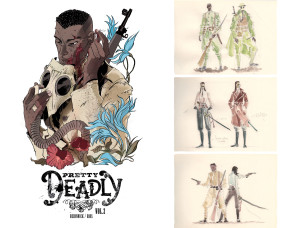 Kelly Sue DeConnick and Emma Ríos reassured fans that they haven't forgotten about us! The surreal Western featuring the daughter of Death will return this year in its second arc. Ginny will be sent on a mission that takes her through the trenches and mustard gas of World War I to rescue the son of a dying woman. (Due September 2015)
Spawn #250 and Spawn: Resurrection
Todd McFarlane and the rest of the Spawn team celebrate the 250th anniversary of the series with a triple-size 64-page #250, as well as a brand new #1 one-shot in Spawn: Resurrection. This is only the second time in history that an independent comic has reached the 250 milestone, so fans of Spawn be sure to pick them up! (Due January and February 2015)
Stay tuned for feature articles and interviews with creators for some of the most interesting titles revealed at Image Expo 2015! What are you most excited about?