The Intersect experience continues in issue #2 with slightly more solid plot and character development, more terrifying encounters, and a few more hints at what's going on. I say "experience" instead of story because this book doesn't seem to be one that has a beginning, middle, and an end. It's more like a vast, spiraling puzzle, with different pieces coming into focus for brief moments before slipping away again. Creator Ray Fawkes explicitly states on the first page that the book is a code and nothing is what it seems, which led me to spend several extra moments on each page re-reading passages and following the dripping trails of watercolor across the stark white background, looking for clues.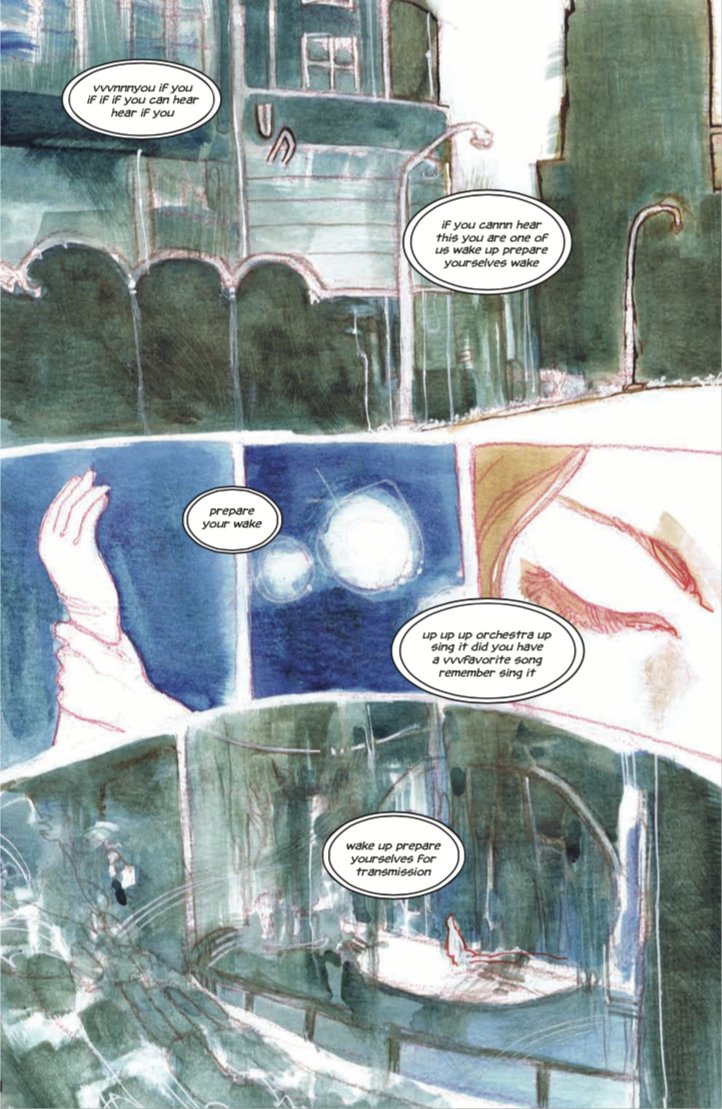 Or maybe I just can't stop staring at this book because it's so damn beautiful! There's more variety of color in this issue in comparison to the first one. Intersect #1 sits in my memory in a sickly mess of mildew green, brown, blue-gray, and white. This week's issue brought in splashes of brighter blues and oranges, especially around the two new characters introduced: an old man that the Kid claims to recognize as a preacher who should be dead, and a woman wearing a cross around her neck who appears to be frozen in a perpetual scream. She seems to be calling to us, but we don't know why.
So far, the clues don't seem to be lining up in any particular fashion and I'm just as confused as I was after the first issue. At least after this week, I have a few more lifelines. I don't know where they lead yet, but I know they're there. The box text summary on the first page cleared up a lot of what happened in the first issue, and I latched onto it for dear life as soon as I read it. The mechanics of the characters' shared bodies are a little more explicitly explained as well, which brings on a horror all its own. There were a few other familiar concepts, like the run-in with cops, which tells me there may be some inhabitants of this world that are native or natural to it. Or they may be just figments of imagination, but at least they were familiar and more or less solid.
Speaking of solid, Lucky, the terror that Jason/Alison and the Kid were running from in the first issue, rears his ugly head again. We actually get a glimpse of him this time, and the implications of what he might be in the context of this world are terrifying all by themselves. Jason/Alison and the Kid had better find some allies in this world soon or the dangers in it might catch up to them.
The end of the book is simultaneously the most frustrating and the most clear. After the story seems to end in both issue #1 and issue #2, there are several more pages of messages. Pro: I know they're definitely messages. Con: I still don't understand them. But at least I know where to start looking when I have more information to decode all this stuff.