Written by: Aline Brosh McKenna
Illustrated by: Ramón K. Pérez
Colored by: Irma Kniivila with Ramón K. Pérez
Published By Boom! Studios
Orphaned as a girl, sent to live with relatives who could care less if she was there or not, Jane dreams of living in New York City. As soon as she has saved enough money, she leaves her life and moves to the city. She attends art college but needs to make extra money to cover the cost of living. She finds a position that is very suspicious; it is a nanny to a little girl, Adele, who lives with a multi-millionaire father, Rochester, who is never home. Jane feels a kinship with Adele, even though she feels the home is strange and something is going on behind closed doors she is not allowed to go through. As time goes by, Jane settles into school and begins to have feelings for Rochester when he finally reappears in his home. Jane is torn between her love for Adele, her attraction to Rochester, and her determination to make it on her own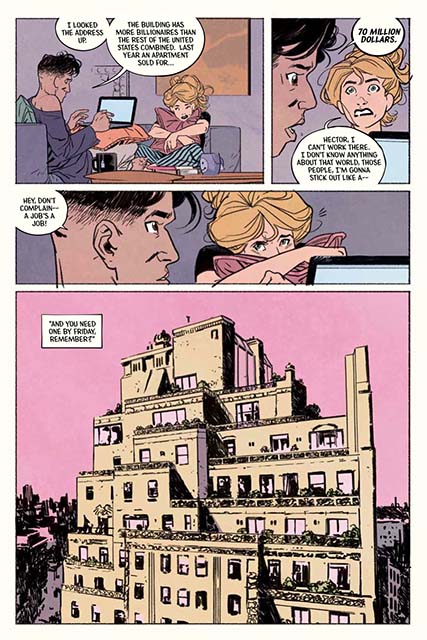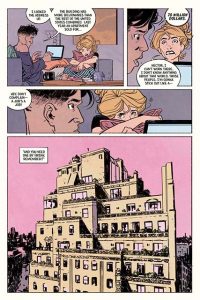 Aline Brosh McKenna is the screenwriter of "The Devil Wears Prada" and co-creator of television's "Crazy Ex-Girlfriend", so suffice to say she knows a thing or two about young women. McKenna's take on the classic tale from Charlotte Brontë of Jane is the same, but yet different. There is the modern day spin with Jane's independence. Brosh McKenna kept the strong woman that Jane is, she fleshes out the character and doesn't skip on the other characters as well.
Ramón K. Pérez as the illustrator and Irma Kniivila along as colorist, this trade is a progressive piece of art. In the beginning, it is sparingly colored like being told through a fading memory. As Jane enters her new life in New York, Pérez and Kniivila start to use more colors and they grow more vibrant as the story continues along. If this was just a comic with images, no words, you would still get the emotion of the story. There are panel pages that are so beautiful, you want to frame it (but I do not condone tearing apart a comic or any book.)
I always appreciate a retelling of a classic story when it turns out well written, much like Clueless ("Emma") and 10 Things I Hate About You ("Taming of the Shrew"). The handling of the modernization of this story is well done, throughout Jane never changes her character. Her determination is strong even when there are certain obstacles in her way. Circumstances evolve around her but Jane, as a person, comes out stronger in the end.