Story by: John Wagner
Art by: Colin MacNeil
Letters by: Annie Parkhouse
Published by: Rebellion
In Judge Dredd: America, we are presented with what is effectively a great taster for people new to the world of Mega City One and Judge Dredd. In America, John Wagner takes us through a self contained story from dreamy beginning to brutal and bloody end, via a series of dark and dangerous twists. In effect, what this book renders for the reader is a love story: quite a violent, murderous love story, one wrought from one of the finest scribes to ever grace a comic. The legend that is Mr John Wagner!
On art duties for the book is Colin MacNeil. Colin's style on this book is quite striking, there is a warmth and a glow to how the characters are rendered. Some of the lighting and color is absolutely beautiful. The harsher elements of the story, the violence and horror of the story are all crafted to convey the drama and terror of the various actions.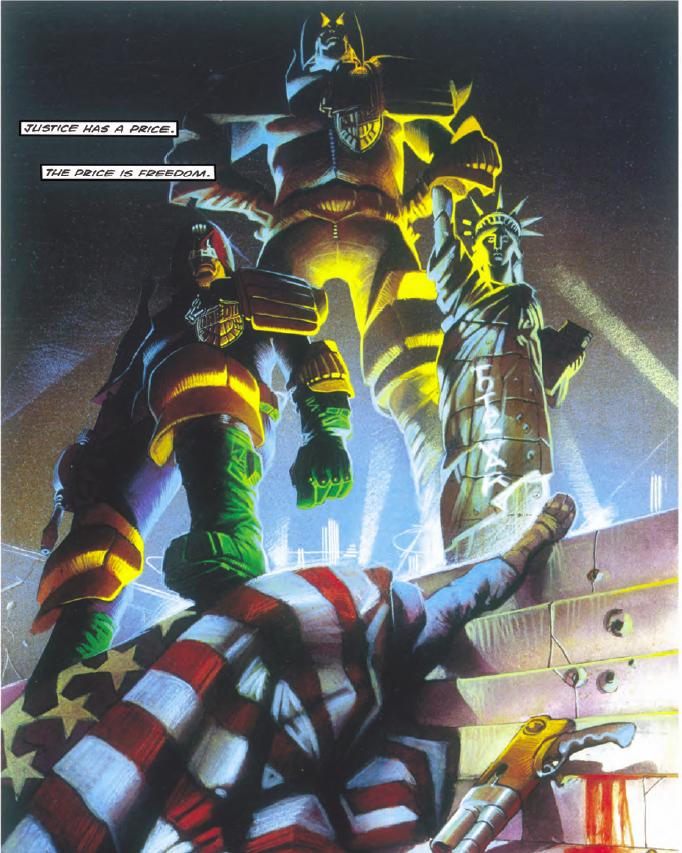 The story of America revolves around Americans Jara and Bennett Beeny, who started out in the book as childhood friends. Life quickly does its' best to separate them. As their lives apart change them, they are drawn back together ahead of tragedy. The characterisation of Bennett and America, along with a multitude of colorful others, along with the dependable Dredd, are all very effectively portrayed. The star crossed lovers, in particular Bennett Beeny, are very real. Given the circumstances which befall them, their actions are at times beautifully flawed – one element in particular, one that shapes the second half of the story, is supremely twisted. Though so too is the human condition. One interesting element of this story is how the Judges are viewed, how their roles are seen from the eyes of the people and how the Judges themselves see their roles, and the role of the all important Law!
What you get with Judge Dredd: America is a twisted love story as only John Wagner is capable of writing – there's action, thrills, spills, violence and tragedy – all the makings of a moving love story… All under the shadow of the ultimate law man, Dredd!