Judge Dredd: Anderson Psi-Division #1
Written by: Matt Smith
Art by: Carl Critchlow
Published by: IDW Publishing
Judge Anderson: Psi-Division #1 (of 4) is a joyous and very entertaining first issue (of the King of the Six Sectors series), and features our favorite psi Judge in a thrilling tale of crime, intrigue and a dastardly heist. The Action kicks off with a pre-cognitive vision invading the sleeping mind of Judge Anderson. From that moment on, the story zips along with style, energy and verve.
The tone of the book is set instantly and is held throughout with style. Along the way the plot shifts and turns, carrying us along on Anderson's journey from reluctant officer (she was on leave) to being in a hot pursuit. The pace is sustained well and brings the first issue to a satisfying conclusion, leaving the reader eager for more of the same quality in the next installment.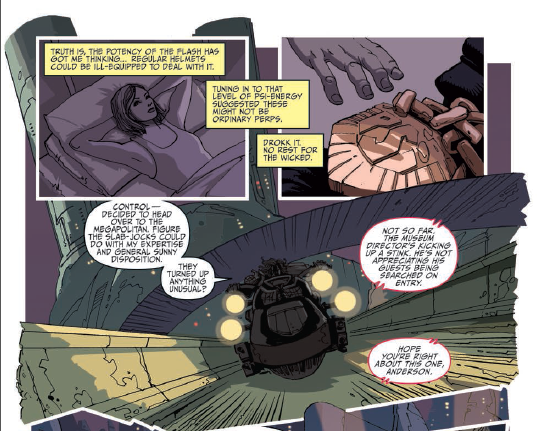 In terms of the dialogue and characterization, Matt Smith does a really solid job, there is not a bum note with any of the characters or the story – yes, a heist type affair is not new but, he delivers a good story. The interplay is believable, as is the narration. Matt really understands the comic medium perfectly and has a wonderful grasp of the 2000 AD universe – which shines through on the page.The basis of the story is a targeted museum raid which leads onto a hunt; the criminals are after a mysterious 'something' and the Psi-divisions' premier operatives heading out into the Cursed Earth on their trail.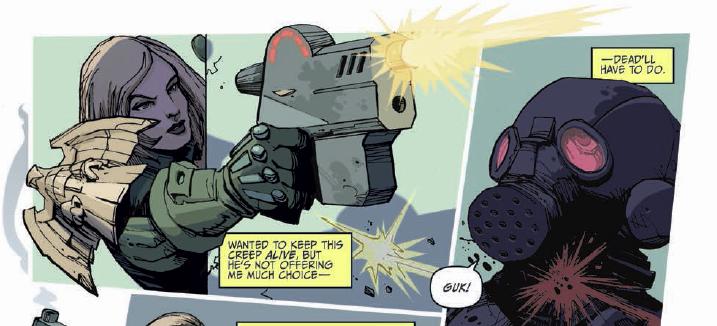 Carl Critchlow really delivers on the art, the rendering of Mega City One is splendid and encapsulates the city and the cursed earth environs. The swamp setting is where Carl really hits the heights, the creatures looks authentic, the terrain and organic matter provide a very real backdrop for the judges. Typically, when an artist does well with one area of a book, there is a corresponding weak area. However, in terms of panel layout, action, dialogue, anatomy, environment, vehicles, I really cannot find any fault. A very nice job from start to finish. Having read some of IDW's other 2000 AD material, I am surprised by how good they have done with Judge Anderson. The creative team behind this book have done an excellent job. Roll on issue 2!
Overall Score:  
8/10