So some will probably ask, why is this review coming in so late? Well in truth, there are two reasons. First, if I had done a review immediately after viewing then it may have been a ton of nonsensical hype spewing. Second I needed sometime to let it digest a bit so I could think about it in a critical way. Even a week and a half later the thrill this movie gave me is still on my mind.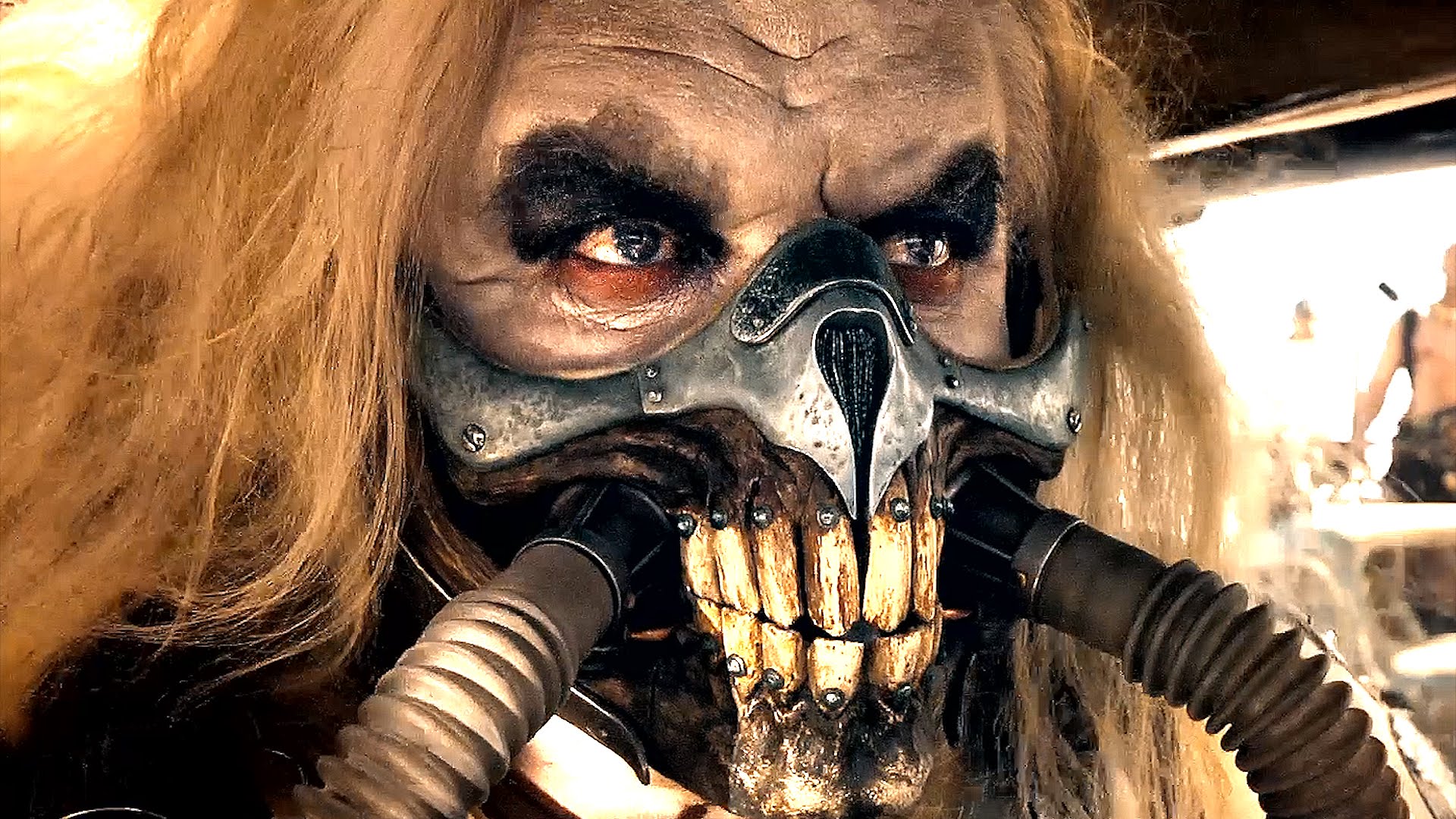 The Mad Max series met the end of its run in 1985 with Beyond Thunderdome. I've watched all of the original movies at least a half dozen times. The series is not only iconic, it has also  established a template for portrayals of post-apocalyptic Earth (see Fist of the North Star, Fallout and more). Mad Max Fury Road is neither a sequel nor is it a reboot. It is in fact, just another story in Max Rockatansky's incredibly difficult life in the wasteland. It starts out with Max (Tom Hardy) stating "My name is Max, my world is blood…and fire." The scene immediately cuts into Max's Interceptor being destroyed again. He is then captured by the War Boy. This is where we see our first glimpse into the absolute insanity of this movie. We also meet our big bad, Immortan Joe (Hugh Keays-Byrne). Joe has a huge reservoir of water at his disposal and an army of fanatics. Many of the war boys are sick from radiation, including Nux (Nicholas Hoult). The real trouble starts when Imperator Furiosa (Charlize Theron) takes the war rig that was supposed to be filled with gasoline and makes a break for it. This starts a chase scene that lasts through out the ENTIRE movie. Explosions, incredible stunts, and the most metal things I've ever had the pleasure of witnessing rolls out over the course of 2 hours. I left the theater with a feeling of exhaustion. Not because this movie is a slog, but because the tension is thick and the adrenaline flow was finally starting to wear off.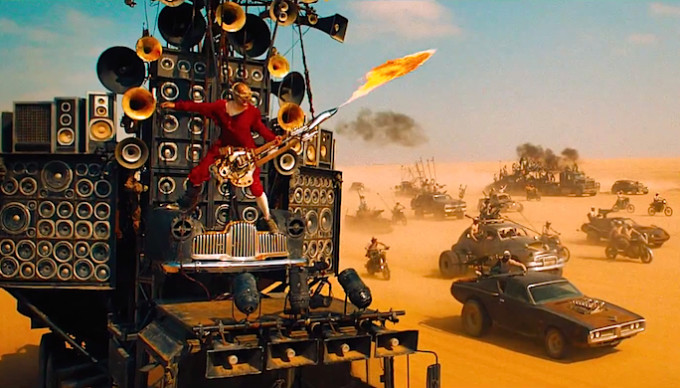 George Miller is a visual genius. The movie was filmed in the deserts of Australia and the use this incredible environment to it's absolute peak. The use of over saturated colors is often times, for me, a bane. The use of this was actually refreshing because it makes things pop. This is especially awesome because the cinematography was also top notch and the use of the colors is synergistic in the least and brilliant at its best. The sense of the world being this giant god forsaken desert filled to the brim with people gone bonkers.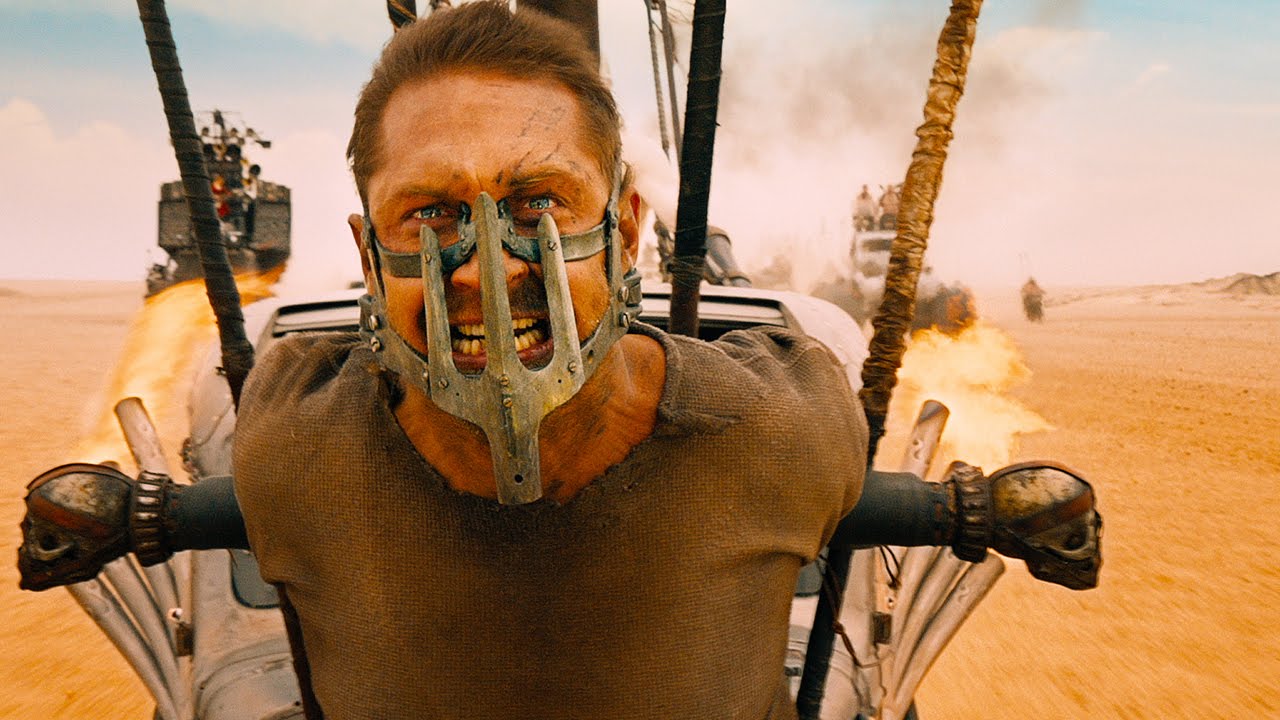 On a design standpoint. this is another area where this movie blows my mind. Who ever was in charge of the make up, costume creation, and building the cars all deserve an award. The vehicles have so much character. Between the Doof warriors truck, the war rig, and Immortan Joe's bad ass ride, there's so much to love. Max himself has had a bit of a re-imagining, but still has his trademark jacket and leg brace. I have to also give some serious credit to Furiosa's costume, it's simple but crazy effective. It just feels like there was ton of love put into making it as crazy as possible. Speaking of crazy…..
The action scenes in this movie propelled this into being one of my top movies. The action is so explosive, intense, and utterly captivating that it taps into your will to see how much you can take. The vast majority of the movie was done with practical stunts and effects, making the action junkie in me grin like a fool from ear to ear. The stunts in the previous Mad Max movies are nothing to sneeze at, but Fury Road ups the ante like a V8 in a race against Corollas. There are a few breaks in between the big sequences, but there wasn't a set piece that disappointed. The breaks give us a moment to breathe and allow the characters some time for development. But then it hits the nitro and so the adrenaline starts to flow again. I have never been so satisfied by an action movie as I have within these 2 hours.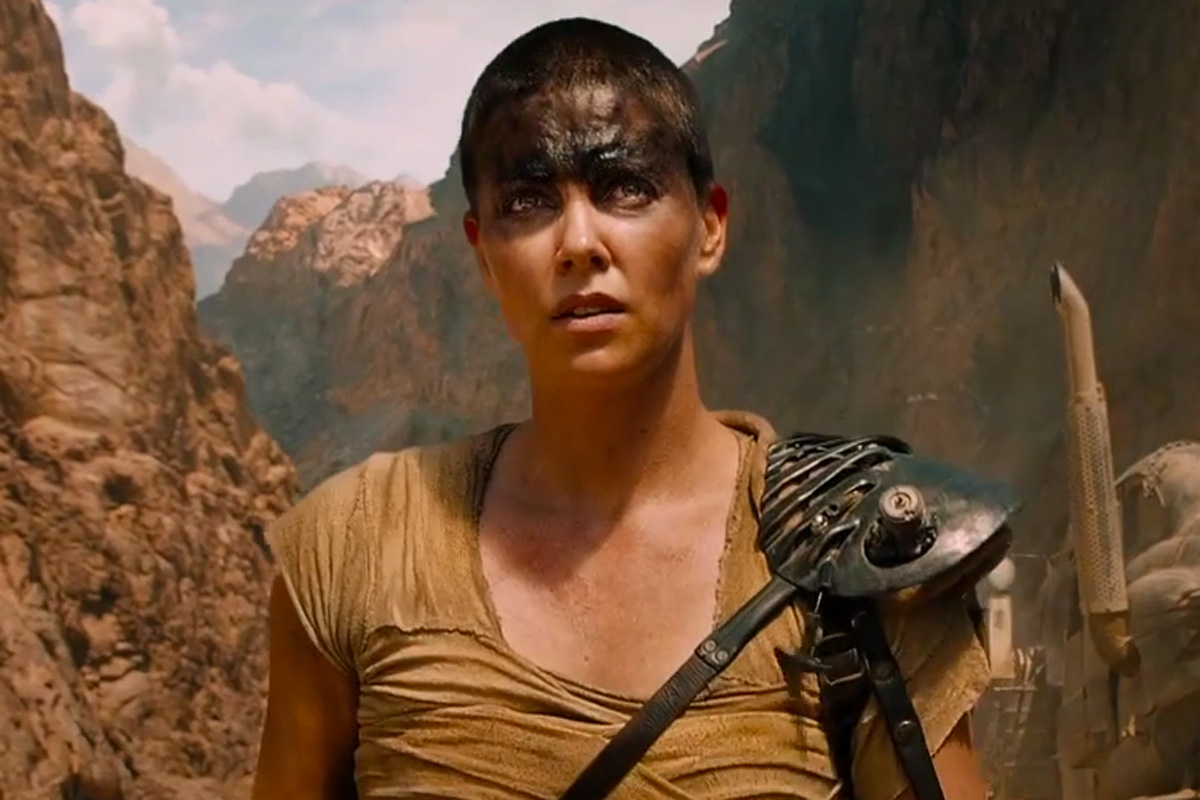 On the negative side, Fury Road only has two weaknesses to it. The first is in its story. It's only weak in the sense that there's not a lot of it. What is there is good enough to establish the world on a basic level and how the characters are connected. In truth…this is not as big a sin as it could be for some other movies of this genre. The way everything else is done steam rolls through the story and keeps going. The story content itself is actually pretty good. I wouldn't complain if there was a tad more, though. The only other weakness it has is more like a small scratch on a chrome surface: the sound mixing is a bit off at times. There were moments where I couldn't hear what some of the actors were saying and this is during the quiet moments. The Score composed by Junkie Xl is nothing shy of pure intensity. The soundtrack can either hinder or help a movie, and Junie Xl's work here adds another layer to this already stacked film. The sound effect work itself is perfectly fitting as well.
Lastly is the acting. Everyone absolutely nails the part they were given. Theron steals the show, but that's actually kinda normal for this series. Hardy was born to play Max, he just fits. I also grew to love Nux, he grew the most of any character and he had some great moments all to himself.
In short, go see this movie!