Now in its fifth year, LightBox Expo brought artists together at the Pasadena Convention Center for three days full of celebration and inspiration. With an extensive line-up of demos, panels, and booths, the convention was full of learning and networking opportunities for hobbyists and industry professionals. The CFG attended the entire weekend, and we were constantly amazed by attendees' and exhibitors' sheer talent and creative energy. In the first part of our written coverage, we'll recount what differentiates LightBox Expo from other conventions, our overall experiences, and a few highlights.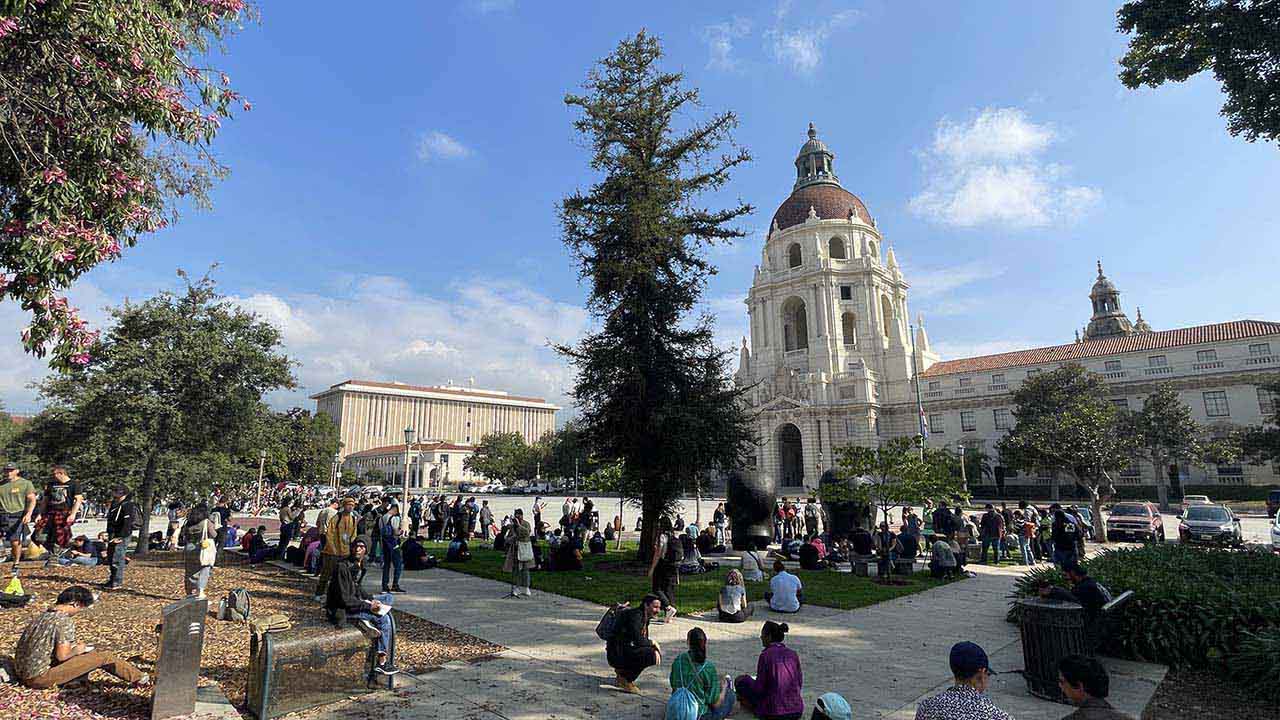 LightBox Expo uniquely celebrates artmaking. Rather than showcasing specific fields, it comprehensively encompasses storyboarding, animation, illustration, 3D environments, 3D characters, and more. The mediums are also similarly varied as they contain watercolor, digital illustration, digital 3D sculpting, and more. One particularly admirable touch is that featured artists' work adorned outside and inside walls with scannable QR codes leading to portfolios. Another fun touch is that the convention's three mascots had giant statues outside alongside gigantic LightBox letters, which led to plenty of photo opportunities. 
The atmosphere felt lively as many attendees brought sketchbooks and tablets to draw, jot down notes, and share portfolio pieces with others. The event started with a Plein Air drawing session in front of the Pasadena City Hall, and attendees juxtaposed a giant character of their choosing. Some attendees even brought easels and paint in order to work on site. Having attended LightBox Expo Online 2021, we were already acquainted with LightBox Expo's attendees' enthusiasm to some degree, but witnessing the on-site excitement was nonetheless excellent and heartwarming. 
Our schedule was loaded as we constantly moved between three spaces: the panel rooms, the exhibit area, and the demo area. As one can imagine, the panel line-up was quite jam-packed, so it was imperative to pick panels beforehand to utilize our time effectively. The Civic Auditorium often featured animated films and popular franchises, while other panel rooms focused on specialized topics such as painting techniques, career development, and specific workflows. These other panel rooms had rather limited seating capacity, so it was necessary to plan and pick up tickets to facilitate entry.
It was effortless to spend hours in the exhibit hall as it featured an incredible amount of well-made art. With nine aisles dedicated to artists and technology and four aisles for more artist booths and career-building opportunities, the exhibit hall provided plenty to explore. In general, many artist booths showcased original work and projects with a smattering of fan art, which is fascinatingly different from other events that lean towards fanart and popular franchises. Many notable vendors provided hands-on experiences, and we enjoyed sketching on the Wacom Cintiq Pro stations and seeing the new Sketchboard Pro 2 iPad attachment in action. The well-respected brush creator and illustrator Max Ulichney also provided an iPad setup for attendees to try his latest MaxPacks oil brush set, and we enjoyed chatting with him.
One notable highlight is Procreate Dreams' substantial presence on the show floor. Savage Interactive set up an enormous booth for attendees to try the app on larger iPads. Procreate has already made digital 2D painting much more brisk and accessible, and Procreate Dreams is a forthcoming app that will facilitate creating animation in a seamless way. One of the Savage Interactive employees showed us several animation workflows such as using onion skin frames to draw, transforming shapes by setting keyframes, and using the new recording function to easily create motion. All of these workflows felt incredibly intuitive.
We attended a panel by the renowned animator Aaron Blaise who spoke about creating the animated penguin short included in Procreate Dreams' initial reveal. Aaron spoke about his extensive research to figure out what to animate. He realized that Savage Interactive is located in Tasmania, Australia, and learned about its Little Penguin population, which led to creating a cobalt cliff setting, loose storyboards about flying, and plenty of penguin character design. Aaron recounted his experience working on the original Beauty and the Beast and traditional paper. Still, he mentioned how the world of digital is so much more efficient and that he was able to learn the software quickly despite not having extensively worked on an iPad beforehand. He consistently spoke about how Procreate Dreams is robust, easy to use, limitless, and affordable, and he mentioned that he was excited to see attendees animate and share their own stories once the app releases on November 22nd.
Thanks for reading the first part of our LightBox Expo 2023 coverage! We hope that we've provided a sample of what LightBox Expo has to offer. In the future, we'll dive into some high-profile presentations and some of our favorite demonstrations.