Ms. Marvel #1
Marvel Comics
Written by G. Willow Wilson
Art by Adrian Alphona
When Marvel announced their  All-New Marvel NOW! initiative,  they said that the line will expand with new series which we never thought we'd see. So far, they have delivered: weird, B-tier characters like Moon Knight and the New Warriors are getting fresh chances. Books with female leads like Black Widow, Elektra, and the re-launched Captain Marvel see a more diverse line of books. Marvel's most important debut this week, and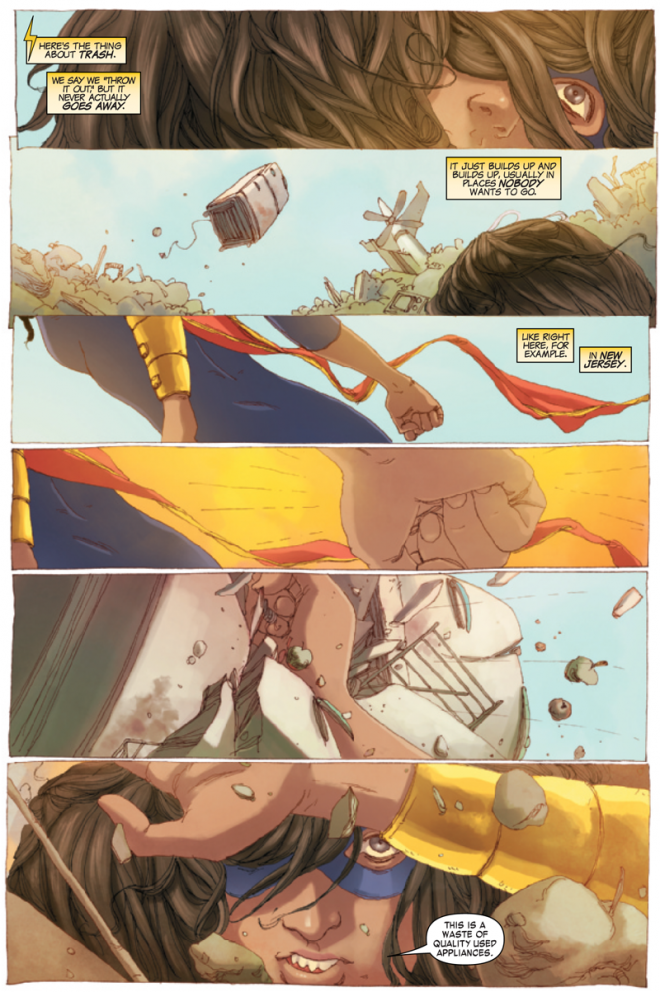 arguably their most important launch this year,  is a mix of both. Since Carol Danvers got "promoted" to Captain Marvel in 2012, we have been waiting to see who Marvel was going to choose to take her old spot. Enter Kamala Kahn, the new Ms. Marvel. Kamala Kahn has been making headlines in the past few months because she is not only Marvel's newest hero, but is Muslim.
Possible undue controversy aside, Kahn's struggle– those to break free from her conservative household and "fit in"–are themes which are familiar to anyone who has ever been in High School. But G. Willow Wilson, a novelist new to the comics game, hits the vain in a fresh, new way that reminds me of the core appeal of Marvel Comics: character before costume. The book looks sharp, too. Adrian Alphona keeps up with the script, providing a fast, fluid, and exciting visual style.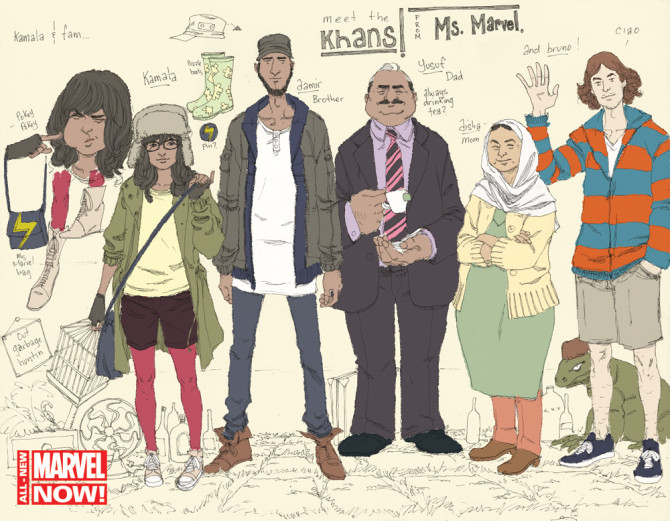 Ms. Marvel is a book the likes of which no major superhero publisher has put out in a long time: a book I can hand to someone who has never read a superhero comic and say, "Here, this is what I like, and this is why I like it." I haven't been able to say that about any comic since maybe Hawkeye, and even then it was a bit of a stretch.
If there's one gripe I have with the whole affair, it's the actual details of Ms. Marvel's origin. Kamela, after sneaking out to go to a party, is hit with the Terrigen mist which we saw hit the world in Infinity. Now, I don't really expect to see any Inhumanity crossover or anything, but it just seems like such a strange, particular thing in an otherwise universal book free (or as free as you can get) from the tethers of recent continuity.
But besides that—which is a pretty simple explanation, really—Ms. Marvel shines. It's a no-brainer. Pick it up.
Oh, and also: yeah, the sash shows up.
Overall Score:
9/10